Yossif Ivanov : Living the Dream

by Lucie Renaud / July 2, 2003

---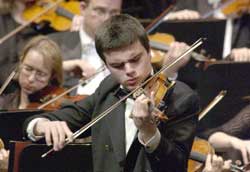 The astounding ease of the performance by the Belgian violinist Yossif Ivanov, the youngest competitor in the semifinals of the Jeunesses Musicales Montreal International Competition, awed the throng of listeners. The only contestant who dared to play the imposed piece (Chant, by Ana Sokolovic) without the score, he dug into the pyrotechnics of Ysaye's Sonate no 6 without flinching , and demonstrated unerring bowing technique in his Bach and Prokofiev. In the finals, his Sibelius Concerto brought a devoted public to their feet and earned rapturous applause, even charming several violinists from the accompanying Montreal Symphony Orchestra.Yet when jury president André Bourbeau announced the winner of the First Grand Prize (to which the generous sum of $25,000 was attached), Yossif Ivanov seemed surprised. The 16-year-old barely had time to savour his dream before it became a reality. "It was fabulous, absolutely amazing! I never thought I would win!" he blurted out two days later. "Of course, you always hope," he continued in a slightly halting and timid voice, "but so many factors must be considered in the awarding of prizes." In an interview with Eric Friesen on CBC RadioTwo several minutes after that announcement, his enthusiasm was dampened by anxiety over his final exam. A whole new repertoire still needs polishing, the director of the school is "very strict," and will not accept less than perfection.
Ivanov has already had a taste of the often cruel world of international competitions. Winner of the Herman-Krebbers Competition in Maastricht (Holland), the Charles-de-Bériot in Brussels (Belgium), the Wieniawski of Lublin (Poland), the Tenuto in Brussels, and the International Yehudi-Menuhin Violin Competition (England), he was also the Belgian envoy at the 2000 Eurovision Competition in Norway. The son of Dmitri Ivanov, concertmaster of the Royal Philharmonic Orchestra of Flanders (of Bulgarian origin but established in Belgium for over 25 years), Yossif basked in a musical milieu from his earliest years and has high respect for the sometimes unappreciated work of an orchestral musician. When he was barely five, a few months after starting violin lessons with his father, he performed with his father's orchestra. From the start, Dmitri Ivanov was aware of his son's remarkable talent, and a few years later brought him to Lubeck to study with Zakhar Bron, currently one of the most sought-after violin pedagogues, whose former students include Maxim Vengerov and Vadim Repin. "With Bron, right away we started working on my right hand: it's absolutely essential to have a good bow arm," stated the young violinist. He pursued lessons with Igor and Valery Oistrakh (the latter is his present teacher) in Brussels. These masters emphasise not only musicality--which they transmit with great sincerity--but also technique, such as the exact positioning of both hands, and fingerings. Unlike Marie-Nicole Lemieux, who stopped competing after winning First Prize at the Queen Elisabeth Competition in Belgium, Yossif Ivanov plans to enter more international competitions. "I am only sixteen! There are still so many major competitions that I would like to enter: the Tchaikovsky, and the Queen Elisabeth of Belgium, of course," he said.
But managing his time will present an immediate problem. Even if he plans to complete his studies at the Chapelle musicale Reine Elisabeth (a private boarding school which accepts only seven violin students) and graduate in July 2004, he must now live with the heavy schedule of a concert artist. Ivanov, who until now did not have an agent, was offered many business cards at the post-competition receptions. He mentioned concerts with the Orchestre national de Belgique and the Orquesta del Nuevo Mundo in Mexico, and other offers, but, slightly embarrassed, could not remember the names of all those who approached him. His fluency in Flemish, English, French and Bulgarian (and even some Russian) will come in handy during negotiations with agents.
Martin Beaver, first violinist of the Tokyo String Quartet, and winner of the Montreal International Competition in 1992, was contacted at home several weeks prior to the beginning of the competition. He considered the consequences of being a very young winner: "I find that in general artists don't have enough time to develop thoroughly. Sometimes performers win important competitions when they are 17 and can't handle it, as they are not ready for international careers. In some cases it might seem easy to have a major career for a few years but longevity and artistic growth are not part of the equation." Gérard Poulet, a violin pedagogue who has sat on numerous international juries, agreed that such an honour should not arrive too early in the career of a young virtuoso, in the same breath praising Ivanov's exceptional technique and musicality on Radio-Canada's Chaîne culturelle. Yossif Ivanov must overcome this hurdle and prove he is not a flash in the pan among violinists. Following the examples of his idols, Maxim Vengerov, Vadim Repin and especially David Oistrakh--whom he considers "the greatest violinist of the century, the god of the violin"--he will seek to exceed the limits of virtuosity and become a complete artist. When asked about his intermediate goals, Ivanov reflected before replying. "We all have dreams. I would love to perform in recitals and play chamber music, particularly duets with my brother Philippe, a pianist. He is only fourteen but when he plays you don't notice his age. I would also like to play in a quartet and give lots of concerts. In an ideal world all violinists want to become celebrities, but I would also be satisfied with a good position in a major orchestra, like my father. You can always dream but we never know how life will play itself out."
[Translated by Susan Spier]
---
Version française...
---