Naxos at 15: An Interview with Klaus Heymann

by Philip Anson / September 2, 2002

---
This year marks the fifteenth anniversary of Naxos, the once dowdy little budget record company that is now the biggest independent classical label in the world.
Back in 1987, Naxos's founder and CEO Klaus Heymann decided to record 100 popular classical music titles as a sideline to his main business of distributing sound systems in Asia. From that humble beginning Naxos grew into an international conglomerate with 250 employees and a catalogue of over 2,400 CDs. Last year Naxos sold over 10 million CDs, representing business worth over $70 million CDN.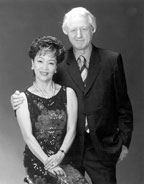 Today Heymann has every reason to be happy, as he explained in a recent phone interview. "Looking back, we have achieved what we set out to do. Our catalogue can compete with any in existence. We have a huge number of fans and loyal customers. Most importantly, we have been faithful to our original business model and ideology, to provide excellent classical music recordings or interesting repertoire at the lowest reasonable price."
Naxos's early years were not always easy. "Some stores wouldn't even shelve us with the major labels. We had separate racks," Heymann recalls. "That turned out to our advantage. Today people head straight for our display and skip the full price inventory." Some critics refused to review Naxos CDs. "A few anti-Naxos critics were in thrall to the major labels, but that's a thing of the past. These days Naxos gets dozens of nominations and awards," says Heymann. Indeed, Naxos recordings have over 350 top 3-star recommendations in the Penguin Guide and have been awarded more than 35 Gramophone Editor's Choices. In 1999, Naxos won its first Gramophone Award.
In its first decade, Naxos steadily improved recording quality, built up an intriguing catalogue of unusual repertoire and standards, and recorded cheap, zesty eastern European talent. Sales skyrocketed and critics gushed. Heymann had the last laugh when the formerly haughty major labels came a-courting. "I was offered $100 million US many years ago by one of the majors and I had approaches from all of them except Warners," he recalls.
Today Naxos dominates classical music sales in the UK, Germany, and Scandinavia with 30%-80% of the per unit classical market. To improve on Naxos's 6% of the US market, the company launched the American Classics series, featuring music by Copland, Ives, Grofe, Barber and Sousa. Only the Asian market remains a disappointment, due to piracy. "China has great potential but 95% of CDs sold are pirates, which cost around one-sixth of retail discs," Heymann explains. Canadian customers may have noticed that Naxos's unit price has recently gone up a dollar or so. Heymann attributes the increase to the cost of mechanical copyright fees. "Our original low Canadian price didn't cover costs. But the current Canadian price of $8 CDN is still low compared to our British and US prices, which are the equivalent of $12 CDN."
Naxos's numerous catalogue lines now include American Classics, British Light Music, Chinese Music and Artists, Early Music Collection, Film Music Classics, Guitar Collection, Opera Classics, Organ Collection, Naxos 21st Century Classics, Naxos Historical, Jazz Legends, Nostalgia, Naxos World, and Naxos Crossover. In terms of sales, the opera, 20th-century repertoire, chamber music, and Guitar Collection are top performers. "Our Don Giovanni and Wozzeck were hits. Newer music, such as Rautavaara and Lutoslawski, has been a surprise success. We sold over 20,000 copies of Boulez's Piano Sonatas," Heymann notes, concluding that Naxos's budget price induces listeners to take a chance on unusual repertoire.
The Naxos Historical series resurrects treasures from the acoustical, electrical and 78-rpm eras by artists such as Menuhin, Heifetz, Casals, Arrau, Cortot, Caruso, Tauber, Björling, and Toscanini. Naxos employs the industry's top remastering engineers Mark Obert-Thorn and Ward Marston. Thanks to recent improvements in sound restoration technology, Naxos's Historical releases often sound better than remasterings of the same recordings done just a few years ago by the same men for full-price labels like Biddulph, Romophone, and Pearl.
As major labels shut down their recording programs, Naxos steps in to record excellent Western European and American orchestras such as the BBC Philharmonic Orchestra, BBC Scottish Symphony Orchestra, BBC Symphony Orchestra, Bournemouth Symphony Orchestra, Iceland Symphony Orchestra, Munich Radio Orchestra, New Zealand Symphony Orchestra, Orchestre de Paris, Royal Scottish National Orchestra, Ulster Orchestra, Nashville Symphony Orchestra, Colorado Symphony, and San Diego Symphony Orchestra. Heymann boldly contends that these ensembles are capable of competing with gilt-edged orchestras like the Berlin Philharmonic.
Naxos's A&R is still repertoire-driven, eschewing duplication of repertoire or the use of star performers. The recent "Date with the Devil" album of opera arias sung by American star bass Samuel Ramey was a one-off project, not the start of a new series of celebrity recitals, though discs by well-known opera singers Marina Mesheriakova and Dwayne Croft are planned.
In addition to its own classical CDs, Naxos generates revenue by distributing other music labels and the DVD labels TDK, BBC/Opus Arte, and Arthaus. "DVD quality is much better than it used to be and the format is a bargain," Heymann raves. "A DVD now costs less than the audio recording of the same work."
Naxos's projects include a 40-channel streaming "radio" on the Naxos website, offering channels with genres like opera, romantic piano, and chamber music, all drawn from its catalogue. Naxos is also building a catalogue of Super Audio recordings.
At an age when most millionaires think of retiring, the 65-year-old Heymann is not resting on his laurels. He still supervises several hundred recording projects annually and travels three months of the year between Naxos's Hong Kong HQ, its mastering studio and editorial offices in England, and its regional offices in Germany and Scandinavia. And as anyone who has ever written to Naxos knows, Heymann spends hours every day personally answering his mail. "I learn a lot from feedback and from surfing online music forums. I want to know what people think about our product. And people are very grateful to know that we care."
---
Version française...
---