Aria turns 5

by Wah Keung Chan / June 1, 2002

---
Starting a singing school and a new career from scratch at age 38 was something Anica Nonveiller did not anticipate. Now five years later, Aria Atelier du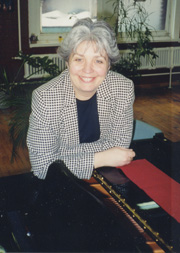 chant is a flourishing school located in its own building, with 36 students, two voice teachers, three coaches and a stage director. Originally trained as a soprano while still a teenager in Belgrade in the former Yugoslavia, Nonveiller gave up the idea of a singing career to become a radio journalist in classical music for Belgrade Radio. In 1991, during the time of Milosovic, radio was subject to censorship. After broadcasting a show on the music of peace, Nonveiller was immediately fired and shortly thereafter found her name on a blacklist of intellectuals. Fearing for their lives, the Nonveiller family took a night bus across the border and found asylum in France.
After three years in France, where Anica mastered the language, the Nonveillers emigrated to Canada in 1995. Nonveiller completed a master's degree in communications at the Université de Montréal with the intention of continuing her radio career at Radio-Canada, but she found opportunities only in political journalism. Disappointed, Nonveiller turned to teaching as her profession. At first, she was paid $10 an hour for teaching voice at private music schools in Montreal North. "The standards of teaching were quite low, the owners of the schools did not take any interest in teaching methods, and I felt exploited. I decided to bring to my teaching the kind of rigour with which I myself was taught." On July 2, 1997, Aria Atelier du Chant was born with 5 students in a rented studio and an electronic keyboard. Nonveiller attracted students through flyers at Archambault and Place des Arts, door-to-door leaflet campaigns and advertising in La Scena Musicale. "In the first two years, I reinvested the proceeds into the school," said Nonveiller. Just six months ago, the school relocated to its permanent St. Denis street location. Her approach to voice building is starting to show results; her students recently won two first and one third prize at the recent NATS Regional Contest. "Naturally, I am constantly fine-tuning my teaching. The Yugoslav approach to obtaining a full sound is very similar to the traditional Italian school. We use our entire body."
Would she recommend other teachers to do the same? "Definitely. It's quite easy. The Quebec government does not require licences to open private music schools," said Nonveiller. Aria's strength, though, comes from its goal of offering different kinds of instruction under one roof. In the future this could include languages, diction, staging, and music history; Nonveiller dreams of further expanding her school to the other two floors of the building.
---
Version française...
---