Nicholas Goldschmidt: a Love of Choral Sound

by Holly Higgins Jonas / June 1, 2002

---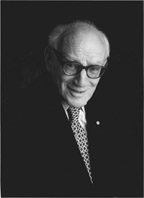 Nicholas (Niki as he is known) Goldschmidt is recognized as this country's master festival-maker, a man with a mission and an insatiable appetite for new challenges. Born in Moravia (present-day Czech Republic) in 1908, he came to Canada in 1946 after nine years in the United States, to become the Music Director of the Royal Conservatory Opera School, out of which grew the Canadian Opera Company. A recitalist, pianist, conductor, and impresario, Goldschmidt was appointed artistic director of the Vancouver International Festival and the Guelph Spring Festival. He founded Ottawa's Centennial Choir while acting as chief of the performing arts division of the Centennial Commission. In 1985 he organized the International Piano Competition in Toronto to mark the 300th anniversary of the birth of Bach--an event for which Leonard Bernstein served as honorary president. Music Canada 2000, an ambitious millennium project, was Goldschmidt's brainchild. No wonder he was inducted into the highest office of the Order of Canada.
Legendary Nicholas Goldschmidt has again waved his magic wand. Along with the generous support of both the private and public sectors and of old friends, he has masterminded another huge international choral festival featuring thirty performances in fourteen locations in Toronto. Running from May 31 to June 22, it will go under the banner of "The Joy of Singing Within the Noise of the World." <http://joyofsinging.ca >
"Noise is an ever-present feature of our everyday life," says Goldschmidt. "We aren't always conscious of it. We need something to counteract all this noise and I believe the joy of singing offers an effective antidote."
Goldschmidt has nurtured several generations of Canadian singers and choral groups. It was an incident in his own boyhood, he recalls, that awakened him to the thrill of choral sound. In 1919, a travelling group of Russian refugees who earned money giving concerts came to his small village. He was profoundly impressed by the Russian choral sound produced by the male singers.
Never a choirboy himself, his own experience of this type of singing came when he studied at Vienna's State Academy of Music, where singing in the sixty-voice mixed Academy Choir was obligatory. He sang there as a bass for two years.
What turns Goldschmidt on?
What is it about choral music that turns Goldschmidt on? Quality. "I don't care if the choir is small or large, made up of children, adults, males only, whatever. I don't favour one composer or work over another or any particular musical period or style. I find a choral performance thrilling when it is imbued by quality." How is that achieved? Well, interpretation and clear enunciation of the text are an integral part of it.
"Incidentally," he adds, "the best results with children's choirs are obtained when they are treated like adults. In 1989, I heard the Boys' Choir from Montserrat, Spain, which was divine."
Goldschmidt feels the same way about jazz choirs: "Again I look for quality. A choral jazz concert can be boring unless each singer knows how to project as a jazz singer, with bold directness and vitality. Whatever the choral group, I become inspired when its immediate presence in a performance offers a rendering done properly."
Goldschmidt is also an opera lover and has premiered twenty-seven operas in Canada. To him, opera and choral performance are worlds apart: the former is theatre while the latter is straight music. Opera has many extra components (lighting, costumes, acting, direction, and so on) and a good opera conductor should get involved in all of them. "Bruno Walter used to say it's the opera conductor who should be wholly in charge."
Lauds Canadian choirs
Goldschmidt offers a positive view of the Canadian choral scene: "It is outstanding--one of the most active and diverse in the world. A contributing factor, I believe, is CBC's Choral Concert. The Sunday morning broadcast is one of the most successful in the entire music field."
This is why he wants to offer the Canadian public the best program possible throughout the upcoming third Toronto International Choral Festival. Encouraged by the immense success of the 1989 and 1993 festivals, Goldschmidt will offer concertgoers a chance to hear choral sound ranging from Gregorian chant to Russian, Church of England, Scandinavian, Cuban, and more, along with a number of renowned Canadian choirs.
Goldschmidt feels the huge participation from abroad will inspire Canadian listeners. "Hearing different styles of vocal groups from many different countries all concentrated in one place over twenty-three days provides a magic carpet ride without having to pay for the airplane ticket," he says. For example, audiences will hear in concert compositions from the eleventh century (Jewish religious music) up to the present day--yet another occasion for Canadians to benefit from the organizational skill and vision of Canada's most active festival entrepreneur.
Holly Higgins Jonas is the author of In Their own Words: Canadian Choral Conductors, which was recently awarded a National Choral Award by the Association of Canadian Choral Conductors in the category of Outstanding Choral Publication.
---
Version française...