Critiques de livres / Book Reviews

April 1, 2002

---
Ma vie c'est la musique : l'univers méconnu d'instrumentistes d'orchestres symphoniques
Denis PERRON,
Les Presses de l'Université Laval,
Sainte-Foy,
2001,
246 p.
Denis Perron connaît bien la musique, puisqu'il l'enseigne à Québec. Il soumet ici le fruit d'une étude dans laquelle il expose, en prélude et un peu longuement, l'articulation et le thème de sa recherche. Il développe ces derniers dans les six mouvements subséquents, pour nous servir en finale une conclusion récapitulative et bien synthétisée. L'auteur a utilisé une démarche fort originale pour sa thèse de doctorat : plutôt que de chercher à valider une hypothèse établie a priori, il a tiré huit « généralisations empiriques », et nuancées, des entrevues semi-dirigées qu'il a menées auprès de 24 musiciens des orchestres symphoniques de Québec et de Montréal et de 2 de leurs administrateurs.
L'auteur couvre tous les aspects de la vie des musiciens d'orchestres symphoniques, de la place de la musique dans leur prime jeunesse jusqu'à leur relative stabilité de carrière, en passant par les études, initiales et spécialisées, les longues heures de répétition, les camps d'été, les inévitables auditions derrière écran -- une expérience-choc pour tout musicien ! --, la période de probation, le chef... Il s'intéresse également à l'aspect santé, nommément au stress et aux blessures professionnelles. La parole est souvent cédée aux musiciens eux-mêmes, alors qu'il étaye son texte par des extraits d'entrevue. Le tout a de quoi changer la vision idéalisée que l'on se fait de la vie de ces musiciens !
C'est un livre à lire si vous voulez en savoir davantage sur la vie des musiciens d'orchestres symphoniques ou si vous avez des aspirations, pour vous-mêmes ou vos enfants, pour une chaise dans ce type d'orchestre. Daniel Desrochers
---
Emma Albani: International Star
by Michelle Labrèque-Laroque,
Darcy Dunton,
English translator
XYZ Publishing (2001),
179 pages,
$15.95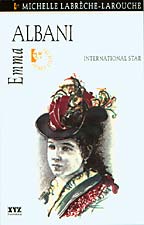 One of the measures of a good biography is its ability to narrate the challenges faced by its subject during their formidable years. Here Emma Albani, International Star scores top marks. Labrèche-Larouche succeeds in presenting insightful details into Albani's training - about 40% of the book traces the diva's progress towards her debut.
Readers of La Scena Musicale already know Albani as Canada's first great prima donna, and readers of Labrèque-Laroque's biography will learn how she became so. In Paris, for example, her teacher Maître Gilbert-Louis Duprez, known as the first tenor to sing the high C in chest voice, was an even harder taskmaster than her father. His advice to Albani: "There is no better method of voice training than singing scales and doing exercises using the feminine syllables. Each note must be sung with equal resonance; each syllable must be pronounced with its own particular recitative value." Later, when Albani moved to Milan, Francesco Lamperti, her last teacher, worked on Albani's breath support by placing heavy books on her stomach.
For those intrigued by celebrity, this biography also offers glimpses into Albani's friendship with Queen Victoria, her relationship with the Czar of Russia, and her marriage to Ernest Gye. Albani had a glorious career reigning as first soprano at Covent Garden. After 25 years of singing, Albani's voice did show signs of wear and she retired from the stage at age 50, but continued to give concerts through her remaining years due to poor financial planning. Hers is clearly a life worth examining.
Emma Albani, International Star, only 179 pages in length including the chronology and bibliography, is injected with ample quotations and dialogue, some no doubt dramatized, and the result is an entertaining and easy read. Wah Keung Chan
---
Version française...