Marc-André Hamelin - Beyond Virtuosity

by Lucie Renaud / December 1, 2001

---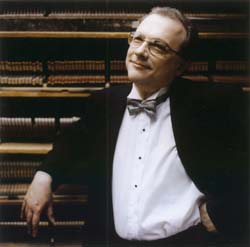 The incredible mastery of pianist Marc-André Hamelin has given rise to abundant superlatives in the press. New York Times critic Harold Schonberg reverently described him as a "super virtuoso" after his New York debut, and by 1988 the same daily didn't hesitate to compare him to such piano giants as Pollini and Brendel. New Yorker writer Alex Ross considers him legendary, stating categorically that there's no one like him at this time. In 1999 he was chosen by the British magazine Classic CD as one of the hundred best pianists in history. Music magazines that specialize in reviewing recordings, such as Gramophone, Diapason, Répertoire, Fanfare, American Record Guide--and La Scena Musicale--have nearly always given him top marks for the twenty CDs issued on the Hyperion label. Even the toughest critics run out of superlatives and bow to his talent.
A sense of fun
The real Marc-André Hamelin is in fact very different from the emotionless superman image that the press would like to bestow upon him. Anyone who gets to know him well enough will discover a warmhearted, exceptionally intelligent man, yet one whose simplicity and humility are surprisingly unlike the excessive behaviour usually associated with stars. Rather than the rush of a celebrity's existence, Hamelin much prefers the simple pleasures of daily life: a good meal with a fine wine, long walks, good books, going out to a film, and intense conversations with friends. He has a delightful, occasionally quirky sense of humour that he likes to share with those around him. He adores Quebec comic and musician François Pérusse and a number of brilliant American comedians. His hearty, outgoing laughter breaks the ice with the most reserved people. It seems as though he likes nothing better than getting others to burst out laughing at his terrible puns and spoonerisms. Since the beginning of his career, his concert encores have revealed this little-known side of his personality. His soon-to-be-released CD, Kaléidoscope, is devoted to this sense of humour. Serious Fun, a CD planned for spring 2002 release, will feature an engaging collection of humorous songs recorded live with his better half, soprano Jody Applebaum.
Discovering forgotten gems
Music has always been part of Hamelin's life. He celebrated his fortieth birthday in September, a date he shares with Johann Christian Bach, Louis XIV, Meyerbeer, Amy Beach, and John Cage, no less! His father, Gilles Hamelin, was a pharmacist by profession but an ardent amateur pianist and collector of rare scores, especially those from the transition period at the turn of the last century. Hamelin himself has shown a marked penchant for this era in the last few years. Alkan's Symphony for Solo Piano, which Hamelin recently recorded, was actually discovered by his father when Marc-André was only eight. "My father brought home a record and the score. I sight-read it millions of times before including it in my repertoire last year, which explains the level of interpretive insight I've reached with it," says Hamelin. At the age of nine he had already won first prize in the Canadian Music Competition, an award that was followed by many others. With hindsight, he wonders about the usefulness of competitions, although he has occasionally served as a competition judge, including the Esther Honens Calgary International Piano Competition in November 2000. At the age of thirteen, when teenagers usually discover pop music, young Hamelin saved his pocket money to buy his first recording, Charles Ives' Concord Sonata. "I was already familiar with a good part of the traditional repertoire," he says. "I was always naturally curious, and when it came time to explore other types of music, I knew no barriers. I began with contemporary music because that's what seemed the most weird at the time. I've always been attracted by extremes. I began collecting recordings by Stockhausen, Cage, Boulez, Xenakis, and everything I could lay my hands on--within the limits of my budget at the time, of course."
Collecting scores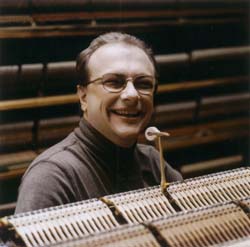 Over the years, his recording collection has taken a back seat to his stupendous collection of scores, which now threatens to overrun his Philadelphia home. "I never go looking for new works," Hamelin says, although he loves to explore secondhand shops that specialize in books and scores. "Quantity isn't important, because not everything is equally good. I'd like the works that I discover to be part of the current repertoire one day, although maybe that's a bit unrealistic in many cases. It takes time to get this kind of recognition, but I'd like to start the process. In theory, I'm just the channel, a means of getting the message across."
Hamelin's phenomenal technical capacity places him well above most pianists on the international scene. However, nothing exasperates him more than being the prisoner of his technical fireworks. "I don't play to issue a challenge," he says, anxious to make himself clear. "What I want above all is musical meaning. People are surprised by this, but I still say it, and I'll keep on saying it until I'm blue in the face: virtuosity doesn't interest me. I just like orchestral writing for the piano, with its density, complexity, and rich contrapuntal content. Works written from this standpoint are often very difficult. I'm not looking for difficulty for its own sake. I'm naturally lazy and I would like to be able to do everything right away. I don't like sweating on stage but I'm ready to do it if I think the work is something special. It will always be a challenge to justify a lesser-known repertoire."
Solving the puzzle
By his own admission, Hamelin doesn't practise technical exercises in a fixed regimen. That's why it's hard to imagine him playing for hours just to correct a mechanical problem. However, when he begins working on a score, whether new to him or familiar, that's how he always starts, placing each part of the puzzle in its place. "The means I use have to be evaluated individually, according to their nature, from the smallest technical problem to the most important architectural considerations that will help clarify the work's structure." His extraordinary ability to memorize does the rest. Although he now includes works from the traditional classical repertoire in his concerts with increasing frequency (a result of his greater renown), his approach doesn't differ. "I try to work up traditional music just as if the audience had never heard it before. This gives me the freshest possible point of view. I don't want to take anything for granted. Every bit of these works contains something marvellous that I want to get across as clearly as possible."
Hamelin believes it's essential to understand what was in the composer's mind during the sometimes painful process of creating a work. "Creation is a miracle," he says. "Each composer uses the system of notation differently, and we have to know as far as we can how to translate our thinking in this system, however imperfect it may be." Schnabel advised his students to copy out part of the piece on which they were working, score in hand. This exercise, in appearance simple, enabled them to see how most performers don't respect the composer's directions. "You become far less cavalier when you read the score," Hamelin says. "I don't think composers want us to stick a spoke in their wheel. I always go back to the score, the true reference point, unlike recordings. You gradually realize that the works you are interpreting didn't come in a can. They were created with blood, sweat, and tears."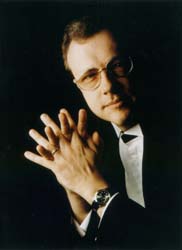 Hamelin is in a good position to talk about respecting scores, since he himself composes, although not often enough for his liking due to time constraints. "I don't really consider myself a composer," he says. "I'm a pianist who writes." Two of his studies are on the Kaleidoscope CD. He does a second take of the famous Campanella, one of the bastions of the purely virtuoso repertoire, as well as a pastiche of Scarlatti sonatas--a medley of all the flamboyant devices used by the baroque master that might well be called "all you ever wanted to know about Scarlatti." He has also been commissioned to write a short quintet with piano for the next Scotia Festival of Music in Halifax, a challenge equal to his love for this type of music, "so rich in texture," that few composers are interested in exploring. "Nothing scares me," says Hamelin. "I'm at home with all types of writing. I particularly like the tonal language, with lots of chromaticism. My own pieces reflect this interest, even though I've also written atonal music."
There are projects in plenty on Hamelin's calendar. A CD with Godowsky's Sonata and Passacaille will be released in February 2002. He has also recorded works by Leo Ormstein, the enfant terrible of American twentieth-century music, born in 1892 and still living. Several works by Ormstein have been reposing in Hamelin's treasure chest since his early years in Philadelphia. In March 2002 he will visit Japan for a fifth time for what has become an annual tour. Last year he performed Busoni's Concerto (ninety-seven years after the fact) in Japan. He has been working with the same British agency,Georgina Ivor Associates, for more than a decade now but has decided to also sign with a second agent, Colbert of New York, to build his American career. (They already did so with another legendary and often misunderstood instrumentalist, Alfred Brendel). After last year's notable Grammy Awards performance, Hamelin's American career may finally blossom as it deserves. "Music has always seemed so natural to me; I always knew I would be a pianist. What I'm doing now completely satisfies me. It's very difficult, but recognition isn't important to me: it's the music that I want to get accepted."
The piano repertoire has never been so well served as by an artist like Hamelin, who gives the music every fibre of his being.
[Translated by Jane Brierley]
Win a collection of 17 Marc-André Hamelin single CDs on Hyperion. Visit our web site www.scena.org for details. Courtesy of Hyperion and SRI Canada.
Marc-André Hamelin's Pro Musica recital in Montreal on December 5 will include Beethoven's first (Opus 2, No. 1) and last (Opus 111) sonatas, and Schumann's Sonata No. 2. "This isn't a marketing ploy," he emphasizes. "They're simply works that I like, that's all. You'll never see me recording all Beethoven's sonatas. The market has been saturated for the past few years and I don't want to saturate it further. I can't listen to the Appassionata and Waldstein any more. They've been played to death! If Opus 109 and 110 weren't so marvellous, I'd say the same thing." Also on the program is Stephan Wolpe's Passacaglia, which Hamelin remembers playing at his graduation recital at Philadelphia's Temple University in 1983. Audiences can probably bet on some memorable encores.
In Quebec City, December 10, Hamelin will play Franck's Quintette with the Arthur Leblanc Quartet, as well as Szymanowski's Second Sonata--something for the audience to discover. "What an assignment!" says Hamelin. "The tonal language is full of modulations and may seem exhausting to listeners. It's wild; there's nothing like it."
---
Version française...
---