Summer Reading

July 1, 2002

---
The Letters of Arturo Toscanini
Harvey Sachs, editor. Knopf
(hardcover US $35)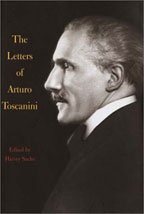 This provocative new book presents several hundred letters by Italian conductor Arturo Toscanini which were discovered in archives, private collections, and auctions by author-editor Harvey Sachs after his authoritative Toscanini biography was published in 1978.
Any new data about a figure as historically important and as poorly documented as Toscanini must be welcomed. The temperamental Italian maestro was a major figure in the musical life of Europe and America from the 1930s until his death on January 16, 1957. Yet despite his fame and popularity, he left almost no written legacy, being averse to any form of self-advertisement or publicity. Toscanini never wrote an autobiography, musical essay, or program note. His public life--including his clash with fascism, exile in America, and brilliant career leading the NBC Symphony broadcasts--was documented by the press and followed by the public, but he never authorized a writer to tell his story. His biography has been deduced and inferred from the outside, by witnesses, table talk, and analysis of his business practices and music-making.
This is why these letters are important, though not as significant or informative as most reviewers have pretended. The New York Times exaggerates when it calls this "a major contribution to our understanding of Toscanini." Taken alone, they offer a distorted and distasteful portrait of a great man. As an antidote, they should be read in conjunction with Sachs's biography of the conductor.
Nor are they, as the Times again pretends, a "great read." Compared to great letter writers such as Virginia Woolf and Dylan Thomas, Toscanini was a telegrammatic scribbler. Since he did not write for posterity, you won't find the kind of treasurable aphorism, mature wisdom, or illuminating anecdote that enlivens and enriches the writings of Hector Berlioz, Richard Wagner, Erik Satie, Virgil Thomson, or Ned Rorem, to name just a few great musician-writers who did have an eye on posterity.
Toscanini lived violently. His life was full of controversy, power struggles, and passion. Had he been born in the Renaissance he would have been a condottiere, defending his city-state, poisoning his enemies, and bedding his neighbours' wives. His are the letters of a man of action, driven by an idealism and perfectionism which delighted audiences but alienated his underlings and enemies. He can be scathing to the inadequate. Singers are "cretins" and "dogs," publishers crooks, Richard Strauss a money grubber, Stokowski a pompous fool. Yet oddly, the patriarchal and censorious Toscanini seems to have been clueless with respect to his own family's peculiarities, particularly his granddaughter Sonia's lesbianism, and his daughter Wanda's loveless marriage to the infantile, unstable, homosexual Vladimir Horowitz.
In letters to Mussolini and President Roosevelt, Toscanini takes political stands despite the risks. Unlike Richard Strauss, Furtwangler, and other quasi-fascist figures, Toscanini opposed Fascism and suffered for it. To his credit, he was as tough on himself as he was on his enemies. These letters reveal a very Catholic sense of guilt, insecurity and self-criticism. "I am incapable of hypocrisy," he wrote. From a medical viewpoint, he seems to have suffered from chronic melancholy, misanthropy, and pessimism.
While these letters offer no revelations that will alter Toscanini's place in music and political history, his hitherto secret sex life is laid bare. He was constantly unfaithful to his wife. In several letters he begs his mistress for pubic hairs and a handkerchief spotted with her menstrual blood. These fetishes he wears inside his clothes when he conducts. In letter after letter he fantasizes about their lovemaking.
One closes this book with a sense of fatigue and satiation, blinded and deafened by a life lived at white heat. Toscanini's emotional intensity was High Romantic; his erotic passions and fetishism were Edwardian; his political idealism that of a medieval martyr; his musical vision in the noble line of Beethoven, Berlioz, and Wagner. Today Toscanini could not exist. Union orchestras would not tolerate him. Record companies and publicists would airbrush away his rough edges and steer him clear of politics. Treasurably, regrettably, he was the last of the sacred monsters. Philip Anson
---
Version française...
---