Karita Mattila - The Passion for Art

by Wah Keung Chan / July 1, 2002

---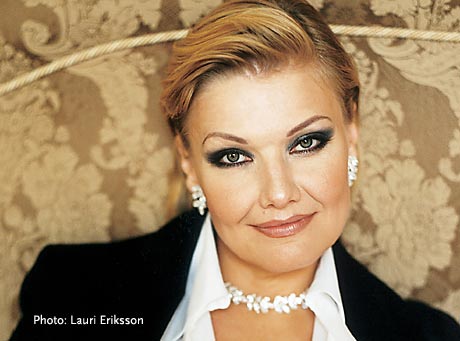 Finnish soprano Karita Mattila came to international attention with her victory at age 23 at the first Cardiff Singer of the World Competition in 1983. Nineteen years and several ups and downs later, she is considered one of the top sopranos today. Her clarion voice with its powerful top has thrilled opera fans in Europe, and she is a regular at the Metropolitan Opera (recently in Fidelio and Lohengrin), frequently singing opposite Ben Heppner. Peter Conrad of the Observer wrote that Mattila is "simply the greatest singing actress in the world." Mattila is fond of saying "I started as a simple country girl". Today she is glamorous, sophisticated and discriminating. La Scena Musicale caught up with Mattila on her day off from rehearsals for a production of Verdi's Simon Boccanegra in Florence.
What kind of advice would you give young singers?
Birgit Nilsson was asked the same question on the radio 20 years ago. Her answer: Get comfortable shoes. She refused to give additional advice, saying that everybody had to make their own mistakes. I was very upset when I first heard this, but it turns out she was right.
My advice: Concentrate on becoming a professional singer, and not a star. You have to know your voice, learn what singing is, how your instrument functions and be in control of your life.
Don't hurry. Think that you have 30 to 40 years to sing. I am grateful I had to make my own mistakes, and I've learned from them; I am just happy that no mistake was so big as to stop my career.
What were some of those mistakes?
In the late 80s and early 90s I was singing too much. It took a while for me to realize this. At the age of 30, I thought I could have it all. I was happy and wild. I hit a crisis around 1988, just before I met my husband. Sometimes, against my doctor's advice, I sang even when I didn't feel well. I was ready to risk my health for money since I hadn't led my life very wisely. This lasted three or four years. I didn't know my voice, and I paid the price. I had surgery on my vocal cords in 1992, and luckily those problems were resolved. They removed a vein that had started bothering me because I had sung too much. Maybe young singers need a crisis to really test their limits. That's what happened to me.
How did you get out of that?
Rest. After I got married in 1992, we took a long honeymoon. I didn't sing for two months and I got better. It was of course a big mental lesson, too. What a relief to feel well again!
To be an opera singer is boring. To become an artist is a lifelong goal, and that is interesting. It involves hard work and learning from your mistakes. I've been lucky to be able to turn to wise people, like Vera Rozsa, my teacher since 1983, and my agents Diana Mulgan, who passed away four years ago, and now Tom Graham.
What are the ingredients of an artist?
Of course, you need the voice. You also need talent, endless ambition, a willingness to work and the realization that this work has nothing to do with glamour. If you are good, then you can enjoy flashes of glamour as well. It's hard, lonely work, discipline--with many challenges. If you have the passion to sing, to be on stage and to serve the audience, then these challenges don't feel like obstacles at all. It helps if you can enjoy success and acknowledge what you are good at. If you are planning an international career, you should speak foreign languages. It helps if you enjoy new cultures and circumstances and meeting people; otherwise it would be quite lonely.
It doesn't do any harm if you look good and take care of yourself. I lost 40 pounds through Weight Watchers when I was 22 and I am glad I did it. I wasn't fat, but I was plump, and I didn't feel comfortable. It has been an eternal battle. It has nothing to do with vanity; it's just to serve your work by looking the part. This is a stage profession, where you are under scrutiny on stage.
I don't want to sound too negative about what it takes to be a good professional singer. You have to like to work. The most important thing is to love singing. That passion, which is something uncontrollable, will help you see obstacles as minor things.
What kind of obstacles?
Sometimes it's the problems of travel. Sometimes the conductor doesn't like you or you don't like what he is doing. That's the drama that comes as part of this job, and the audience doesn't need to know about it. As long as you feel pleasure in the job discovering new parts and learning new songs, it's all worth it. You just say: "C'est la vie."
Where did your passion for singing come from?
I am generally a passionate person, whatever I do. When I was in school, I decided to learn the history book by heart and I got the highest grade. I used to compete with my three brothers, and this race horse attitude has helped me in handling the competition in this profession. My first teacher, Liisa Linko-Malmio was right: There is always room at the top, and it is very windy, meaning that it is harder to be at the top than on the way up.
When you sang Chrysothemis in Elektra in 1995 at the Salzburg Festival, you said that it was a revelation for you.
Maybe I had wrongly estimated my limits--I noticed that I could go much further. This repertoire suits my personality and my voice. It was a great revelation because I had been careful in choosing my rep and had tried not to take any risks. Maybe the step suddenly felt bigger because singing Strauss is so different from singing Mozart. It was a big change to be able to perform with no inhibitions, nobody asking me to sing softer. I felt I had sung my heart out. It felt so good that immediately after, I thought there had to be something wrong. But Vera Rozsa told me I was in good voice.
When you start young like me, it is even clearer that you can't just develop one side of you. Everything belongs with the voice: your moods, your emotions, your hormones, everything you feel and see, how heavy or tall or thin you are. It is especially important how you mature and take experiences in.
How did you become such a convincing actress?
I had training from actors at the Sibelius Academy. I needed my own time to absorb what I had learned from them. The better I understood my voice, the better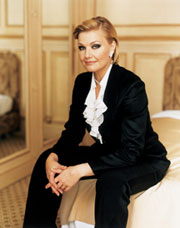 a performer I became. The two bibles which have helped me are Respect for Acting and A Challenge for the Actor by Uta Hagen.
It's important to serve the piece. I'm flattered to be called a star, but an opera can't be successful with just one star. Opera needs a team, a good strong cast, director and conductor. I have had the luck to be in some productions where this was possible. I try to work with people who have similar ideas. Opera works in terms of the theatre, in how you tell the story. To sing well is the starting point. As you are part of an ensemble, you should trust the people around you, which is not always easy. We have to be constructive. It can be heaven when you are lucky to have a great conductor and a good director working well together. I'm in heaven in Florence today because Claudio Abbado and Peter Stein work so well together.
I try not to have any preconceptions concerning characterization. For my own good, I want to give the director a chance. Why else work with him for four to five weeks? Often I've worked with a director who has a strong concept, and if he is convincing, though I might not agree, I am willing to go along, as in Robert Wilson's staging of Lohengrin at the Met. It was very hard for me to understand his ideas. But he is a true artist. Of course if the director decides he doesn't like me, my looks, because I am tall (5 foot 10), or something, then I just listen and say, "OK, maestro, let's try." That also goes for the conductor. But I don't take arrogance or lies from anybody. I defend myself. I say this has to change, or the administration has to get involved. However, I don't break my contracts for personal reasons because I owe it to my audience to be there. If it has already been announced that I will be singing there, then I think it would be very unprofessional for me to cancel.
Would you work with Robert Wilson again?
If they revive Lohengrin again at the Met, I might. It's hard for me to find the sense in that style, but I respect him highly, and I really think that he is a great stage director. It was a wonderful experience not to agree with someone and at the same time respect him. After every performance, I felt like an unfit ballet dancer. The audience was divided, some hated it and others were in tears. I did not think it was up to me to judge his style, because his staging seems to speak to the audience, so my opinion wouldn't count much.
What's next?
I hope to remain healthy so that I can sing until I'm 60. I would love to continue with the Slavic repertoire that I've started to learn. Getting into some selective Verdi, and some roles in the German repertoire, maybe Isolde in 10 years. Amelia in Ballo is the next Verdi part I'm going to do. I like Puccini, too. And I look forward to Salome in Paris next year.
What music turns you on?
At the moment, Simon Boccanegra turns me on. I'm doing my favourite parts all the time. I can't wait to work on Elektra with Jimmy Levine, my other favourite conductor, and Deborah Polanski. When I'm not singing, I turn to Jazz. It relaxes me. Maybe when I get more famous, I can do a disc...One can always dream.
Karita Mattila performs twice at the Festival de Lanaudière: July 27 with the Montreal Symphony and July 30 in recital with Martin Katz (broadcast on Radio-Canada on August 2 at 1:30 p.m.). 800-561-4343 or 450-759-4343. Future Canadian engagements include a recital in Toronto (February 27, 2003 at Roy Thomson Hall 416-872-4255) and with the Vancouver Recital Society on March 12, 2003 (604-280-3311).
Visit <www.scena.org> to enter Karita Mattila Contests :
win one of two pairs of tickets to the July 27 concert courtesy of Festival de Lanaudière. Ends : July 24th.
win one of five Karita Mattila solo CDs courtesy of Warner Music Canada. Ends : August 31.
Photos: Lauri Eriksson
---
---
Version française...