Stéphane Lemelin: an ear for repertoire

by Lucie Renaud / September 1, 2001

---
Pianist Stéphane Lemelin's versatility enables him to be as much at ease in a concerto as in a chamber quintet. His enormous repertoire covers almost all periods of classical music. Ravel is the composer that seems to move him the most, but his many recordings include works by Schubert, Schumann, Fauré (he has recorded the rarely performed Nocturnes on the CBC label), and forgotten composers such as the French impressionist Gustave Samazeuilh and Guy Ropartz (a CD of the latter's piano works will be issued in the winter of 2002).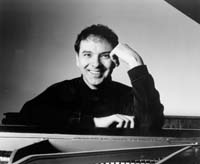 Lemelin is a tireless worker. He feels the need to spend five or six hours a day on his repertoire, both at the piano and away from it, analyzing the works. "You've got to live with the work in order to know what its possibilities are," he says.
Repertoire is what attracts him, and this accounts for his frequent appearances with other instrumentalists and singers (among others, soprano Donna Brown, with whom he recorded the Frühlingslieder and Debussy's youthful compositions). "As my colleague Jacques Israeliévitch used to say, 'It's like dancing with someone.' You have to adapt each time." This constantly changing rapport in the playing of chamber music fascinates him. "One of the most satisfying experiences a pianist can have is, I feel, to play the [Schubert's] Winterreise with a good singer, but I could say the same thing about chamber works such as Brahms' quartets or his quintet, for example."
Lemelin has just been named to a teaching post at the University of Ottawa and will be a guest lecturer at Université de Montréal. "Listening to the quality of sound is something I talk about a lot when I teach," he says. However, imagination is essential to a better understanding of the repertoire. "When you play a work, you must find a point of contact and be able to establish a link between the work and yourself. You can try to do this through some other artistic experience, whether literary, pictorial, or other."
The pianists whom Lemelin admires most are those who can master sound and touch his emotions at the same time. These include Schnabel (Lemelin studied with his son, Karl-Ulrich), Kempf, Clara Haskill, Serkin (whose playing he finds increasingly interesting), Samson François (whom he's recently discovered), Vlado Perlemuter (for his Ravel), Murray Perahia, Radu Lupu, and Maria Joao Pires. Lemelin's choice for a desert island? Schubert's Quintet with two cellos and Ravel's Trio. "If I had to spend the rest of my life with a single work, Bach's Well-tempered Clavier would certainly be a worthwhile choice. One never tires of it."
[Translated by Jane Brierley]
---
Version française...
---