Challenges of Singing Verdi

by Michel Veilleux / May 1, 2001

---
When Giuseppe Verdi (1813–1901) entered the European musical scene at the end of the 1830s, there had already been a great change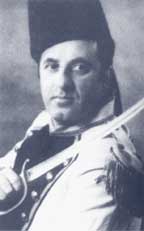 in the way music for voice was written in Italian opera. This was brought about by composers of the previous generation, notably Bellini and Donizetti. Rossini's Semiramide (1823), his last Italian opera, was perhaps the last baroque grand opera and the last opera to follow the basic principles of bel canto.–.that is, song based on a clearly instrumental conception. Rich ornamentation was an important part of this conception, requiring the highest standard of virtuosity.
Bellini and Donizetti, Rossini's immediate successors (whose careers moved into high gear at the end of the 1820s and early 1930s respectively), brought Italian opera into the Romantic era. This new aesthetic approach focused on dramatic realism and the direct expression of feeling. Arias became more realistic, the male coloratura gradually disappeared, and the contralto who could handle the intricacies of Rossini's music gave way to the dramatic soprano. This cleaner and more declamatory style brought new demands. The singer had to have power and range, clear articulation, energetic expression, the ability to project the voice effectively (singers had to deal with increasingly larger orchestras), vigorous attack, and so on. It wasn't enough merely to sing well.; a performer had to live his or her role intensely, bringing to the stage the character's many passions and moods. The advent, among tenors, of the famous "chest-voice high C" that replaced the bel canto technique of falsettone for the higher notes (above A) was part and parcel of a move toward the vocal expression of great emotion.
When Verdi presented Nabucco to the Italian public in 1842, he was simply taking these new demands a step further. For this occasion, he created one of the most fiery soprano roles in the lyric repertoire, that of Abigaille, typified by large intervals and an unprecedented, full-voiced, vehement coloratura. The title role required a new type of baritone voice (the "Verdi baritone" as it was later called).: rich and full of drive. At the same time, this voice had to be capable of assuming a sharper pitch and handling a wider range of nuance, accentuation, and colour, since Verdi retained one of the basic characteristics of bel canto.: the need for a wide range of vocal inflexion and nuance.
Verdi singers should always keep in mind the bel canto notion of analytical phrasing, and it is precisely this notion that most singers today have forgotten, or at least neglected. You have only to listen to any modern recording of a Verdi opera, score in hand, to realize how little respect most of today's singers have for what Verdi actually wrote. Look at the score of Il Trovatore (1853) or Otello (1887), and you'll be surprised to find that these works, which we so often associate with great bursts of song and an intensely dramatic, agitated rendition, contain instructions for soft and delicate singing. Carlo Bergonzi, considered the greatest Verdi tenor of the postwar era, stated that if Verdi is so demanding, it's because he carefully noted in his scores everything he expected from the singer. Verdi's many symbols and notes for the singers' guidance reveal some of his preoccupations.
Verdi's dynamics
T o begin with, Verdi singers must have a near-perfect breathing technique that allows them to modulate their voices at will over their entire range. The variety of dynamics demanded by Verdi covers everything from pppp to fff. It is essential for Verdi singers to have this rich palette of dynamics, which explains why singers who can't handle delicate vocal shadings (that is, produce a true mezza voce) will never be great Verdi artists, since he is certainly the nineteenth-century composer who most often demands a piano interpretation.
Another requirement for Verdi singers is the ability to use different modes of attack.–.to be able to sing a perfect legato (that is, move from note to note with complete smoothness, a technique that may require dropping a consonant), and to handle with equal ease staccati, detached notes, notes that are a little forced, and notes that are strongly accentuated. Colouration is important too, requiring subtle variations in time that enhance the expressiveness of Verdi's music. Singers should make the most of the wealth of instructions such as rallentando, ritenuto, or accelerando to increase the music's emotional effect, and should colour their voices in reponse to notations for each passage, such as "agitatedly," "sorrowfully," "passionately," "lovingly," and so on.
Verdi's singers need enormous vocal versatility. Critics and specialists write about the need for "different" voices to accommodate a particular Verdi role. Take Riccardo in Un ballo in maschera, for example, which requires suppleness of delivery and the lightness of a tenore di grazia, as well as the cantabile and perfect legato of a lyric tenor, while other passages demand slancio and the power of a spinto tenor. It is a rare singer who can be equally at home with all the vocal facets of such a role.
A watershed
Verdi's approach to singing is the result of his position at a watershed between two conflicting vocal styles. On the one hand is the old bel canto. Verdi rejects its concepts of abstract beauty as an end in itself, but retains the need for a highly flexible delivery and subtle, varied phrasing. On the other hand, Verdi's style is distinct from the truly realistic mode of singing developed by younger composers at the end of the nineteenth century, a raw, monotone approach aimed at achieving a purely theatrical effect rather than revealing inner emotion.
[Translated by Jane Brierley]
The next Verdi opera is Aïda at L'Opéra de Montréal, May 26, 28, 31, June 2, 6, 9.
---
Version française...
---