Ruby Mercer (1906 – 1999)

February 1, 2001

---
Ruby Mercer was born in Athens, Ohio on July 26, 1906. She studied at the Cincinnati Conservatory and at The Julliard. She made her New York recital debut in 1931, won the Naumberg Award in 1935 and rst performed with the Metropolitan Opera in 1937. In 1938, Ms. Mercer was signed to a contract with MGM, which led to roles in three Broadway productions and appearances on radio and television. Ms. Mercer rst performed in Canada on October 31, 1933 with the Montreal Opera Company and would return to Canada to sing in 1937, 1944 and 1945. In 1958, Ms. Mercer married Geza Por, a Canadian, and moved to Toronto.
In 1960, Ms. Mercer founded Opera Canada, one of Canada's leading music periodicals. Opera Canada has grown from a newsletter into an independent music publication that showcases and promotes the growing interest in opera in Canada. Ms. Mercer served as editor and publisher until 1990. In 1968, Ms. Mercer founded the Canadian Children's Opera Chorus, the rst of its kind in Canada, featuring 32 children between the ages of 8 and 16 performing choral and opera repertoire. Now, more than thirty years later, the CCOC has expanded to 60 voices and has commissioned and premiered works by leading Canadian composers.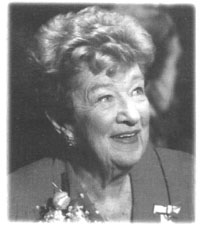 Throughout her life, Ruby Mercer took an extraordinary personal interest in the careers and development of young singers, including the students at The Royal Conservatory of Music's Opera School. Ms. Mercer also traveled extensively around the world and across Canada to hear young opera singers. She liked to know who was "up and coming"and was a well-known gure backstage at performances across Canada, offering encouragement to performers.
Ruby Mercer continued her broadcasting career in Canada by hosting weekly opera programs on CBC from 1962 – 1984. She also wrote and published two biographies; a biography of Edward Johnson, "The Tenor of His Time", in 1976 and "The Quilico's – Louis, Gino and Lina"in 1990.
Ms. Mercer was awarded a Canada Music Council medal in 1983 and a Toronto Arts Council Lifetime Achievement award in 1988.
Ruby Mercer's lifetime commitment to music and culture in Canada continues to this day. During her lifetime, she established an annual scholarship at The RCM and, after her death in January 1999, her estate established an endowed scholarship in order to continue her musical legacy in perpetuity.
---
Version française...