Oscar Peterson

by Cathy Landolt / February 1, 2001

---
Oscar Peterson was born on August 25, 1925 in Montreal, Quebec. All ve Peterson children, Fred, Daisy, Charles, Oscar and May, learned to read and write at an early age and were expected to learn musical instruments. Oscar Peterson started his musical studies on the trumpet but, after a bout of tuberculosis, switched to piano at the age of eight. Initially, he was taught by his father, a self-taught pianist, and then by his older sister Daisy, who also taught Oliver Jones and Joe Sealy.
At the age of 12, Mr. Peterson went to study with Lou Hooper and then attended the Conservatoire de musique du Québec à Montréaly´ By the age of 15, Mr. Peterson was studying with classical pianist Paul de Marky who helped develop his piano technique. That same year, Oscar Peterson won an amateur contest sponsored by Ken Soble, a local radio personality on CKAC in Montreal. He began his own radio show, "Fifteen Minutes Piano Rambling". By 1941, he was performing on the weekly radio show "Rhythm Time"on CBM in Montreal and in 1945 was heard regularly on CBC's "Light Up and Listen"and "The Happy Gang".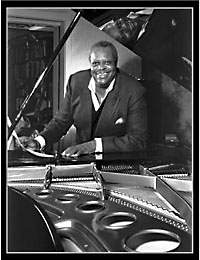 Oscar Peterson remained in Canada throughout his career, despite offers from both Count Basie and Jimmie Lunceford to join their bands. From 1944 to 1947, Mr. Peterson was a member of Johnny Holmes orchestra, which played in the Montreal area. He then formed a trio and gave a series of performances in Montreal's Alberta Lounge from 1948 – 1949, which were broadcast live on a local radio station. Norman Granz, the producer of "Jazz At The Philharmonic", heard one of these broadcasts and went to the clüb to meet with Oscar. In 1949, Mr. Peterson accepted an offer by Norman Granz to be "planted"in the audience at a "Jazz At The Philharmonic"presentation at Carnegie Hall on September 18, 1949. His "surprise"guest performance with bassist Ray Brown caused a sensation and was the beginning of Oscar Peterson's partnership with Norman Granz, who became his manager until 1988.
In 1951, Oscar Peterson formed The Oscar Peterson Trio with Ray Brown and Charlie Smith who was replaced by Herb Ellis in 1952 and recorded and toured extensively with Jazz At The Philharmonic. They made extensive recordings and were acclaimed as one of the greatest combos of the time. In 1958, with the retirement of Herb Ellis, Ed Thigpen joined the Trio. The Trio would keep this line-up until 1965 when both Ray Brown and Ed Thigpen retired from touring.
In 1960, shortly after moving to Toronto, Oscar Peterson, Ray Brown, Ed Thigpen, Butch Watanabe and Phil Nimmons opened the Advanced School of Contemporary Music. In its three years, the school attracted students from all over North America.
In 1964, Mr. Peterson also released "Canadiana Suite", a series of jazz themes inspired by the different cities and areas of Canada, which won a Grammy in 1965. This was the start of yet another facet of his career; Oscar Peterson the composer. "Canadiana Suite"was the rst of many major compositions, which also included African Suite (1979) and A Royal Wedding Suite (1981) in honour of the marriage of Lady Diana Spencer and HRH Prince Charles. He was later commissioned to create works for Ballets Jazz de Montréal ("City Lights") and works for Bach 300 for jazz trio and orchestra as well as for the 1988 Calgary Winter Olympics. His movie score for "The Silent Partner"won a Genie award in 1978.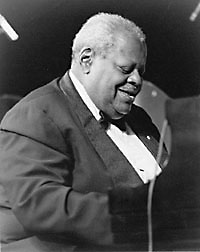 Also in 1964, Oscar Peterson was invited to play for German millionaire Hans Georg Brunner-Schwer who loved jazz music and also had a strong interest in audio recording technology. Mr. Peterson recorded over 20 albums with Hans Georg, who later formed his own record label, both as a solo artist and with the Oscar Peterson Trio.
Between 1966 and 1974, Oscar Peterson continued to tour and record with different partners in his Trio. However, by 1977, he was starting to feel the effects of arthritis and scaled back on his touring and performing duties, focusing on solo recitals, composing and continuing his broadcasting career. During the mid-1970s, he hosted CTV's "Oscar Peterson Presents"television show and "Piano Party"for the BBC. He was featured on television specials on CBC and had his own 13-week series in 1980 called "Oscar Peterson and Friends". In 1984, he was re-united with Ray Brown and Herb Ellis and, together, they released four albums. He continued to record and perform and made many concert appearances.
In 1993, Oscar Peterson suffered a stroke which prevented him from playing and working for almost two years. After working at recovering his piano dexterity, he is now active again as a performer, recording artist and composer.
He has a fascination with music technology that dates back to the early 1980s. At home, Oscar Peterson has a fully-equipped recording studio for his many keyboards and computers. The tools help him to compose, and orchestrate, more quickly and effectively than traditional methods.
Mr. Peterson has won numerous awards and accolades during his career including a Juno and ve Grammy awards, was inducted into the Juno Hall of Fame in 1978 and was awarded a Lifetime Achievement Grammy in 1997. He has received ten honorary Doctorates, was made an adjunct professor of music at York University in Toronto in 1985 and was appointed its Chancellor in 1991. In 1999, Concordia University renamed its concert hall the Oscar Peterson Hall. He was awarded a Diplôme d'honneur from the Canadian Conference of the Arts in 1975, was made a Companion of the Order of Canada in 1984 and, in 1991, was appointed a Chevalier in the Ordre National du Québec and received a lifetime achievement award from the Toronto Arts Council.
Oscar Peterson is a Canadian and international jazz legend. His remarkable talent has been a xture on the jazz scene since the early 1940's. With a recording career spanning 50 years and more than 90 recordings, his longevity is truly amazing and inspiring. His in uence on hundreds of young jazz musicians and the scope of his talent truly make him a national treasure.
The Royal Conservatory of Music will host a tribute to this remarkable musician to honour his contributions and achievements at its annual Royal Occasion on May 29, 2001. A scholarship named in his honour will be announced at that time. For more information, please see "Oscar Peterson Honoured at The Royal Occasion"above.
For more information about Oscar Peterson, please visit www.oscarpeterson.com and The National Library of Canada's exhibition in Ottawa at www.nlc-bnc.ca/oscarpeterson or in person through September 2001.
Sources:
Lees, Gene, Oscar Peterson: The Will To Swing.
Key Porter Books, Toronto, 2000.

Miller, Mark, "Oscar Peterson", The Canadian Encylopedia, Volume 3. James H. Marsh, Editor in Chief. Hurtig Publishers, Edmonton, 1988.

Miller, Mark, "Oscar Peterson". Encyclopedia of Music in Canada, Second Edition. Kallman, Potvin, Winters, Editors. University of Toronto Press, Toronto, 1992.www.oscarpeterson.com
Oscar Peterson Honoured at The Royal Occasion
On Tuesday, May 29, 2001, The Royal Conservatory of Music will honour Canadian jazz legend Oscar Peterson with a special tribute evening at the fth annual Royal Occasion featuring performances by leading Canadian musicians.
The Royal Occasion gala began in 1996 to raise funds for the various projects of The RCM. The following year, a Royal Occasion event took place to mark the ftieth anniversary of The RCM's receipt of the Royal Charter. The 1998 event featured an excerpt from the Broadway show Two Pianos, Four Hands, and provided the three hundred guests with outstanding entertainment.
In June 1999, The RCM hosted its fourth annual Royal Occasion to bene t The RCM's Learning Through the Arts™ program. Artists involved with this unique school transformation program performed at the reception and entertainment was provided by RCM graduates singer Michael Burgess and pianist Doug Riley. Over $100,000 was raised for Learning Through the Arts™.
In 2001, the Royal Occasion will take place at the Royal York Hotel in Toronto. Monies raised at this event will go towards a new Oscar Peterson Scholarship, which will be formally announced at the special tribute evening. Five hundred guests will be treated to a cocktail reception and an elegant dinner in the spectacular Concert Hall room, followed by a series of performances by the group of leading jazz musicians gathered together to honour Mr. Peterson.
Tickets for this fundraiser are available now and orders for corporate tables should be placed as soon as possible to ensure the best seating.
The Royal Occasion is a great evening out and a fantastic way to entertain clients and guests. It is also a wonderful opportunity to support a Canadian jazz legend, and to take part in a memorable evening.
For more information on the Royal Occasion, please contact Cathy Landolt, Coordinator, Special Events at The Royal Conservatory of Music at (416) 408 2824 Ext.325.
---
Version française...
---