Learning Through the Arts TM Education as you've never seen it before

February 1, 2001

---
"Grade five students learn how a conveyer belt converts circular to linear motion. They must convey an object – their teacher- across the gymnasium oor. Collaboratively, they problem solve and nd a solution. They lie in a row, and one by one, they roll over. Their teacher glides effortlessly across the room."
All across the country, schools are being transformed by The RCM's Learning Through the Arts™ (LTTA) program which provides students with multiple paths to learning, and teachers with a voice in the educational process.
With this program, The Royal Conservatory of Music has developed a new kind of learning environment to stimulate students' natural curiosity and cultivate a broad range of learning skills. Enthusiasm abounds and opportunities for success multiply as the classroom becomes vibrant, active, and fun.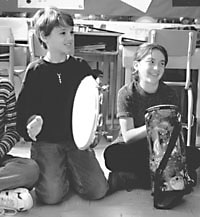 The program's success stems from its consistent focus on teacher development in integrated curriculum. In this process, teachers work closely with specially trained professional arts practitioners from the local community. Working in partnership, teachers and artist educators develop, test and document successful math, science, history, geography and language units that incorporate performing and visual arts into the learning process.
Initiated by The RCM in 1994, Learning Through the Arts™ was developed in partnership with more than 200 public school teachers, and expanded to more than 63 schools in seven cities across the country. With the support of the Canadian Paci c Charitable Foundation and the George Cedric Metcalf Foundation, The RCM has commissioned Canada's largest independent assessment of the impact of arts on learning, co-led by Dr. Rena Upitis and Dr. Katharine Smithrim, both of Queen's University. This ground-breaking study was undertaken to provide independent con rmation of many ndings which indicate that participation in the LTTA program raises skill levels in math and literacy, improves student motivation, and increases teacher motivation, satisfaction, and skill sets.
LTTA has been acclaimed internationally as 'a template for the future' of education [UNESCO-sponsored conference, Athens, 2000]. The rst international LTTA site has since been established in Stockholm, Sweden, several U.S. sites are now entering into planning stages, and the momentum for LTTA continues to grow!
Early success of Learning Through the Arts™ in sites such as Vancouver, Calgary, Regina, Windsor, Toronto, Cape Breton, and Corner Brook has warranted further expansion. With a $3.5 million investment by the Government of Ontario, and a $1.5 million commitment from presenting sponsor, TD Bank Financial Group, Learning Through the Arts™ will expand over the next ve years into every school board across Ontario. We will also begin a new bilingual site in Montreal, a new site in Winnipeg, and enlarge our existing sites in both Vancouver and Calgary. Growth in 2002 and 2003 will be exponential.
Thanks to the leadership of our principal sponsors, as well as commitments from school boards, 75% of the required funds are committed for this major growth. The goal for 2001 is to raise the remaining $2.5 million required for the full expansion.
If your organization would like to learn more about sponsorship opportunities, please contact Jennifer Laughton, Development Manager at 416-408-2824 x 459. For program information and how your school can get involved, please contact Angela Elster, Director of Learning Through the Arts™ at 416-408-2824 x223 or Colleen Smith, Program Manager, at 416-408-2824 x 354.
The Royal Conservatory of Music gratefully acknowledges our Learning Through the Arts™ national sponsors who have made it possible to grow a pilot project into a national program:
Major Sponsors:
TD Bank Financial Group
The Government of Canada's Millennium Partnership Program
The Salamander Foundation
The George Cedric Metcalf Foundation
The Canadian Paci c Charitable Foundation
The Ministry of Education of the Government of Ontario
Media Sponsors:
The Globe and Mail
Time Canada Ltd.
Additional supporters:
Bank of Montreal
The Lloyd Carr-Harris Foundation
DuPont Canada Inc.
Enbridge Consumers gas
Ernst & Young
The Hope Charitable Foundation
The Henry N.R. Jackman Foundation
The Imperial Oil Charitable Foundation
The Catherine & Maxwell Meighen Foundation
The Ontario Arts Council
The Vancouver Foundation
Contributors to the RCM's Annual Fundraising Program

---
Version française...