Renée Fleming - The Song Never Dies

by Wah Keung Chan / November 1, 2000

---
The true sign of success is when your record company gives you carte blanche to record whatever you want. Earlier this fall Decca released the sensational American soprano Renée Fleming's latest album of operatic arias, entitled simply Renée Fleming, and the accolades are starting to pour in. Hers is not simply a pretty voice, however. Last month, Fleming pulled off acclaimed performances of Eugene Onegin, Don Giovanni, and the opening night of "Live from Lincoln Center" all in one week. Feted by critics and audiences alike for her glorious tone, great legato and subtle, limpid voice, one is surprised to hear her say that her stage presence and vocal prowess have been methodically cultivated, as she told La Scena Musicale in a phone interview from her home in Connecticut.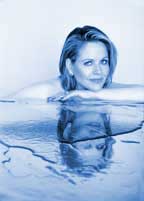 "I wasn't by nature a gregarious performer. For me it was really a matter of developing a performance persona, being comfortable on stage and with the audience. I much prefer the quiet work in the practice room to getting out in front of an audience. I had to work hard to be mentally prepared for the stress and rigours of a professional career at a high level."
A daughter of two high school voice teachers, Fleming came to singing and music naturally. She was first interested in pop music and jazz. Studies with Patricia Misslin at SUNY in Potsdam developed her musicianship and love for classical music. Working with Juilliard's Beverly Johnson (still her teacher after 15 years) helped solidify her technique.
As Fleming explains, "It took me 10 years. To be a successful singer, one has to start with a natural instrument. But some of us have to really take an enormous amount of time and effort to get the whole mechanism functioning. When I started studying, I couldn't sing high or softly, and I had enormous physical tension. All of these things had to be surmounted in order for the natural voice to come through. It requires time exploring in the practice room. One of the mistakes young singers make is to give teachers too much responsibility for their vocal health and not really try to experiment for themselves. They should try lots of different directions of achieving each goal, because no voice teacher can be all things to all people. You have to gain information from whatever sources you can. You have to listen. I listen to archival and historic recordings. I love watching singers. I learned a lot from watching videos. Those 'Bell Telephone Hour' videos are really valuable: how great singers look when they sing, what their bodies do, how they breathe, their posture, and their mouth position. I read voraciously all kinds of books on singing, even about the mental aspects of singing, which can often be difficult for people. Curiosity and hard work is what it takes."
Renée Fleming has been lauded for her high, floating pianissimos (the money notes), an ability to which every singer aspires but few achieve. "I had to learn that," she said. "The key was the realization that we have to work against our natural tendencies, which in singing softly is to grab or hold with the throat to try and stop the flow of sound and the flow of breath when, in fact, you have to allow the flow to continue. A very good exercise that I practise is the messa di voce on all pitches going up chromatically and back down again. There is a sightly different use of resonance, a more focused use of resonance. It's important to learn how to balance the change in resonance. When you decrescendo, think of the resonances going up and release from the bottom up. There is also a change in the flow of breath. It requires a lot of experimentation, and for sopranos, listening to Montserrat Caballé. The problem of holding is one of the hardest things to fix. For a good legato, work on anything with a glissando to get a sense of the continuation of the line. It takes practice and experience."
The continual practising began to pay off. 1988 was Fleming's breakthrough year. In the spring, at age 29, she won the Metropolitan Opera National Auditions and made her debut as the countess in Le Nozze di Figaro at the Houston Grand Opera, filling in on short notice. Fleming's career began to take off. In 1991, she sang the countess in the world premiere of Corigliano's The Ghosts of Versailles. However, as Anthony Tommasini observed in a February 2000 New York Times profile, Fleming's star did not get any brighter for a few years after that. The turning point seems to have been the 1995 Metropolitan Opera's opening night performance of Verdi's Otello opposite Placido Domingo, coming only three weeks after giving birth to her second daughter. "My voice only reached its potential five or six years ago," said Fleming, "and it is still improving." Coincidentally, the great dramatic soprano Kirsten Flagstad, who created a sensation in her mid-thirties, wrote that her voice improved with each new child. Fleming's part in Solti's recording of Così fan tutte put her in touch with Decca, and she became an exclusive Decca artist in 1995.
Since then, with two exceptions, everything has been one success after another. A 1998 Lucrezia Borgia by Donizetti at La Scala met with some boo-birds. That same year, Fleming's marriage broke up.
Versatility is a key word in Fleming's vocabulary. Mozart and the French repertoire have been prominent in her career–a recording of Massenet's Thaïs was released in September. "I really love the way French is placed in the voice; it is comfortable for me." Bel canto roles such as Armida were successes. Rusalka's "Song to the Moon" is her signature tune, and she has been hailed as the next great Marshalin in Strauss's Der Rosenkavalier. Even though Fleming's new album contains both Italian and French favourites, including a healthy serving of Puccini, she is careful not to schedule any staged verissimo operas to avoid wrecking her voice singing against large orchestras. A champion of new music, Fleming starred in last year's premiere of André Previn's A Street Car Named Desire and this spring premiered a set of Previn songs in recital.
Recitals are important to Fleming. She is not, however, an advocate of the purist school of recital programming. For instance, her November 7th Ottawa recital audience will be treated to equal helpings of opera and song. "I am there to serve the public and make them happy and not to lecture or educate them, and I want a program that I would enjoy. If it is a city where I sing opera, then I would only do a program of art songs. If it is a city where I know I would never do an operatic production, then it only makes sense to do a little of both. In Germany, I would never do that, they would be outraged. I am there to entertain and to show what my voice is and hopefully to introduce people to music that is moving and means something to them."
Renée Fleming makes two Canadian appearances this season. November 7, 2000 at the National Arts Centre in Ottawa in songs and operatic excerpts (613) 947-7000. April 22, 2001 at Roy Thomson Hall in Toronto in a tour of a forthcoming new album with pianist Jean-Yves Thibaudet (416) 872-4255.
---
Listen
Renée Fleming's Latest CD - 1 minute samples
Video
Music Video set to "Un bel di vedremo" from Puccini's Madama Butterfly (Playtime: 4:52, Quicktime Movie Format, 7.7 MB download)
Get

Quicktime Player

Multimedia Flash Bio
Future Engagements
---

Join a Discussion on Renée Fleming
---
Enter the Renée Fleming CD Contest


Prize: 1 prize of 5 CDs courtesy of Universal Music Canada
Massenet: Thaïs (2CDs)
The Beautiful Voice
The Schubert Album
Mozart Arias
Tell a friend about the contest and win The Beautiful Voice.
Contest Ends: November 30, 2000

---

Visit
Other Articles on Renée Fleming
---
Version française...
---