As Tristan skates with Isolde to the music of Wagner

by Marie Trudel / July 1, 2001

---
L ast March 21, the Metropolitan Opera aired Wagner's Tristan and Isolde, starring tenor Ben Heppner and soprano Jane Eaglen, on PBS. Meanwhile, on another channel, the world Skating Championship finals were taking place. Interestingly enough, Canadians Jamie Salé and David Pelletier won the gold medal of this event skating to a violin arrangement of the Prelude to that same opera (excerpt from a Humoresque CD by violinist Nadia Salerno Sonnenberg). Portraying this Celtic couple, Salé and Pelletier dazzled the public and the jury by successfully evoking in four and a half minutes of skating, the torrid colours of passion, love and death.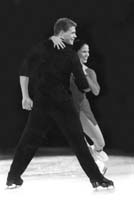 In this irrational universe where even unbridled artistic expression is coated in the most stringent technical requirements, Pelletier and Salé met former John Curry Skating Company skater Lori Nichols, "a wonderful choreographer" as Pelletier puts it. By proposing Wagner's music to the couple, the choreographer who has worked with many a talented skater had a premonition of victory. "Due to differences in mentalities and cultures says she, one of the greatest problems in figure skating competitions today is that young Canadian and American skaters often lack the musical judgement to make musical choices that will appeal to the European judges." So, Wagner and Nichol hit the jackpot. Still, before winning the gold, David and his muse had to work intensely on the psychology of the characters. They had to assimilate the historic and musical content of the opera as they internalized Tristan and Isolde's heavings of life and death. "I find this music extremely profound" said the champion who admits that this learning experience has contributed a lot to his artistic and human growth. This is invaluable in a world of sport competition where the music selected is often more or less superficial. "We much prefer to adapt our movements, our program to the music than the reverse" says he modestly.
But passion doesn't always include romanticism for a world champion like David Pelletier who every morning at eight, is already working his part. "I usually shift to 'cruise control', at that point, he admits. We can't experience a romantic state of mind every day. It's impossible!" And he is even less romantic when he skates to a music he hates.
"Musically I love what is simple and soft. I hate heavy metal, techno, trumpet and sax music." He loves the violin because it is a "highly passionate" instrument but his native flexibility really comes out when skating to the piano. And when he recalls how he used to skate to Love Story, without much excitement, he is surprised to measure how far he has come now with Wagner's heroes. "It's incredible what I learned from Tristan: he forced me to dig deeply into myself, to discover feelings that I didn't know I had. Anyway, if I am to remain enthusiastic as I skate to the same tune for a whole year, I have to feel the music vibrating under my skin and in my blood."
In showing respect for the legends and music of our past, true in this to its icy destiny, the skating couple does not fail to reinvent the fate of Tristan and Isolde for itself. [Translated by Alexandre Lebedeff]
---
Version française...
---