Sir Neville Marriner: Beyond the Academy

by Anthony Kirby / June 1, 2000

---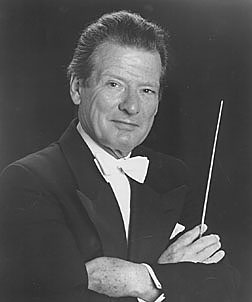 Best known as the founder and artistic director of the Academy of St. Martin-in-the-Fields, Marriner is also very much in demand with orchestras around the world. He recently completed a three-year contract with the Opéra de Lyon, conducting Mozart's Cosě Fan Tutte.
Marriner feels that Mozart is perhaps the greatest composer to date "because of the sheer volume of his work. Mozart has written opera, symphony, sacred and chamber music - not to mention his piano and violin concerti."
Honoured by the Austrian Music Academy with two Gemeinde Awards for the excellence of his Mozart recordings, Marriner is also remembered for his musical direction of the Milos Foreman films Amadeus and Valmont. "What Amadeus had," he recalls, "was an excellent scenario by Peter Shaffer with a strong conflict. The play, however, had only six minutes of music. In the film we featured an hour and a half."
After wartime service in the armed forces, Marriner began building a reputation as a chamber violinist in the Martin String Quartet, the Jacobean Ensemble and the London Mozart Players. He held these positions in addition to playing with the London Symphony Orchestra for 13 years.
He has mixed feelings about this period and says, "I think we were all frustrated with our daily routine. Forty-five years ago London orchestras were not as good as they are now and the L.S.O. was probably the worst. It was half way through the Joseph Krips era; he smoothed over the cracks so you didn't hear too much of what was going on. There was a lack of responsibility. I led the second violins but there was little you could do to influence the sound. So I think we got together as the Academy to give ourselves that sort of responsibility and to play well. One thing we were looking for from the start was players who really fit together, who sounded in tune."
The owner of the then newly founded L'Oiseau Lyere record label came to their first concert in the Church of St. Martin-in-the-Fields. He signed the new ensemble on the spot. "We immediately recorded all those Italian ice-cream merchants - Manfredini, Corelli, and so on," Marriner recalls. "So in one leap we had gone from being a friendly society to something almost professional."
"What the Academy has now, after more than 40 years, is a core group of 15 musicians under concert-mistress Iona Brown. To these we add extra instrumentalists to correspond to the size of the hall and to the repertoire. Initially we performed in halls with capacities of 1,000. Now we frequently play in concert halls of 2,500 seats, so we add extra string and wind instruments to balance the sound. If we perform the romantic repertoire we need more musicians. Most Beethoven symphonies require 80 or more instruments, and the late romantics even more."
Sir Neville's way of selecting players for the Academy remains constant. First comes the audition. "You can tell within five minutes what they can do." Then they are put into the Academy for a few concerts to see how quickly they absorb its ensemble style. "But the most important test," says Marriner, "is to take them on tour and see if you can bear to spend time with them. If they are miserable devils, they don't get invited back."
The Academy has always been unsubsidized. "If the (British) Arts Council give you money, they also tell you how to spend it. We don't want other people poking into our artistic pie. Of course, the result is that the orchestra is always on a knife-edge, financially." Paradoxically this quintessentially British orchestra has no London season. They perform regularly in various European countries where ticket prices are high. "We once sold out the Royal Festival Hall and lost $64,000 in a single night," says Marriner.
"Music is a continuum," he says, "and the modern and avant-garde composers of today will be part of the standard repertoire 30 years from now."
Marriner remarks that, having "decided two or three years ago that I wasn't immortal, I'm trying to delegate some of my responsibilities with the Academy to Iona Brown and others." However, he wants his orchestra to continue "as a regenerative institution. I would like new people with new ideas to come into it and change it. But that's more a question of repertoire and so on, rather than playing style. Taste is changing, style is changing, and players' abilities are changing."
But what of his work with orchestras throughout the world? "Like (Sir George) Solti, I will probably go on until I'm stopped," he says wryly. "The awful thing about a conductor becoming geriatric is that you seem to become more desirable, not less. I just wish all these offers had come in when I was 30!"
---
Version française...