Lara St. John's Passion

by Seth Cooper / April 1, 2000

---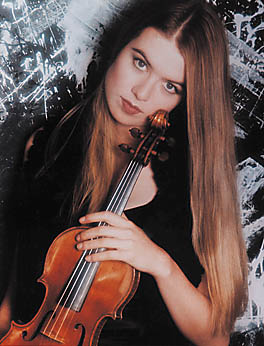 Lara St. John, the 27-year-old Canadian-born violinist, sits with legs curled under her on a cushioned bench at the Ocean Grill in New York. She talks openly about herself and her blossoming career, her almost casual manner belying the seriousness of her commitment to music and the art of violin playing.
The conversation turns quickly to the "infamous" cover of her first CD, where she appears discreetly nude, hidden by her violin. In answer to the outcry from critics and colleagues, she explains that her CD cover was simply projecting her feeling that there is nothing between her and her violin. She considers it tame compared to images portrayed in the pop commercial world.
The CD has proved successful in attracting newcomers to St. John's work, drawing them to the highly aesthetic world of her playing. It has sold over 30,000 copies and received praise for its natural and accomplished performances ó a remarkable debut recording in the highly competitive world of classical violin soloists.
Reaching a large public
While hoping to present more challenging works by Prokofiev or Bartok, St. John is quite content to play a Bach concerto in Vancouver or the Carmen Fantasy in Shanghai. Wishing to reach a broad public, she frequently plays the standard violin repertoire. Her programs include the familiar standards: Tchaikovsky, Mendelssohn, Mozart, Vivaldi, Bach, and Saint-SaŽns, but curiously, not Brahms. She has never connected with either the solo or chamber music of Brahms, although she found her older brother Scott's recent performance of the Brahms G Major Viola Sonata a revelation.
St. John yearns to play more of the 20th-century repertoire, especially the Benjamin Britten concerto. She is scheduled to perform the Berg concerto in Tokyo and the Prokofiev in Nova Scotia, but points out that concertos by composers like Britten, Bartok, or Samuel Barber require intense rehearsal time that few conductors or symphony orchestras are willing or able to afford.
Moving to New York
"I moved to New York because I liked it here and I was tired of moving around," St. John explains. A schedule of 70 concerts a year around the world leaves her little time in any one place, so she's always happy to return to New York. "I love meeting new people all the time and being in different cities ó it's exciting. But I hate airports!"
St. John has made two CDs. Her approach to recording is to create the feeling of a live concert. She has no plans to do crossover albums or concerts.
Playing at age two
St. John began playing the violin at age two and studied with some of the best teachers in Philadelphia, New York, and Russia. She still plays on occasion for a coach, Joey Corpus, a Philippine-born violinist who is something of an underground phenomenon. His highly analytical understanding of technique complements her intuitive approach.
Currently St. John performs on the 1779 "Salabue" Guadagnini violin lent by an anonymous donor and Heinl & Co. of Toronto. Previously, as winner of a Canada Council competition, she had the use of a Stradivarius. "The Guadagnini simply sounds better," St. John explains with characteristic directness.
---
Version française...