Summer Festivals U.S.A.

by Philip Anson / June 1, 1999

---
The Tanglewood Festival (June 18-Aug. 30) has great music, pastoral setting, free parking and cheap lawn tickets; making it the east coast's biggest and most accessible music festival. Vocalists this year include Lisa Saffer, Derek Lee Ragin, Susan Graham, Dawn Upshaw, Thomas Quasthoff, Theodora Hanslowe and Anthony Dean Griffey. Pianists include Yefim Bronfman, Andre Previn, Peter Serkin, Stephen Hough, Emanuel Ax, Alicia de Larrocha, Garrick Ohlsson, Jean-Yves Thibaudet, Nelson Freire, Andre Watts, and Lief Ove Andsnes.Violoinists inlcude Kyung-Wha Chung, Itzhak Perlman, Gil Shaham, Sarah Chang, and Joshua Bell. Cellist Yo-Yo Ma will also appear. Groups performing include the Boston Symphony Orchestra, Julliard String Quartet, Chanticleer, Gustav Mahler Youth Orchestra under Claudio Abbado, and the Philadelphia Orchestra. Festival highlights include the Festival of Contemporary Music (June 30 - July 27) directed by Tan Dun; a production of Osvaldo Golijov's new opera Distance of the Moon, Puccini's Gianni Schicchi, and Cavalli's Ercole Amante. Getting there : Near Lennox, Massachusetts. Web: www.bso.org. Info : (617) 266-1492; after June 23 (413) 637-5165. Box Office: (617) 266-1200 / (888) 266-1200 / Ticketmaster (800) 347-0808.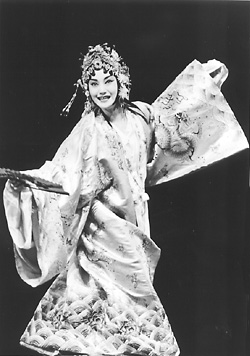 The Philadelphia Orchestra is in residence at the Saratoga Performing Arts Center (SPAC) with soloists Yo-Yo Ma, Emanuel Ax, Peter Serkin, Jean-Yves Thibaudet, André Watts, Leonidas Kavakos, Han-Na Chang, Leif Ove Andsnes and Itzhak Perlman. The Saratoga Chamber Music Festival (July 27-Aug. 15) brings these star soloists together in a relaxed chamber music atmosphere. Saratoga Springs, New York. Tel. (518) 587-3330. Web: www.spac.org.
The 1999 multidisciplinary Lincoln Center Festival (July 7-25) will finally get its hands on last year's cancelled Chinese opera, The Peony Pavilion. There will also be many Steve Reich concerts; the world premiere of Robert Wilson's The Day Before, Death, Destruction & Detroit III; a tribute to Merce Cunningham; Sir John Eliot Gardiner with the Orchestre RŽvolutionnaire et Romantique; and the Monteverdi Choir playing Schumann. Lincoln Centre, New York City. Tel. (212) 721-6500. Web: www.lincolncenter.org
The Mostly Mozart Festival (July 27 - August 21) is New York City's largest classical music summer event. This year vocalists will include Frederica von Stade, Ruth Ann Swenson, Thomas Quasthoff and Angelika Kirchschlager. Pianists will include Stephen Hough, Alicia de Larrocha, Garrick Ohlsson, Ivan Moravec and Andreas Haefliger. Violinists include Vadim Repin, Joshua Bell, and Itzhak Perlman. Invited groups include the New London Consort, the Freiburg Baroque Orchestra, the Salzburg Camerata Academica, and the Kremerata Baltica Chamber music will be offered by the Tak‡cs, Colorado, Emerson and Keller String Quartets. Major works to be performed include Cimarosa's Il matrimonio segreto, Haydn's Seven Last Words of Christ (for string quartet), and Mozart's Requiem in D minor. Getting there: Lincoln Centre is located at 66th Street and Broadway in New York. Info: (212) LINCOLN / Festival Hotline : (212) 875-5103. Tickets : CentreCharge (212) 721-6500. Website: www.mostlymozart.org.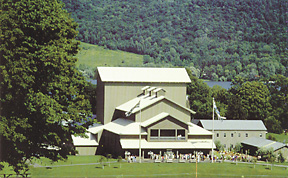 You can see four staged operas in three days at the Glimmerglass Opera (July 1-Aug. 23), the best summer lyric theatre on the east coast. Production values are high, since the shows are destined for the New York City Opera. The custom-built Glimmerglass Opera house is an intimate 900 seat facility with retractable walls to admit the cool evening breezes. The atmosphere is relaxed, and everyone picnics on the lawn. Last summer opera lovers revelled in three glorious productions (and gasped at an uncharacteristically atrocious Tosca). Continuing a tradition of excellence in Baroque repertoire, the John Conklin-designed, Francisco Negrin-directed production of Handel's Partenope was both visually and acoustically beguiling. The story of the Neapolitan Queen Partenope and her many lovers was transposed to a contemporary world of colourful street clothes and Italian summer villa architecture. American soprano Lisa Saffer was a pert, hot-to-trot queen, infatuated with the handsome and mellifluous Arsace of countertenor David Daniels. The rest of the strong cast contributed to this brilliant reclamation of an unjustly neglected Handel opera. Verdi's Falstaff, a blend of Shakespearean comedy and tragedy, is among the hardest operas to stage successfully, but director Leon Major pulled it off. Baritone Mark Delavan was a sinister, almost monstrous Falstaff, singing with terrifying command. The rest of the roles, from the comical Quickly of Mimi Lerner to Amy Burton's fine Alice Ford, were cast from strength. The delicately illuminated sets by John Conklin, modelled on Vermeer paintings, were magical. Virgil Thomson's absurdist masterpiece The Mother of Us All was in many ways the season's highlight, a riveting pageant directed by Christopher Alden amid crisply stylized Early Americana sets by Allen Moyer. Soprano Joanna Johnston's Susan B. Anthony and bass-baritone Dean Elzinga's Daniel Webster led the huge 26-member cast of enthusiastic young singers. • The 1999 repertory (July 1- Aug. 20) features Mozart's Turkish delight, Abduction from the Seraglio (sung in English); Verdi's Rigoletto, and Monteverdi's Il Ritorno d'Ulisse in Patria. New music fans will appreciate the world premiere of Central Park, three 1-act operas by American composers Robert Beaser, Deborah Dratell and Michael Torke. Getting there: Glimmerglass is near Cooperstown, New York, 60 miles west of Albany. Tel. (607) 547-2255. Fax: (607) 547-1257. Website: www.cooperstown.net/glimmerglass.
Elsewhere (for a full listing of North American festivals, see the La Scena Musicale website: www.scena.org, and check out www.festivalfinder.com):
• Connecticut Early Music Festival : Mozart's Clemenza di Tito in concert, etc. Tel. (860) 444-2419. www.cemf.org. • Maverick Concerts, New York (June 19-Sept. 5). Tokyo, St. Petersburg, Miami, American, Cavani, Shanghai String Quartets; Anonymous Four. Tel. (914) 679-8217. • Caramoor Festival, New York (June 19 - Aug. 14). Andre Watts, Garrick Ohlsson, Jean-Yves Thibaudet, Anton Kuerti, Mitsuko Uchida, plus a semi-staged production of Rossini's La Gazza Ladra. Info: Tel. (914) 232-1252. Web: www.caramoor.com • Music Mountain, Connecticut (June 12-Sept. 12). Penderecki, St. Petersburg, St. Lawrence and Shanghai String Quartets.Tel. (860) 824-7126. • Norfolk Chamber Music Festival, Connecticut (June 27 - Aug. 21). Vermeer and Tokyo String Quartets. Tel. (203) 542-3000. www.yale.edu/norfolk. • Aston Magna, (July 10-Aug. 7) Tel. (800) 875-7156. www.astonmagna.org. • Boston Early Music Festival, Massachussetts (June 8-13). Cavalli's opera Ercole Amante (1662), Hesperion XX, the Boston Camerata, Andreas Staier, the King's Noyse. Tel. (617) 424-7232. www.bemf.org. • Monadnock Music, New Hampshire (July 11-Aug. 28). Rossini's Cenerentola in concert, Konstantin Lifshitz. Tel. (603) 924-7610. www.mv.com/ipusers/monadnockmusic. • Spoleto Festival, South Carolina. (May 28-June 13). Puccini's Trittico, Kurt Weill's BŸrgschaft, Laurie Anderson's Moby Dick. Tel. (803) 723-0402. www.spoletousa.org. •Brooklyn Academy Of Music, New York (June 10-13) Monteverdi's L'Orfeo, cond. RenŽ Jacobs. Tel. (718) 636-4100. www.bam.org. • Bard Music Festival, New York (Aug. 13-22) Schoenberg Festival. Tel. (914) 758-3226. www.bard.edu/bmf. • Marlboro Music Festival, Vermont (July 17-Aug. 15). Chamber music. Tel. (215) 569-4690 / (802) 254-2394. • Berkshire Opera Company, Massachusetts. Rossini's Barbiere di Siviglia. Tel. (413) 443-7400. Web: www.berkop.org. • Opera North, New Hampshire (Aug. 14-28). Mozart's Magic Flute. Floyd's Susannah. Tel. (603) 448-0400. Web : www.operanorth.org. • Seattle Opera, Washington (Aug. 5-14). Weber's FreischŸtz, Jane Eaglen in concert. Tel. (206) 389-7676. www.seattleopera.org. • Metropolitan Opera in Parks, New York (June 8-26). Puccini's La Bohème. Donizetti's Lucia di Lammermoor. Tel (212) 362-6000. New York Grand Opera (June 30-Aug. 4). Free Verdi operas. Tel. (212) 245-8837. • Lake George Opera, New York. (June 25-July 6). Rossini's Barber of Seville and Mozart's Don Giovanni. Tel. (518) 793-3859.
---
Version française...
---