Nouvel Ensemble Moderne: 10 Years Old and Still on the Cutting Edge

by Jacques Desjardins / April 1, 1999

---
I am delighted to contribute an article marking the Nouvel Ensemble Moderne's tenth year on the music scene. It's something I feel fairly qualified to write about, having attended one of their earliest concerts -- an evening in November 1990 at Concordia University's Loyola campus that included works by Bruce Mather and John Rea.
In November of the following year I attended the NEM's international Forum for Young Composers. I remember especially how NEM musicians worked so hard with us on seemingly impossible sound effects. I'll also never forget Lorraine Vaillancourt's total involvement in the music -- our music -- and her unfailing readiness to go over various passages time after time.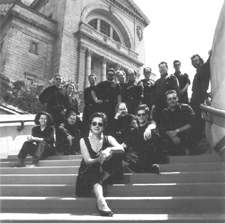 The NEM was founded by Vaillancourt in 1989, after an eleven-year stint (1978 to 1989) at the head of the music society known as "Les Événements du neuf." Most of the NEM's members had taken part in the society's concerts or had played under Vaillancourt's baton at the Université de Montréal's contemporary music workshop. These included René Gosselin (double bass), Jacques Drouin (piano), and Normand Forget (oboe), all staunch New Music exponents since their student days.
The group's success, says René Gosselin, is partly due to the members' ability to maintain sound and meaningful personal and professional relationships. Despite their strong individual personalities, the fifteen soloists know how to work together toward the group's artistic goals. Vaillancourt directs this happy band of immensely talented musicians with true mastery, and Gosselin goes so far as to say that without Vaillancourt the NEM's musicians wouldn't be so outstanding. Her impeccable conducting bestows a disarming simplicity to works that at first seem intensely complex and opaque.
"At first, new scores seemed to be an insurmountable challenge," says Normand Forget. "Now they don't bother us at all, because we've worked on so many. We know Lorraine will get us safely through the labyrinth."
I asked whether the musicians had a hand in choosing works. As artistic director, Vaillancourt takes final responsibility for selecting the programs. "Lorraine decides what we'll play for the most part," says Forget, "but she's always open to suggestion."
The NEM is also known for special projects, one being the Biennale, which alternates every second year with the NEM's Forum for Young Composers. The Biennale focuses on a distinguished composer, such as Mauricio Kagel (1992) or Franco Donatoni (1994), who is honoured in concerts, lectures, and seminars. The NEM also inspired John Rea's new orchestral score for Alban Berg's Wozzeck (performed in August and September 1995).
Considering its ten-year history, why doesn't the NEM play in Montreal more often, since it is increasing its appearances elsewhere? "We don't play less often in Montreal," says Normand Forget. "Now that the NEM is so well known, it's simply taking advantage of its growing reputation and the enormous effort its organizers have made to extend its reputation."
The main reason for not increasing the number of concerts is lack of funding. There just isn't the money available for a chamber music group of this calibre to increase its concert dates -- which is why NEM musicians have decided to put their collective shoulder to the wheel. From now on, they'll be "giving" an annual fall concert to Montrealers by performing without pay.
Such disinterested generosity is rare among professional music groups. These days, musicians are all too often content to give a merely competent reading of the score before cashing their cheques -- something that will never be true of NEM musicians, who clearly aren't in it for the money. Jacques Drouin actually feels that, as a musician and artist, it's part of his mission to give contemporary music a wider hearing and suggest projects that go beyond the NEM's present scope. With the considerable experience these musicians have acquired over the past ten years, there are plenty of projects in the works. Drouin would like to fill the gaps between the all too rare NEM concerts with events like the upcoming performance at Espace Libre (June 13, at 2pm and 7pm) -- a musical happening featuring Paul-Émile Borduas' renowned manifesto, "Refus Global," read by NEM members with original music by Drouin, conducted by Lorraine Vaillancourt.
The NEM's gala concert is set for 8pm, May 1, 1999, at the Salle Claude Champagne with the Ensemble Soli-Tutti of France as featured guests. The program includes works by Webern, Grisey, Campo, Panneton, and Ligeti. Lorraine Vaillancourt will share the podium with Soli-Tutti conductor Denis Gautheyrie. The NEM will leave next day for Marseilles for a series of master classes in conducting under Lorraine Vaillancourt and three concerts featuring works by Aué, Birtwhistle, Cherney, Gonneville, Lang, Ligeti, Lindberg, Panneton, and Sciarrino. Last but not least, from August 15 to 29, the NEM will take part in the sixth Rencontres de music nouvelle held at Domaine Forget under the combined leadership of Denys Bouliane and Lorraine Vaillancourt.
Things are looking good for the NEM's second decade!
---
Version française...