Book Reviews / Critiques de livres
Par/by Philip Anson & Pierre Bellemare / March 1, 1999

---
William McBrien Cole Porter : A Biography Alfred. A. Knopf, 1998. (459 pp.) ISBN 0-394-58235-7

Brilliant American lyricist Cole Porter lived a life right out of one of his own songs, and this extremely thorough new biography by English literature professor William McBrien does an admirable job of demonstrating how Porter's manic life inspired the immortal lyrics.

Cole Porter was born on June 9, 1891 to a Katie, an heiress, and Sam, a middle class druggist in rural Peru, Indiana (pop. 1200) on the banks of the Wabash River. His maternal grandfather, J.O. Cole, made millions as a shopkeeper during the California goldruch, and through wise investments in oil-bearing West Virginia land. J.O., a "tyrant", intended his grandson to go to military college and take over the family business.

The musical teenager had other ideas. Backed up by his mother, he lost no time exchanging the dusty streets of Peru for the exclusive Worcester Academy in Massachusetts. J.O. disinherited his dandified grandson and it was Cole's mother who later voluntarily gave her son about $2 million out of her own inheritances. Much later, Cole's facility as a songwriter for Broadway and Hollywood, earned him a second fortune in royalties.

At Worcester (where he arrived with his own piano), Yale and Harvard, in fact for the rest of his life, Porter lived a life of uninterrupted privilege and luxury. At school he was immediately placed in housing reserved for sons of millionaires, and was doted on by professors. Summers were spent at tony seaside camps in Maine. In 1908, Cole was given a 2 month trip to France as a graduation present. Yale passed in a frenzy of theatricals, cheerleading, glee clubs and illicit overnight trips to Manhattan theatres. Porter entered Harvard law school in 1913 but left without a degree.

In 1917 the sophisticated young draftee headed into World War I with a specially constructed miniature piano on his back. Porter seems to have treated the war as a costume party. Friends remember seeing him strolling in Paris wearing the uniform of an aide-de-camp one day, that of a Zouave the next. After the Armistice, Porter stayed on in Paris. He met the beautiful socialite Linda Lee Thomas, "one of the Virginia Lees", and not just rich but "rich rich." Though Linda knew he was a homosexual, she married him in 1919 and they remained husband and wife with separate establishments until her death in 1954. It was a marriage blanc, but Linda seemed satisfied, having recently divorced her sexually sadistic first husband (her alimony was $1 million). She clearly enjoyed Cole's predominantly gay social circle and there were rumours she was a lesbian. In 1920, they bought a Paris townhouse for $250,000. In 1927, they paid $3000 per month to rent the Ca' Rezzonico in Venice (the average American labourer made about $1500 per year at this time). But they lived separate lives after the 1940s.

For the rest of his days, Porter moved exclusively in cafe society, surrounded by the very rich and their parasites. He followed fashion from Venice to the south of France, Paris, New York and later Hollywood. He was the archetypal playboy of the western world, but he had a miserable love life. As early as 1925 he was infatuated with Ballets Russes dancer Boris Kochno, and there were many more love-objects after Kochno came to naught. Porter was always falling in love (as his songs attest), but he got very little love in return - and no wonder. As McBrien's detailed psychological profile makes clear, Porter may have been amusing, socially glamorous, and influential, but he was not a lovable man. Appreciative of physical beauty, he was himself unbeautiful - short, skinny, with a toad-like face and bulging eyes. He drank like a fish and was, since 1920, syphilitic. Instead of compensating with kindness, he developed the psychological vices of an ugly, poxed man : selfishness, vanity, irresponsibility, bitchiness, and greed. For sex, he depended on male prostitutes and quickies with ambitious actors/singers/dancers. For long term companionship, he had a salaried valet.

The jealous gods took their revenge when, in 1937, Porter's horse fell on him, crushing both legs. Infection caused permanent crippling, and for the next 27 years of his life Porter was never free from pain. His accident was not completely debilitating, however. McBrien reports drunken orgies with soldiers and sailors at Cole's Long Island beach house in the late '30s and '40s, as well as trips to Harlem bordellos for "black studs" (paradoxically, Porter was a racist who shunned his old friend Monty Woolley when he took a black lover). At Camp Porter, as he called his Hollywood home, there were gay pool parties, from which women were rigorously excluded. Porter spent his final years redecorating his Waldorf Towers penthouse, changing his will to spite former friends, and breaking appliances so he could lure cute repairmen into his lair. In 1955 he had a partial gastrectomy, in 1963 he was severely burned while smoking in bed. He broke his hip in 1964 and died in 1965 of malnutrition and infections.

This is probably the definitive Porter biography. It is written in a cool, dispassionate, non-judgemental style but it poses one disturbing question. How did such a bitter social snob, racist, and misogynist write hundreds of the wittiest, tenderest songs in history?
---
Rough Guide to Classical Music (2nd Edition, 1998)
Penguin Distribution. ISBN 1-85828-257-8.
505 pages. $31.99
The Rough Guide to Classical Music is predictably similar in format to the excellent Rough Guide to Opera. Every major composer has a chapter to himself or herself. Each composer gets a brief biographical introduction, then major compositions are discussed according to genre (choral, symphony, chamber music). One or two familiar recordings are recommended for each major composition (it does not pretend to be a comprehensive or even respectable CD buyer's guide). The writing style is simple, direct and untechnical, yet never silly or patronizing. The guide takes pains to include many relatively unfamiliar contemporary composers such as Birtwhistle, Andriessen, Bacewicz, Gubaidulina, Maconchy, Turnage and Torke, but they take up valuable pages which would be better spent deepening the coverage of acknowledged masters. The Rough Guide to Classical Music should not have included operas already covered in the Rough Guide to Opera. There are a moderate number of portrait photos and caricatures, but this is not a picture book. Overall, it is a perfect gift for an artistic teenager or anyone with a healthy but uninformed curiosity about classical music.  - Philip Anson
---
Jankélévitch, Vladimir. Liszt : Rhapsodie et Improvisation.
Édition établie par Françoise Schwab.
Paris, Flammarion : 1998. 173 p.
ISBN: 2-08-067686-5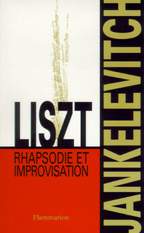 Les deux essais qui composent ce petit livre ne sont pas parmi les nombreux inédits publiés depuis la mort du philosophe (1985) par les soins de Mme Schwab, mais deux chapitres (1 et 5) d'un livre ancien (La Rhapsodie, Verveet Improvisation Musicale. Paris, Flammarion : 1955), depuis longtemps introuvable. Ces essais sont d'une valeur et d'un intérêt très inégaux. Le premier, sur la Rhapsodie, vise à démontrer la thèse bien connue selon laquelle Liszt a émancipé la musique instrumentale en faisant généreusement éclater les formes musicales classiques auxquelles le romantisme allemand était encore attaché, inaugurant ainsi une ère nouvelle de l'histoire de la musique européenne, celle de l'avènement des musiques nationales de l'Europe centrale et orientale.
Un certain malaise se dégage de la lecture de ces pages, car le discours rationnel s'y mêle d'une passion équivoque. Jankélévitch, qui avait commencé sa carrière comme spécialiste de la pensée allemande, a fort mal vécu les années de guerre, au point de verser dans la germanophobie.
La deuxième partie, sur l'improvisation, est beaucoup plus solide. Dans le prolongement de sa réflexion sur la Rhapsodie, Jankélévitch montre comment, depuis Liszt, la musique composée, et même la plus composée (Ravel!), cherche à retenir quelque chose de cette façon de faire de la musique, qui est comme la forme originaire de l'inspiration et de la création musicales elles-mêmes. Il commence par un essai d'analyse philosophique : la musique étant un art du temps, l'improvisation se présente comme une tentative de serrer au plus près, dans l'immédiat, une conjoncture «à peine future ou presque présente, à peine présente ou presque passée» de l'anticipation et du rappel. Puis, le philosophe, qui était aussi musicien, se livre à une analyse, un peu rapide, mais très fine, d'annotations («quasi improvvisato», rubato, «a piacere») et de pseudo-formes (le prélude, l'impromptu, la berceuse et, bien sûr, la rhapsodie) caractéristiques du langage de la musicalité romantique qui participent toutes manifestement du désir de faire revivre ce mouvement premier. -Pierre M. Bellemare
---
Random House Encyclopedic Dictionary
of Classical Music
Random House,1997. 758 pp. ISBN 067945851-4
This sturdy and comprehensive one-volume alphabetized reference work was first published as the Everyman Dictionary of Music (revised 1954, 1959, 1962, 1971, 1988). Since 1988 under the editorship of David Cummings, it has been improved with 2,500 new entries, plot summaries of 100 operas, and photos of and quotations by musicians. Technical terms in foreign languages are well-explained but there is no guide to pronunciation of these foreign terms. Good musical illustrations and extensive cross-referencing are pluses. Appendices include : 1. a list of opera characters, according to Role, Voice Type, and Opera. 2. A chronology of singers' births, deaths and opera opening nights from 1594 to 1995. 3. A brief discography with an average of 10 recordings per composer. In short, this is a very useful and scholarly single-volume reference work. -Philip Anson
---
Version française...
---