Concert Review

by Philip Anson / November 1, 1998

---
Puccini : La Bohème
Imperial Theatre. St. John, New Brunswick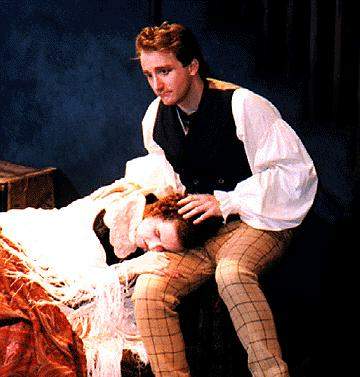 Opera New Brunswick's three-year struggle to stage Puccini's La Bohème bore fruit on Oct. 2 before an enthusiastic sold-out audience in St. John's acoustically splendid, gorgeously restored Imperial Theatre.
Puccini's perennially popular tale of young love between struggling artists in nineteenth-century Paris was a wise choice for Opera New Brunswick's first fully staged production with orchestra and chorus. La Bohème's music is accessible, and the story is self-explanatory (though English and French surtitles were an additional help).
It seems like the whole country lent a hand to mount this show. The sturdy, tastefully realistic sets were built by Theatre New Brunswick in Fredericton, then shipped free by a local trucking company. Musicians, singers and audiences drove in from Fredericton and Moncton. Costumes came from the Stratford Festival and Halifax's Neptune Theatre. Surtitles were rented from Montreal. Thanks to so much volunteer work, this production cost $100,000, about one-tenth of new productions at the Canadian Opera Company and the Opéra de Montréal. Luckily, the McCains and the Irvings opened their wallets to pay the bill.
Opera New Brunswick's laudable mandate is to give local talent a forum, and the cast was virtually all New Brunswick-born. As the tubercular heroine Mimi, soprano Monette Gould was completely convincing, especially in her moving death scene. The pathos of her playing made up for a few missed high notes. As Mimi's lover Rodolfo, tenor Stuart Howe deployed a bright, well-controlled voice with good technique and a pleasant natural timbre. Further training should mellow his nasal high notes and make him a valuable property.
Rodolfo's three friends were all excellent actors, especially red-headed Bruno Cormier (Marcello) and Pierre McGraw (Schaunard). Baritone Cormier has a big rich but undisciplined voice. Bass-baritone David Mitchell gave us a moment of unadulterated pleasure in Colline's coat aria "Vecchia zimarra, senti." Soprano Cindy Townsend completed the professional singing cast as a hyper but winning Musetta.
The direction, by Mount Allison University drama professor Mark Blagrave, was the best I have seen in years, far better than the wooden posing and static crowding that pass for direction in Canada's major opera houses. The complex crowd scenes at the Cafe Momus, the delicate love scenes and the all-important deathbed scene evolved naturally, with full emotional impact. Blagrave was helped by a cast of singers who were unusually good actors.
British Columbia-based conductor Michael Gormley led a 26-member pick up band assembled from Symphony New Brunswick and freelancers. Gormley pulled the cast and orchestra together nicely. Unfortunately, the strings played seriously off pitch all night, and the brass section was insecure. On the other hand, the amateur chorus, especially the children's chorus, was first-rate. -Philip Anson
---
Version française...