Book Reviews

November 1, 1998

---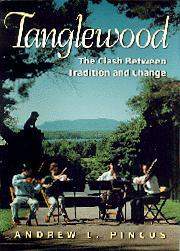 In Tanglewood: The Clash between Tradition and Change, Andrew L. Pincus traces the history of the firings and resignations that have swept away the Tanglewood Festival's old guard over the last two years (when necessary, Pincus repeats material from his previously published Scenes from Tanglewood, which covered the years 1975-1988). Pincus, for 23 years a music critic for the Berkshire Eagle and contributor to the Boston Globe and the New York Times, is a defender of inherited standards of quality, but he is no reactionary. He has a sense of humour, and he is open to innovations that work. He also puts journalistic integrity above special pleading and personal agendas, unlike many other culture critics from both extremes of the political spectrum.

Tanglewood was founded in the 1930s by Boston society women to give New England a summer festival akin to those in Europe. The Berkshire Mountains had long been the summer resort of New York and Boston high society, so a rich, bored audience was already in residence there. In 1936, the 210-acre Tanglewood estate was donated by two Boston women, and Russian conductor Serge Koussevitsky (known as Couscous to his friends) joined the enterprise, which he led until his retirement in 1948. In 1938, the open-sided 5,000-seat Music Shed (which remains Tanglewood's main symphonic hall) was built, and the Theatre-Concert Hall for opera was opened in 1941. Over the next 40 years, Tanglewood served as a training ground for dozens of conductors and musicians who went on to international fame. In 1986, Tanglewood acquired the neighbouring 120-acre Highwood estate, now called the Bernstein Campus, and in 1994 the beautiful new $9.7 million, 1,180-seat Seiji Ozawa Hall opened. Pincus devotes a fascinating chapter to the development and building of Seiji Ozawa Hall, one of America's few acoustically and aesthetically successful modern concert halls.

Despite an enviable record of artistic and financial success, Tanglewood was split by philosophical differences. By the early 1990s, the Tanglewood teaching staff, administration and many Boston Symphony musicians had grown disillusioned with Seiji Ozawa, BSO director and hence Tanglewood's boss since 1973. Ozawa is a typical jet-set conductor, spending the minimum amount of time contractually possible with each of his orchestras, while pulling down multi-million dollar salaries on three continents. By all accounts, Ozawa's conducting is frequently uninspiring. Under his leadership, the BSO's musical reputation has slipped considerably from its glory days under Koussevitsky and Leinsdorf, while its public profile has been polished by television coverage and clever media relations. The Tanglewood community finds it hard to understand why Ozawa, who has spent over 20 years at the head of two quintessentially American institutions, still speaks broken English and prefers to spend as much time as possible in Japan (ironically Ozawa was accepted in Japan only after he had made good in the United States).

The gulf between Ozawa and Tanglewood climaxed with the 1996 firing of respected administrative director Richard Ortner, followed by the 1997 departures of faculty chairman Leon Fleisher, manager Daniel Gustin and professor Gilbert Kalish. Pincus links these purges to the increasing commercialization of Tanglewood through televised concerts, pop and jazz events, video projects, and exclusive new facilities for rich donors. For better or worse, Tanglewood's new direction is seen by its current leaders as essential to its relevance and survival into the millennium. Pincus's fact-filled institutional biography tells the story compellingly but fairly.
BBC Music Magazine Top 1000 CDs Guide

Edited by Erik Levi and Calum MacDonald

BBC Books 1996. 367 pp. ISBN 1-57467-018-2. $12.95 US
This buyers' guide is compiled from CD reviews already published over the last year in the commercially-oriented, industry-friendly glossy monthly BBC Music Magazine. The CD reviews are grouped under the following headings: chamber music, choral and song, instrumental, opera and orchestra. There are many problems with this guide: the reviews are not sufficiently comparative (for many major works such as Beethoven's Violin Concerto or Verdi's Rigoletto, there is only one recommendation); the reviews are not dated, so it is impossible to contextualize terms like "recent"; reviews are often whimsically wrong; recent releases, however poor, are consistently recommended over established benchmark recordings (obviously because record companies prefer to sell their new, full-price releases instead of back catalogue). Many of the recordings in this 1996 guide have already been superseded or deleted. In short, you are better off checking a dusty old Penguin Guide, or the archives of Gramophone and Fanfare magazine on the web.
William Berger : Wagner Without Fear

Vintage 1998. 443 pp. ISBN 0-375-70054-4
$21 Can. pb.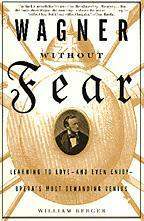 Berger's comprehensive beginners' introduction to Wagner's major operas (he skips Rienzi) is one step up from Wagner for Dummies. For each opera, Berger (a librettist and linguist) provides useful act-by-act plot guides, performance history, opera lore (anecdotes, potted biographies), brief discographies and bibliographies, and a description of each opera's characters and their voice types. Alas, Berger also serves up intolerable chapters of cultural pabulum pandering to the much-discussed but rarely seen Mythic Opera America Novice (or MOAN), an imaginative creation of the opera industry's audience development thinktank. To judge by the flood of recent beginners' opera guides supposedly written to lure willing but nervous novices into opera houses, the average MOAN is a rural American with a grade-ten education who a priori hates anything that looks like high culture (the dumb and dumber glossary includes an explanation of the obscure terms Bavaria, Kaiser and libretto). The average MOAN has a very short attention span, hence Berger's therapeutic "Rough Spots and how to get through them". The MOAN is also either infantile or senile, hence the hand-holding "When to eat, drink and visit the restroom" chapters. Most MOANs seem to have an inferiority complex, hence the chapter "Lobby Talk", so they can be instant intermission experts. MOANS don't like surprises, so Berger prepares them with "Productions : what you might expect to see." But enough already. The whole exercise seems like a satire on outreach and relevance. If people are so reluctant to attend opera that they need a therapy manual before they'll buy a ticket, it would seem more humane to leave them in front of their television sets.
Phil G. Goulding : Ticket to the Opera

Fawcett Columbine, 1996. ISBN 0-449-90900-x
689 pp.
Phil Goulding is a self-confessed amateur opera lover who learned everything he knows about music since he retired from politics ten years ago. Why are these self-taught late bloomers such rabid proselytizers for opera? Goulding comes across as a crusty old septuagenarian with a woefully antiquated sense of humour and an insatiable appetite for listening to his own patronizing lectures. Alas, the pompous bore who wants to share his passion is the worst apologist for opera. You'd have to be almost illiterate to find Goulding's dumbed-down prose and recycled platitudes interesting, but he seems to know his audience, dedicating this book to "the Opera Unwashed." They can have it, though they probably won't want it.
---
Version française...
---