Index
Mahler : Symphony No. 1
Bruno Walter / New York Philharmonic
Vivaldi: Concerti e Cantate
Rinaldo Alessandrini / Concerto Italiano
Dvorak : Works for String Quartet, Vol. 5
Vlach Quartet
Angela Hewitt Plays Messiaen
Dvorak : Symphonies No. 7, 8, 9
George Szell / Cleveland Orchestra
Tobias Picker : Emmeline
George Manahan / Santa Fe Opera Orchestra
Prokofiev : Betrothal in a Monastery
Valery Gergiev / Kirov Opera and Orchestra
Art of the Baroque Trumpet Vol. 2
The Black Madonna: Songs from Montserrat
Michael Posch / Ensemble Unicorn
Boismortier: Ballets de Village et Sérénade
Hervé Niquet / Le Concert Spirituel.
Schubert : Lieder
Ian Bostridge, tenor
Bach: The Well-Tempered Clavier (Book II)
B. Lagacé / Organ of Église Immaculée-Conception
Britten: Choral Edition Vol. 2
Paul Spicer / Finzi Singers
My World
Angela Gheorghiu, soprano
Malcolm Martineau, piano
The Yellow Guide: Opera
The Yellow Guide : Classical Music
Eugen D'Albert: Die Abreise
Janos Kulka / Philharmonia Hungarica
OPERA D'ORO

Horst Stein / Vienna State Opera

Leonard Bernstein / La Scala

Eugen Jochum / Bayreuth, 1954
Richard Strauss : Taillefer, Die Tageszeiten, etc.
Michel Plasson / Dresdener Philharmonic
Haydn: Cello Concertos Nos. 1 & 2
Pleyel: Cello Concerto in C major
Ivan Monighetti, cello
Akademie für Alte Musik Berlin
Haydn: Cello Concertos Nos. 1 &. 2
Han-Na Chang, cello
Sinopoli / Sächsische Staatskapelle Dresden
Gershwin Fantasy
Joshua Bell, violin
John Williams / London Symphony Orchestra
Hans Krása : Verlobung in Traum
Zagrosek / Deutsche Symphonie-Orchester Berlin
Mendelssohn : 17 Lieder ohne Worte
Grieg : 31 Lyric Pieces
Walter Gieseking, piano
Jane Eaglen : Mozart and Strauss Arias
Zubin Mehta / Israel Philharmonic
Opera Gala
Vivaldi : L'estro armonico, op. 3
Fabio Biondi / Europa Galante
Beethoven : Piano Concerto No. 5 & Violin Concerto
Jos van Immerseel, fortepiano / Vera Beths, violin
Bruno Weil / Tafelmusik (Sony SK 63365)
Mahler : Symphony No. 1
Bruno Walter / New York Philharmonic
MHK 63328 ADD Mono
*** $$$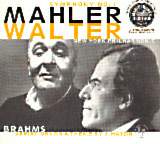 Bruno Walter's 1954 recording of Mahler's Symphony No. 1 is virtually archetypal - so many subsequent conductors have copied his tempos, phrasing, and dynamics. But few can match the authenticity of Walter's Viennese touches, the parodies and the folk rhythms he knew first hand (Walter was 17 in 1894 when he met Mahler for the first time). For its beautifully packaged Masterworks Heritage series, Sony has remastered the 1954 Carnegie Hall recording from the original mono source but, alas, the boxy sound limits one's pleasure. Walter's 1961 stereo remake of the Titan symphony will be more popular with audiophiles, though the earlier recording is of strong interpretive interest.
Vivaldi: Concerti e Cantate
Rinaldo Alessandrini / Concerto Italiano
Opus 111 OPS- 30-181
*** $$$

Easy to hear why this disc won a Diapason d'Or. Though innumerable singers attempt this repertoire, few have alto Sara Mingardo's natural gift. Her technique is exceptional, her interpretation is tasteful, her timbre is warm and soulful. Too bad she sings only 2 cantatas. The other half of this disc is filled with 5 concertos for strings, played in the Concerto Italiano's usual crisp, precise, buoyant style. The acoustic of the Villa Mondragone in Frascati, Italy, is lively and pellucid. Texts and excellent notes in English, French, German and Italian.
Dvorak : Works for String Quartet, Vol. 5
Vlach Quartet (Naxos 8.553375)
*** $
In 1887 Dvorak arranged 12 songs from his 1865 cycle Cypresses, for string quartet. The romantic vignettes are flush with gorgeous inventive melodies. The Czechoslovak Vlach Quartet plays this music of their homeland superbly, rich with every conceivable nuance, colour and inflection. The recorded sound is intimate, balanced and detailed. Good notes in English, French and German. An excellent recording.
Angela Hewitt Plays Messiaen
Hyperion CDA 67054
*** $$$

Canadian pianist Angela Hewitt takes a break from Bach to record Messiaen. She wrings maximum interest out of the early Préludes (1928), conjuring colors and caressing content from these twisted amalgams of Debussy and Scriabin. The Hyperion sound engineers capture every detail of the extreme dynamic variations In the 4th, 10th and 16th Regards sur l'Enfant-Jésus (about 25% of the whole work). There is also much keyboard pounding in the Quatre Études de rythme (1950), not for the squeamish. Excellent program notes in English, French and German by Hewitt herself.
Dvorak : Symphonies No. 7, 8, 9
George Szell / Cleveland Orchestra
Sony MH2K 63151
**** $$$
Szell introduced Dvorak to the American public almost single-handedly and his Dvorak symphony recordings, made in 1958-60 after almost 15 years as the chief of the Cleveland Orchestra, still stand beside the best in the catalogue. The Cleveland sound is unsurpassed, with astonishing sonority, transparent string tone and superb solo instrumentalists (especially oboe and trumpet). Szell imposes his impeccable rhythm and style, and the band plays as one man. The recorded sound is astonishingly fine. The 2 CDs also contain Szell's stirring 1940 orchestration of Smetana's Quartet in E-minor. This remastering is probably the high point of the Masterwork's Heritage series to date. It is certainly one of the best classical music recordings ever made.
Tobias Picker : Emmeline
George Manahan / Santa Fe Opera Orchestra
Albany Records (Troy 284-85)
*** $$$
Picker's Emmeline (1996) is based on an old scandal. In 1862 Emmeline Mosher, a 34-year old woman from Fayette, Maine, married her own illegitimate son whom she had given up for adoption twenty years earlier. J.D. McClatchy's libretto follows the defining events of Emmeline's destiny as retold in Judith Rossner's 1986 novel. Act I deals with the girl's life in a cotton-mill and her seduction by a supervisor; Act II describes her fateful encounter with son Matthew Gurney, leading to her abandonment by the latter and total exclusion from the community.
Unlike many American operas, Emmeline celebrates private emotions rather than public politics. As in Floyd's Susanna, the modern story is told within a Biblical framework (in this case, the tale of Adam and Eve) and the score itself has an air of "Appalachian spring" about it. New England hymns and folk tunes, a touch of jazz (e.g. the orchestral use of the piano and bass), and echoes of serialism are all ingredients in Picker's rich blend of sounds. There are no arias as such, but the melodic material is abundant and so well structured that one can easily distinguish between "numbers". Best of all, Picker avoids monotony - the great pitfall of contemporary opera - by sharply individualizing each of his numerous scenes through melody, rhythm, colour, symphonic interludes, etc.
Soprano Patricia Racette (Emmeline) is a top class singer. Curt Peterson (Matthew) makes every word clear and intelligible, but it is doubtful that his small, tart tenor voice will make much of a mark in the standard repertory. A.-M. Owens (Aunt Hannah) constantly seems to be forcing her voice to negotiate the difficulties of singing in English. Introductory essays by the composer and the librettist. Libretto in English only. Pierre-Marc Bellemare
Prokofiev : Betrothal in a Monastery
Valery Gergiev / Kirov Opera and Orchestra
Philips 462-107-2
*** $$$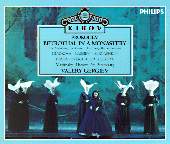 Gergiev's 1997 Betrothal is perhaps the best of the new Kirov opera recordings. It is a musically exquisite, stunning detailed interpretation of the dynamic score, capturing all the musical strengths of a live performance. But because so much of this opera's "situation comedy" depends upon visuals - gesture, facial expression, slapstick, prop handling, entrances, exits and other stage business - a recording tells only half the story. Betrothal must be seen to be appreciated. Libretto in Cyrillic, English, French and German.
Art of the Baroque Trumpet Vol. 2
Naxos 8.553593
*** $
The repertoire for baroque trumpet and organ is sampled in this collection of 14 short pieces, including sonatas, sinfonias and capriccios by Fanatini, Frescobaldi, Sweelinck and Pezel composed between 1637-1675. Two valveless baroque trumpets (with anachronistic finger holes, a 19th century innovation for better pitch production) are accompanied by the 17th century-style organ of Gothenburg's Haga Church. The organ part of this repertoire is modest and recessive. The trumpets are the stars, and they sound surprisingly sweet and nuanced for original instruments. Credit for this goes to the Swedish trumpeters' nimble lips. Scholarly notes in English, German and French explain the mysteries of baroque pitch, making this disc both educational and enjoyable listening.
The Black Madonna: Songs from Montserrat
Michael Posch / Ensemble Unicorn
Naxos 8.554256
** $
Anyone into medieval music will want this collection, which includes selections from the Llibre Vermell de Monsterrat as well as troubador songs. This repertoire is a fascinating mix of the sacred and profane songs and dances used by pilgrims to Spain in the 1400s. The reconstructions are imaginative, perhaps too much so for easy listening. Barbara Sykes gives these songs a growly, gipsyish twist in her rough, Lotte Lenya-ish voice. The results can sound more like Arab vocalise or Muslim chants than what we now think of as Christian church music.
Boismortier: Ballets de Village et Sérénade
Hervé Niquet / Le Concert Spirituel.
Naxos 8.553296
*** $
Le Concert Spirituel is a 17 member early music ensemble founded in 1988. It specializes in 18th century repertoire, such as this program of lively music by the prolific French composer Joseph Bodin de Boismortier. These ballets, serenades and gentillesses are aristocratic music inspired by the classical rage for things rustic and pastoral. This was the age of the Queen of France milking cows into silver buckets and salon music incorporating peasant instruments such as bagpipes and hurdy-gurdies. The result is a wonderful succession of sprightly, toe-tapping country dance rhythms. When the musette (bagpipe) and portable organ play together, the sound is startlingly modern, like a synthesizer. Thematically this music is first cousin to Scottish and Irish folk music. The recorded sound is extremely rich, vibrant and detailed. Highly enjoyable.
Schubert : Lieder
Ian Bostridge, tenor
Julius Drake, piano (EMI 7243 556347 26)
*** $$$
English tenor Ian Bostridge's follow-up to his excellent Schuman album (reviewed in La Scena Musicale Vol. 3 No.7) maintains a high standard of sensitive interpretation and musicality. Drake is a perfect accompanist; the balance between voice and piano is exemplary. Highly recommended.
Bach: The Well-Tempered Clavier (Book II)
B. Lagacé / Organ of Église Immaculée-Conception
Analekta FL 2 3015/16/17
*** $$$
Bernard Lagacé has reached the halfway point in Analekta's projected 20 volume intégrale of Bach's organ music. "Well Tempered" and "complete organ works" in the same breath? Why not? It was customary to play these pieces on whatever keyboard instrument you had at hand, and many of them seem tailor made for the sustaining power of the organ. Lagacé brings a freshness and confidence to the music (including as a bonus the little-known original prelude to the fugue in G major) while letting the polyphony speak clearly. We are treated to the fine von Beckerath organ of Église Immaculée-Conception, Montreal. The accompanying booklet includes a stop list and the registrations used for each work (bravo to Analekta). Recommended. John Stephenson
Britten: Choral Edition Vol. 2
Paul Spicer / Finzi Singers (Chandos CHAN 9598)
** $$$
This disc of Britten's two important works for boys' voices - Missa Brevis and Ceremony of Carols - celebrates the tenth anniversary of the Finzi choir. Paul Spicer directs a very strong and forceful reading. The alto section is a mixed line, now common in English mixed choirs. This adds to the richness of the sound but causes balance problems in "This Little Babe" from A Ceremony of Carols. The men are solid with no hint of 'college' sound. The soloists are all drawn from the choir, with occasionally uneven results, though soprano Carys Lane and alto Susanna Spicer are commendable. Organist Andrew Lumsden proves himself to be a fine accompanist, though he disregards some of Britten's directions in the Festival Te Deum. The choir opts for a medieval pronunciation of the Ceremony of Carols' English text. This is awkward and not even traditional (Britten used modern English in his recordings). Ultimately, David Hill's decade-old recording of Missa Brevis and Ceremony of Carols with the boys of Westminster Cathedral (Hyperion CDA66220) remains preferable. J. Stephenson
My World
Angela Gheorghiu, soprano
Malcolm Martineau, piano
London 289 458 360-2
** $$$
The nifty cover art - depicting Rumanian soprano Angela Gheorghiu in a 50's retro-style black and white Chanel suit stepping off an aeroplane - is the best thing about this CD. The World According To Angela is a hodgepodge of songs, mostly standard fare from different cultures. Gheorgiu's silvery tone is congenial in "Les Chemins de l'amour" and "Oh! Quand je dors" but some songs like "Piacer d'amor" are too low for her sketchy bottom register. Overall, the CD offers pretty singing without much individuality or depth. Adequate for easy listening situations. Joseph So
The Yellow Guide: Opera
DG 457-444-2
* $$
We live in the golden age of compilations, but this three CD set (pretending to be an introduction to opera but really a marketing tool to sell Deutsche Grammophon operas), is neither a bargain nor user-friendly. CD 1 contains overtures, CD 2 arias, and CD 3 ensembles and choruses. A slim 7 page insert of track listings lists orchestras, conductors, singers and timings. A second, 122 page booklet, gives one-page descriptions, accompanied by cover art and DG catalogue numbers, of what DG considers "the 100 most famous operas" (they have nerve to include Joplin's Treemonisha, Bernstein's A Quiet Place and Henze's Der Junge Lord in this list). This booklet is just a catalogue of 100 operas in the DG catalogue, 32 of which are exerpted on the CDs without rhyme or reason. The recorded sound is excellent. Orchestral playing is fine, reflecting DG's excellent roster of orchestras and conductors. But the big name singers are a mixed bag, ranging from poor (Hermann Prey's Figaro, Ricciarelli's Tosca, Cotrubas's Violetta, Domingo's Calaf) to very good (Nilsson's Isolde, Bergonzi's Canio, Peters's Queen of the Night, Terfel's Count). There are better opera compilations on the market, notably from London/Decca.
The Yellow Guide : Classical Music
DG 457-440-2
** $$
This is more useful than the Yellow Guide to Opera because the 142 page booklet is organised alphabetically by composer and contains annotated track listings of the excerpts on the accompanying 3 CDs. The eclectic contents include choral, intrumental, orchestral and opera of every epoch. The musicians and ensembles are all top notch, but since this is not an artist-driven compilation, no biographical information is provided. Sure, this is a marketing tool, and as such should be cheaper, but the music is well-selected and often superbly played. Beginners will make many wonderful discoveries, as I did.
Eugen D'Albert: Die Abreise
Janos Kulka / Philharmonia Hungarica
CPO 999-558-2
*** $$$
Eugen d'Albert (1864-1932) was a famous virtuoso pianist who also made his mark as an opera composer. Today, he is mainly remembered for his dark melodrama Tiefland which has been recorded several times, although it is rarely staged outside of Germany, the British composer's country of adoption. Die Abreise (The Departure), a short one-acter which celebrates the centennial of its world premiere in October 1998, is an altogether different piece - a bourgeois comedy in music. The story line is simple : a tenor gigolo tries (unsuccesfully) to convince a happily married baritone to go on a trip, because that would give him an opportunity to have an affair with the beautiful wife. D'Albert's aesthetics are post-Wagnerian: there is an abundance of catchy melodies, with a series of recurring leitmotive-like themes and tunes freely associated with characters, situations and ideas. The more lyrical passages, including a lied sung by the soprano with piano accompaniment, are joined together by through-composed conversational sections, highlighted by witty instrumental comments and a carefully crafted vocal line. The tone is one of sophisticated lightness. One is reminded of Chabrier's L'Education Manquée, of the lighter moments of Puccini's La Rondine, and especially of Richard Strauss' Intermezzo (composed 25 years later!). This could be considered the definitive recording of Die Abreise. The conducting and the singers are excellent, especially Prey, the ideal German light baritone. Edda Moser and Peter Schreier are very good too. Needless to say, the text is sung exactly as it is meant to be: with a perfect sense of the idiom and crystal-clear enunciation - which makes it all the more infuriating that CPO has chosen not to provide a libretto. Another unfortunate editorial decision was to limit the number of access points to only two (!) - one track for the overture, and another for the rest of the opera. Extensive liner notes and plot summary are in German, English and French. Pierre M. Bellemare
La collection économique d'opéras historiques "live" nommé Opera d'Oro compte une douzaine de nouveaux titres et le consommateur doit s'en réjouir, car on y entend quelques-uns des plus grands chanteurs des cinquante dernières années dans des distributions inédites et dans des rôles qu'ils n'ont jamais gravés pour le commerce. L'ardeur vocale du «direct» ne fait pas oublier cependant tous les défauts typiques des enregistrements pirates. La qualité sonore varie beaucoup. On croirait parfois entendre une bonne diffusion en direct à la radio, parfois une bande enregistrée sur un petit magnétophone de poche. Le son étouffé ou grésillant est souvent interrompu, et les raccords audibles, quand ce ne sont pas des portions entières de musique qui manquent. Les notes, qui ne contiennent pas de livret, offrent (en anglais seulement) un résumé d'intrigue médiocre et sont muettes sur les représentations captées ou les biographies des artistes...
Verdi: Don Carlo
Horst Stein / Vienna State Opera
Opera d'Oro OPD-1131
*** $$
Dans cette enregistrement de Don Carlo capté en 1970 (il s'agit de la version révisée de 1883 en quatre actes, chanté en italien), Franco Corelli, le "grand" ténor italien, dans le rôle titre, est égal à lui-même: aigus impressionnants, diction molle, sanglots superflus, intensité peu variable. Gundula Janowitz, soprano allemande, nous fait sentir la noblesse, la jeunesse et la fragilité du personnage, mais ce répertoire exige une voix plus ronde, plus puissante dans les registres extrêmes, un volume plus stable, et une articulation plus ouverte. Eberhard Wächter, baryton viennois, possède une voix dure, feutrée, sans agilité; il ne fait pas ressortir les qualités de Rodrigo, qui est le héros moral de l'opéra, mais il est agressif et le public l'adore. Shirley Verrett, mezzo américaine, est une chanteuse excitante et une actrice talentueuse, le rôle d'Eboli lui convient bien, mais elle passe souvent et brusquement à la voix de poitrine, sa prononciation laisse un peu à désirer, et elle manque d'agilité. Nicolai Ghiaurov, basse bulgare, a une voix parfaite pour le roi, mais il manque un peu d'émotion. Martti Talvela, le géant finlandais, gueule beaucoup dans son rôle de l'Inquisiteur. Le choeur du Staatsoper et l'Orchestre Philharmonique de Vienne sont excellents. Dans le dernier duo, on entend le chef souligner sa battue avec son pied pour rappeler Corelli et l'orchestre à l'ordre. La fin de l'opéra en surprendra plusieurs: on a supprimé l'apparition de Charles Quint et les quelques échanges qui s'ensuivent. Eric Legault
Bellini: La Sonnambula
Leonard Bernstein / La Scala
Opera d'Oro OPD-1139
*** $$
La Sonnambula (créé à Milan en 1831) est un des opéras bel canto que Callas contribua à ramener au répertoire. Dans cette enregistrement live de 1955, plus complète que la version studio de 1957 (EMI), Callas est en pleine forme. Elle chante son rôle avec toute la subtilité, l'abandon et la maîtrise technique qu'on lui connaît. Ses cavatines sont ravissantes, ses cabalettes spectaculaires; ses joies et ses peines bouleversantes.
Cesare Valletti, ténor romain spécialisé dans les rôles di grazia, est un excellent Elvino, capable d'exprimer tendresse ou colère, peur ou joie dans sa seule voix. Il omet le contre-ut dans le premier duo ("Io lo leggo ne' tuoi sguardi"), mais nous en donne un beau, peu après. Son agressivité l'amène parfois à s'écarter de la partition, à "japper", comme plusieurs primo tenore, mais c'est pardonnable, quand on a toutes ces qualités.
Ses duos avec Callas sont impressionnants, dans la tendresse ou dans l'hostilité, mais il y a des faiblesses. Le duo "Son geloso del zeffiro" se termine dans une légère confusion tonale, surtout quand l'orchestre réapparaît. Par contre, l'ensemble à la fin du premier acte est superbe.
La basse Giuseppe Modesti chante un Rodolfo généreux et élégant. Les autres solistes sont satisfaisants. Leonard Bernstein, qui avait dirigé Callas à La Scala dans "Medea" en 1953, donne un rythme très rapide aux cabalettes au point que certaines fioritures sont à peine marquées. Il fait l'inverse pour le récitatif qui précède le deuxième air ("Oh se una volta") et pour l'air lui-même. Mais en général, l'interprétation est entraînante. On entend un peu de bruit du public et de la scène, il y a un peu de distortion, mais le son est très bon pour un live de 1955. Eric Legault
Richard Wagner : Lohengrin
Eugen Jochum / Bayreuth, 1954
Opera D'Oro OPD-1149 (4 CD)
*** $$
Cet enregistrement "live" de Lohengrin immortalise les debuts a Bayreuth de la jeune (36 ans) Birgit Nilsson. Certains - et j'en suis - prefereront peut-etre une princesse de Brabant un peu plus lyrique et a la voix un peu moins forte. Ceci dit, on aurait fort mauvaise grace de se plaindre de cette voix a nulle autre pareille içi entendue dans toute la fraicheur de sa jeunesse.
Windgassen interprete Lohengrin avec une tristesse a fendre l'ame. Au debut a la fin, il n'y pas un moment ou ce Lohengrin ne sache qu'au fond, il est voué au malheur. Une extraordinaire conception dramatique, mais qui ne plaira pas necessairement a ceux qui preferent un "chevalier du cygne" d'une voix plus eclatante et plus heroique, dans le genre Ben Heppner.
Astrid Varnay qui avait dominé les grands roles de soprano wagnerien depuis ses debuts spectaculaires au Met en 1941, est inegalable le role d'Ortrud, en particulier dans les scenes ou elle invoque "ses" dieux.
Dans les roles moins importants, on relevera la presence de Theo Adam (le roi Henri), du jeune (29 ans) Fischer-Dieskau, a la voix encore toute neuve (le heraut), et meme de Gerhard Stolze, a peine sorti de l'anonymité. Comme a l'habitude, les choeurs et l'orchestre de Bayreuth sont du plus haut calibre.
L'enregistrement de la radio allemande, reproduit ici dans sa totalite, est plus que satisfaisant, en depit de la presence occasionnelle de bruits d'une origine indeterminee. Pierre M. Bellemare
Richard Strauss : Taillefer, Die Tageszeiten, etc.
Michel Plasson / Dresdener Philharmonic
EMI 7243 55657220
** $$$
These three choral cycles share elements of Strauss's greatest works but are not themselves masterpieces. Wanderers Sturmlied, Op. 14 (1884) for six part chorus is Strauss's first important choral work, setting part of a Goethe poem to blatantly Brahmsian music. Taillefer, Op. 52 (1902) is Ludwig Uhland's pompous historical narrative poem about the knightly exploits of William the Conqueror (baritone Michael Volle) and his page Taillefer (tenor Johan Botha). Of more general interest is Die Tageszeiten, a four song cycle on Eichedorff's poems describing morning, noon, evening and night. This quartet is a mere echo of Strauss's immortal Four Last Songs. All the music on this disc is very well sung and played, but only Strauss completists will regret not having heard these pot-boilers and prentice-work.
Haydn: Cello Concertos Nos. 1 & 2
Pleyel: Cello Concerto in C major
Ivan Monighetti, cello
Akademie für Alte Musik Berlin
harmonia mundi HMC 901599
*** $$$

Critics have hailed this as the best original instrument recording of Haydn's cello concertos, and I would agree. Russian cellist Monighetti's gritty, spirited playing won't please everyone. In the Allegro dance movements he can sound more muscular and frenzied than one expects in a baroque performance (and the strings rebel when he presses his ancient cello: a Ruggeri, Cremona 1693), but in general his touch is sure and tasteful, especially in the richly lyrical Adagios. The East Berlin-based Akademie für Alte Kunst provides superbly crisp, sonorous back-up. The "filler", Pleyel's rarely heard cello concerto, is a wonderful discovery in itself. Monighetti plays his own cadenzas: a wink at the Marseillaise in Haydn's D major and at Mozart's aria "Se vuol balare" in the Pleyel. Good English, French, German notes and a natural, balanced recorded sound complete this fine offering.
Haydn: Cello Concertos Nos. 1 &. 2
Han-Na Chang, cello
Sinopoli / Sächsische Staatskapelle Dresden
EMI 5565352
** $$$
Korean-American cellist Han-Na Chang recorded this album last September (1997) at the age of 14, two months before she guested with the Montreal Symphony under Charles Dutoit. In concert Chang seemed a bit overwhelmed by Tchaikovsky's virtuoso Rococo Variations, but on this recording (abetted by sympathetic miking and the grateful acoustic of Dresden's Lukaskirche) she delivers a confident, nigh faultless performance of Haydn's little gems. Just listen to the rich texture of the Adagio of the Concerto in C, or the remarkably precise rapid bowing in the Finale. The Dresden band plays with grace and substance. The recorded sound is crystalline. Chang's cello is not described. Cadenzas are by "another hand" in the C major and by Rostropovich and Gendron in the D major. Though this modern instrument recording breaks no new ground, it can be warmly recommended.
Gershwin Fantasy
Joshua Bell, violin
John Williams / London Symphony Orchestra
Sony SK 60659
** $$$

The Gershwin Centennial Year is upon us with a disc of Gershwin favourites arranged for violinist Joshua Bell by major Hollywood and Broadway talents Tunick, Brohn, and Courage. Fantasy for Violin and Orchestra is a 20 minute medley by Alexander Courage, composer of the Star Trek theme. This splashy cinematic suite is the the kind of formulaic commercial pastiche used on the Academy Awards show. Three Preludes is Jascha Heifetz's delicate, tasteful little transcriptions of Gershwin themes, lasting a mere 6 minutes, with John Williams playing the simple piano part. Songs for Violin and Orchestra are violin arrangements of hits like "I Got Rhythm" and "Nice Work", including a sampling of Gershwin's 1926 historic piano-roll recording of "Sweet and Low-down". Joshua Bell has got rhythm and a sleekly responsive violin. John Williams and the LSO play this familiar music with panache. Joshua Bell joins the Toronto Symphony Orchestra at Roy Thompson Hall Sept. 23, 24, 26, 28. Info: 416-598-3375.
Hans Krása : Verlobung in Traum
Zagrosek / Deutsche Symphonie-Orchester Berlin
London 289-455-587-2
*** $$$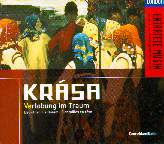 Here is another interesting world premiere recording in London/Decca's Entartete Musik series, a project which has unearthed many forgotten masterpieces. Hans Krása was a Jewish Czech composer best known for the children's opera Brundibar, written in the Terezin concentration camp where he died. Verlobung in Traum (1928-30) or, Betrothal in a Dream, originally called Fedya, is Krasa's only other opera, a 2-act, 5-scene work based on Dostoevsky's story Uncle's Dream. The plot tells of Zina, a young woman in love with the absent, dying artist Fedya. Zina's mother tries to marry her daughter to a rich but forgetful old Prince. Jealous relatives convince the Prince that his betrothal to the beautiful girl was a dream. The Prince departs, the Mother is foiled, Zina is free, but Fedya dies before she can marry him. The prologue and epilogue sung by the town registrar, framing the story as a flashback, is the best part of this opera. Though the tragicomic plot is lively and concise, with minimal verbiage, the musical inspiration is patchy. Verlobung sounds like a watered down mix of Janacek, Berg, and Shostakovich. There are too many noisy vocal duets, trios, and quartet, without dramatic purpose. The scoring is sophisticated, with flashes of genius, including a brilliant send-up of Bellini's Norma, but lacks sustained development or depth. You can skip every other track without missing much. The orchestral playing, singing and recorded sound is all top-notch. Krása's 15 minute Symphonie (1923) is also included with the opera. Libretto in French, English, German.
Mendelssohn : 17 Lieder ohne Worte
Grieg : 31 Lyric Pieces
Walter Gieseking, piano
EMI Références 7243 5 6677524
*** $$
Legendary German pianist (and Nazi) Walter Gieseking is best known for his incomparable Debussy recordings but his genius equally illuminates these mono recordings of romantic parlour pieces. His mastery of delicate shading and supersubtle rubato positively irradiates the fine selection of 17 Mendelssohn Songs without Words. It is impossible to listen to one without listening to them all. The selection of 31 of Grieg's altogether more serious Lyric Pieces is equally impressive. Disc Two includes 4 Lyric Pieces as one Scene from Country Life, Op. 19, recorded in 1948. The rest of the Mendelssohn and Grieg was recorded in 1956, just before Gieseking's death. Although not a serious flaw, the piano's tone is slightly metallic in the treble and dull in the bass. This may be normal for 1958 mono recording, or it may be due to ART, the mysterious new Abbey Road Technology remastering that irritates many audiophiles.
Jane Eaglen : Mozart and Strauss Arias
Zubin Mehta / Israel Philharmonic (Sony SK 60042)
** $$$
Frustrating is the only word to describe English soprano Jane Eaglen's recording career to date. Though impressive live, Eaglen's two recital discs for Sony have been sadly uneven, her English Tosca (Chandos) is unlistenable, and her live Norma (EMI) a let-down. Her first CD of arias (Sony SK 62032, reviewed in La Scena Musicale Vol. 3 No. 4) had good Wagner and bad Bellini. Her new Mozart/Strauss disc is again 50/50. First Strauss: her Final Scene from Salome has a few nice colours, average diction and weak low notes. Dramatically, you'd never guess she was a nymphomaniac killer fondling a decapitated head. Ljuba Welitsch on the recent Karajan Edition (EMI 724356639423) or her Complete Columbia Recordings (Sony MH2K 62866) are miles better. "Es Gibt ein Reich" has gorgeous high notes but no low notes, so her "Totenreich!" is laughable. Arabella, Frehild (Guntram) and Helena's "Zweite Brautnacht!" are incomplete sucesses, for the same technical and interpretive reasons. Mozart finds Eaglen good in the recitative of Lucio Silla, but breathy in the aria. Her powerful "Or sai chi l'onore" hints at a great Donna Anna, but "Idol mio" from Idomeneo is the only aria on this disc that unites correct singing and suitable emotion. Give me Deborah Voigt over Eaglen any day (don't miss Voigt's Quebec City recital March 1, 1999).
Opera Gala
We live in the golden age of compilations, but it pays to shop around. Here's a buyers' guide to London/Decca's Opera Gala series:
*** Puccini: Suor Angelica. Bonynge/National Philharmonic. 289-458-218-2. Sutherland's only recording of this opera is worth having, though it could be more dramatically convincing.
*** 20 Great Tenor Arias. 289-458-215-2. Six good early Pavarotti arias, an excellent del Monaco and fine samples of Bjoerling, di Stefano and Corelli make this a respectable beginner's tenor album.
*** Marilyn Horne : Rossini Heroes and Heroines. 289-458-219-2. An excellent compilation of a unique singer doing what she does best
*** Mozart: Die Zauberflöte . Solti/Wiener Philharmoniker. 289-458-213-2. This is such a great Magic Flute you'll want the whole recording. The entire cast is fabulous, especially Hermann Prey's charming Papageno and Deutekom's laser-precise Queen of the Night.
*** Splendours of Russian Opera. 289-458-216-2. Give the current shortage of Russian opera compilations, this is worth having. The voices are good, and the selection will whet your appetite for more.
** Wagner : Der Ring des Nibelung (excerpts). Solti/Wiener Philharmoniker. 289-458-210-2. The complete Solti Ring is a classic, but you can't boil 14 CDs down into one. The basic bleeding chunks are here, but not Wotan's Farewell. Buy the whole Ring and enjoy it for the rest of your life.
** Favourite Wagner Overtures. Solti / Chicago Symphony & Vienna Philharmonic. 289-458-214-2. Six overtures, none from the Ring. A boring Ride of the Valkyries, sloppy Tannhauser, and gritty strings in Meistersinger disqualify this disc from serious consideration.
** Verdi : La Traviata. Pritchard/Florence. 289-458-211-2. Sutherland is content to make pretty sounds. Bergonzi is barely involved, Merrill is emotionless. Good voices, no drama.
** Joan Sutherland : Greatest Hits. 289-458-209-2. The best of Dame Joan's singing is already available in numerous economical anthologies (Best Of, Diva, etc), making this random selection pointless.
Vivaldi : L'estro armonico, op. 3
Fabio Biondi / Europa Galante
Virgin Veritas 7243 5 4531521
*** $$

Biondi's first recording for Virgin/ EMI after leaving Opus 111 is an unqualified success. The Italian maestro breathes exciting new life into the 12 concerto masterpeices of Vivaldi's youth. Biondi's enthusiasm leads him to take liberties which might annoy traditionalists, but anyone who appreciates superb sound and joyful interpretation will be pleased. The recorded sound is clear, organic, balanced and detailed. Good notes in French, English and German. A steal at mid-price.
Beethoven : Piano Concerto No. 5 & Violin Concerto
Jos van Immerseel, fortepiano / Vera Beths, violin
Bruno Weil / Tafelmusik (Sony SK 63365)
** $$$
This 1997 recording of Beethoven's Piano Concerto No. 5 is a big improvement over Tafelmusik's dreary 1996 recording of the Beethoven Piano Concertos Nos. 3 & 4 (SK 62824) with the same conductor, pianist, fortepiano, producer and engineers. It would seem the new recording benefits from the acoustic of the Kursaal in Bad Tölz. The fortepiano sounds clearer and less sticky, though Immerseel's fingering is still often sluggish and leaden. As before the bassoons are feeble, but the band sounds louder, richer, better balanced, almost modern. The Violin Concerto is the reason to get this disk. Vera Beth is an intelligent artist, getting the maximum out of her Strad under difficult authentic conditions. The resulting performance is spontaneously enjoyable, transcending the technical limitations of a period instrument band.