Book Review: Rosa Ponselle: A Centenary Biography

by Wah Keung Chan / December 1, 1997

---
Rosa Ponselle: A Centenary Biography
by James A. Drake
534 pages, $54.95
Amadeus Press 1-57467-019-0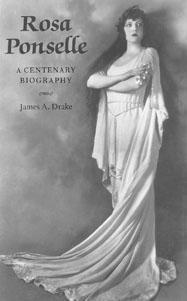 James A. Drake's new homage to America's greatest soprano - Rosa Ponselle: A Centenary Biography - is published on the 100th anniversary of Rosa Ponselle's birth. Thanks to detailed research and many interviews with people who knew Ponselle, Drake adds a great deal of information to the material published in his 1982 Ponselle, A Singer's Life. A Centenary Biography is a chronological reconstruction of Ponselle's life through quotations from interviews with the soprano and her associates. Each chapter includes a summary of sources and the author's summary.
Rosa Ponselle was born on January 22, 1897 in Meriden, Conneticut to Italian immigrants. Her musical talent was evident early, and at 19 she joined her sister Carmela on the vaudeville stage. She was "discovered" at an audition and made her tremendously successful operatic debut opposite Caruso at the Met premiere of La Forza del Destino on November 15, 1918. The public adored Ponselle's naturally warm, flexible and blooming voice. She triumphed in Aida, Norma, La Traviata and Carmen.
In 1937 while still at the height of her vocal powers Ponselle abruptly retired from the stage. Drake tells the story of Ponselle's retirement in great detail. By that time, she was looking for new challenges. Mortified by Met General Manager Edward Johnson's refusal to mount a new production Adriana Lecouvreur for her, Ponselle went to Hollywood in the hope of launching a lucrative screen career. The studio were ambivalent about her screen tests (they thought her nose looked too small) and her demand for a million dollar fee cause them to terminate negotiations. Having failed in Hollywood, Ponselle's pride would not let her return to the Met. (Opera lovers can find her Carmen screen tests on The Art of Singing video).
Ponselle spent the rest of her life teaching and promoting young American talent through the Baltimore Opera. This biography is fascinating because Ponselle always spoke freely and frankly about her life and colleagues. Drake has published his Ponselle interviews virtually intact. Only once, when asked about a certain love affair, did she refuse comment. Aspects of Ponselle's career already treated in Drake's earlier biography, such as her involvement with the Baltimore Opera, are not repeated. As a fascinating narrative and as a definitive reference (including a performance chronology by Thomas G. Kaufman, bibliography by Andrew Farkas and discography by Bill Park) Rosa Ponselle, A Centenary Biography is a timely and valuable addition to every opera lover's library. Amadeus Press publications are distributed in Canada by Cavendish Books. Tel: 1-800-665-3166. Fax: 1-800-665-3167.  Wah Keung Chan
---
Version française...
---