Iwan Edwards at 60

October 1, 1997

---
On October 5, Iwan Edwards, one of Canada's top choral conductors, celebrates his 60th birthday. From his start as a high school music teacher, he has risen to master of the Montreal Symphony Chorus, artistic director of the St. Lawrence Choir (which he founded 25 years ago), founding director of the FACE Treble Choir and professor of music at McGill University. He now devotes full attention to conducting and teaching his seven choirs. "Conductors reach their peak at sixty," he told us recently, with a smile.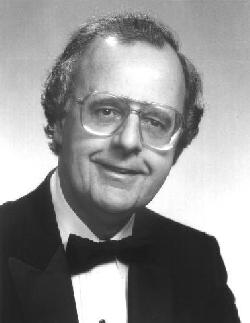 LSM: How did you become interested in conducting?
IE: When I was nine, I heard a concert performance of Tchaikowsky's Romeo and Juliet Fantasy Overture by the London Symphony Orchestra. My parents claimed that I turned to them and said I wanted to be a conductor. That part I don't remember. I intended to become an orchestral conductor, and I also wished to teach. After my undergraduate studies in music (violin) at the University of Wales, I was offered a scholarship to be an orchestral conductor at the Royal Academy, but I turned it down because I didn't want to get into that rat race. I decided to teach and I enjoyed working with students; it also allowed time for conducting on the side. After four years, I became frustrated; it was hard to get a good choir because in Wales there were too many choral conductors, and it was very political. I decided to go to Canada for two years to do a research project, a comparative study of music teaching in a bilingual society. Within weeks of arriving, I was offered a choir to conduct. After 6 months, it became clear that there were more opportunities available for me here.
LSM: Your career has been closely linked with the St. Lawrence Choir. Tell us how the choir was formed.
IE: In 1971, the conductor of the Montreal Elgar Choir went on sabbatical and asked me to take over. At the end of the year, the six or eight people from the Lakeshore region asked me to form a choir in the Lakeshore. It created a controversy at the time because the executive of the Elgar Choir felt I was deliberately forming a splinter group, which wasn't the case. As it turned out there were sixty to seventy people in the Lakeshore region who didn't want to travel downtown, who joined the new St. Lawrence Choir. The 1976 election of the Parti Québecois caused an exodus of anglophones from the Lakehore, so the St. Lawrence Choir had recruting difficulties. In 1979 when I moved from the Lachine High School to the FACE School downtown the St. Lawrence Choir also decided to move downtown. Now the choir has an increasing percentage of francophones, which is good. Our association with the Montreal Symphony began in 1980 when Maestro Dutoit conducted Mahler's Symphony No. 8. The Choir of St. Andew & St. Paul conducted by Wayne Riddell and the Choeur de Montréal directed by Jean-François Senard were also involved. I had already started the FACE children's choir when Dutoit contacted me in 1981 for a children's chorus for the Liszt Fantasy Symphony. Dutoit decided that in general Wayne Riddell would be responsible for the baroque rep, Senard for the French rep and I would be responsible for everything else. Later Senard left and Wayne Riddell retired. In 1989, Zarin Mehta and Maestro Dutoit asked me to take over the MSO Chorus with the St. Lawrence Choir as the core amateur choir. I accepted on the condition that the professional choir be auditioned. There was resistance but it has proved beneficial. The quality of the MSO Choir improved and by extension so did that of the St. Lawrence Choir. We attract better and better singers all the time. Instead of two or three concerts per year, the SLC sings in five or six per year. We are now stronger and bigger than ever with 128 members including 24 tenors. It takes a longer time to achieve the same effect with an amateur choir because professionals have more vocal training. That is why for MSO concerts I work with the SLC on the text for two or three weeks before the professionals join the group. Then we can work at a higher level. Professionals are expected to have their music prepared when they join rehearsals.
LSM: You usually prepare the MSO Chorus to perform in concert under Dutoit. Do you prepare the choir differently when you conduct?
IE: When I conduct we work according to the interpretation I have in mind. For Maestro Dutoit, I now have a good idea what he wants. In general, I make sure the choir is prepared for any interpretation by varying the tempi constantly in rehearsal. It's an approach I've developed with experience, and I find it works very well.
LSM: Has there been pressure to cut back on rehearsal time due to budget restrictions?
IE: For now MSO rehearsals have not been reduced. I require a minimum preparation time which depends on whether the professionals have performed the piece before. The norm is 19 hours of rehearsal time. For the Brahms' Requiem, which the professionals know already, it could take 16 hours, but Penderecki's Polish Requiem [with the Montreal Symphony April 8, 1998] is new to us and will require more than 19 hours. There is constant pressure to reduce the number of hours, but the MSO administration is willing to listen and negotiate.
LSM: What do you look forward to in the coming years?
IE: I still have a desire to conduct symphonic works. Right now, I am perceived as just a choral conductor; the invitations from outside Montreal are usually choral. When the Ottawa Choral Society toured Europe last year, I conducted the Mendelssohn Reformation Symphony with the Karlsbaden Symphony Orchestra and very much enjoyed the experience. w
Iwan Edwards will conduct the 25th anniversary concert of the St. Lawrence Choir on October 19, 4 p.m., in a performance of Vaughan Williams' Dona nobis pacem with the participation of Ensemble Amati, Cantare and the FACE Treble Choir. Tel: (514)483-6922.
---
Version française...