Music and the Brain

by Julia Huang / April 1, 2016

---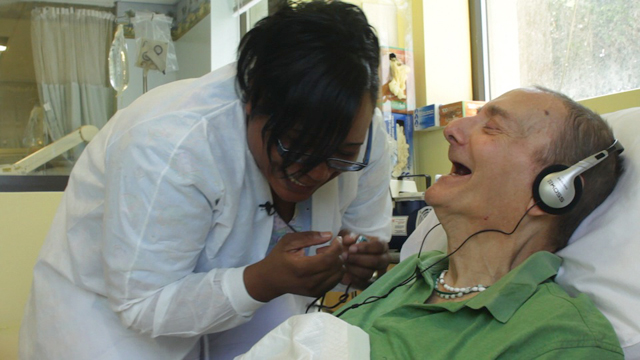 Still from the film Alive Inside: The Story of Music and Memory. Photo: Michael Rossato-Bennett
"For them, music is not a luxury, but a necessity."
This line is taken from the book Musicophilia by the famous neurologist Oliver Sacks, demonstrating the benefits of music on our intellectual capacity and its powerful therapeutic properties.
Nowadays the number of groups and organizations using music therapy is multiplying. Their aim is to treat various neurodegenerative diseases such as Alzheimer's disease but also stress, pain and even dyslexia.
According to Hervé Platel, a neuropsychology researcher, "Music engages the entire brain using parts of the brain that have much wider functions. Listening to a piece of music creates a kind of 'neuronal symphony' in the brain, involving other cerebral lobes, the cerebellum and even the hippocampus, best known for its role in memory"
The non-profit organization Music & Memory™ recently launched its music therapy program in Quebec in November last year. Its aim is to improve the quality of life of people suffering from Alzheimer's through the use of music. The principle is simple: in order to revive and recreate the memories of people suffering from cognitive issues and Alzheimer's disease, trained care profession put together personalized music playlists for them.
Lise Lalande, director general of the Alzheimer Society Laval, the first charity to have obtained a Music & Memory™ certification explains that "The results observed among sufferers [of Alzheimer's] who listened to pieces of music that are of significance to them are astonishing. The music worked wonders with memory and quality of life. It's a simple but effective approach, and one which makes interaction with sufferers of Alzheimer's easier."
A few years ago you might have seen an extract from the documentary Alive Inside: A Story of Music and Memory™ on YouTube, which generated much enthusiasm online. In it we meet Henry, a patient suffering from Alzheimer's whose face lit up on hearing his favorite pieces of music. I recommend you go see it if you haven't already done so.
It was remarked that by listening to their favorite music or even to tunes that were familiar to them, the patients "woke up". Often after a month or even years without communicating verbally, patients slowly began to talk and become more sociable. When the first programs were put in place there was even a great reduction in the use of medication among patients. Some suddenly began to remember and recall names that they had forgotten a long time ago, and even more extraordinarily, some began to remember who they were themselves.
Dan Cohen, the founder of Music & Memory™,makes sure to train care assistants specializing in this field in order to provide patients with music playlists adapted to each individual. While waiting to find an effective remedy against damage caused by cerebellar degeneration, he seeks to improve the quality of life of people suffering from this illness.
From a scientific point of view, we know that music can develop very different parts of the brain, such as the part of the brain linked to pleasure or even those linked to memory or language. Indeed Platel is delighted to say that even at a stage of severe damage, the brain's musical memory resists because the brain continually "encodes" information.
Platel explains that despite the presence of severe amnesia in an individual, they will still be able to hum a tune several months later. These people appear to have severe damage to the hippocampus, part of the brain whose main role is to do with memory as stated earlier. However, musical memory takes a different route which allows the melody to persist in their head, as this route is less vulnerable to brain damage. We can therefore speak of a "dissociative effect".
Researchers are hoping that the stimulation generated by music therapy sessions will have an impact on networks of the brain that are still intact so that their structure may be altered and they develop a sort of cerebral plasticity in order to compensate for cognitive functions that have been deteriorated by disease. We don't expect to halt the disease, but simply to help people fight it using non-drug-based methods.
Some studies are being carried out in order to determine which parts of the brain remain intact in spite of illness. Music can cause hypertrophy of certain areas of the brain, that is to say an increase in the volume of these regions, which can prevent memory troubles. However, every brain is different.
Music can therefore play a fundamental role in the management of patients suffering from Alzheimer's disease, dementia and even those suffering from mental and physical challenges, and can make both their daily life and that of those around them easier. The Music & Memory™ program, now available in Quebec, offers an unparalleled level of extra support for patients and at the same time reduces their levels of agitation and anguish so they rediscover a feeling of calm.
---
To find out more:
In Musicophilia, the late doctor and neurologist Oliver Sacks, who died last year aged 82 presents a large number of very interesting examples, testimonies and anecdotes illustrating the extraordinary correlations between music and the brain.
To donate an iPod and support the Music & Memory™ organisation, or to find resources to help your family, visit musicandmemory.org for more information.
Six Treasures of Russian Art Song
par/by Richard Turp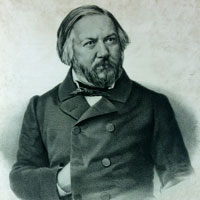 The major development in Russian art song occurred with the arrival of the composer Mikhail Glinka during the 1830s. Often referred to as the Father of Russian opera, Glinka played a similar role in the history of the Russian art song. As is often the case with national schools of music, the rise of art song in Russia was inextricably linked to the development of a literary, and more specifically, poetic tradition. Glinka was most fortunate in having at his disposal the poems of Russia's first literary giant, Alexander Pushkin. Pushkin and, to a lesser extent, Mikhail Lermontov, became the main literary influences on Glinka, and the so-called Group of Five (Cesar Cui, Aleksandr Borodin, Mily Balakirev, Modest Mussorgsky, and Nikolay Rimsky-Korsakov) who followed in their Father's musical footsteps.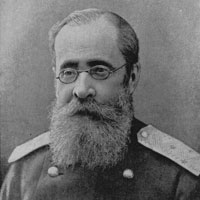 The great "miniaturist", César Cui wrote some of the most emotionally powerful and concentrated, as well as lyrically beautiful settings of Pushkin (including I loved you and The statue at Tsarskoye Selo, amazingly sung by the legendary mezzo, Irina Arkhipova). Pushkin also inspired his colleague, Alexander Borodin, who set one of the writer's great poems, For the shores of your far-off Homeland. Borodin captures perfectly the melancholy and later the sense of profound loss when separation and absence become, with the death of the beloved, irreparable. It is a song that is designed on a grand, almost operatic scale, achieving a tragic and lasting poignancy. There are several fine interpretations of this song by, among others, the legendary (and very personal) Feodor Chaliapin, Nikolai Ghiaurov, and Nikolai Okhotnikov, but the modern-day baritone, Dmitri Hvorostovsky (with pianist, Ivervi Ilja) is difficult to beat.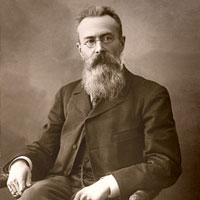 Though Nikolai Rimsky-Korsakov is somewhat inconsistent in his output of art song, he composed several gorgeous settings of Lermontov and Pushkin. One of the most celebrated is his setting of Pushkin's The clouds begin to scatter. This is the third song of Rimsky-Korsakov's famous opus 42, and it has all the evocative power of the poem. Pushkin spent years in exile in and around Georgia, and his striking verbal imagery perfectly reflects the immense natural beauty of the region. The wondrous poem's melancholy ambiance is rendered through a searingly beautiful, sinuous vocal line and an equally atmospheric piano part. Again, there are noteworthy versions by Galina Vishnevskaya, Anna Netrebko, and Olga Borodina but two tenors are remarkable: the legendary Sergei Lemeshev and, most recently, the young Daniil Shtoda (accompanied by the impressive Larissa Gergieva).
Mussorgsky famously wrote that musically he searched for truth rather than beauty. His numerous songs illustrate his constant search for dramatic context and a vocal style based on the natural inflections of the Russian language. His cycle Songs and Dances of Death contains some of his most effective vocal music. The second song of the cycle, Serenade, is set to words by Arseny Arkad'yevich Golenishchev-Kutuzov. By turns seductive, insinuating, and deeply dramatic, the serenade has Death singing about waiting for a young maiden to yield to his embrace. The cycle has been widely recorded and classic versions include those by Chaliapin, Boris Christoff, Boris Gmyria, Alexander Kipnis, and George London. Of more modern vintage are recommended versions by Yevgeny Nesterenko, Hvorostovsky, and a wonderfully vivid version by Canadian Gerald Finley (with pianist Julius Drake).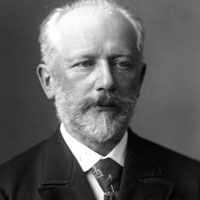 Like Rimsky-Korsakov's, Piotr Ilyich Tchaikovsky's 175 songs can appear a little uneven in achievement yet they contain some of his finest writing, as is the case with the six songs that comprise opus 73, such justly famous songs as two opus 38 songs (Don Juan's serenade, and Amid the noise of the ball), or I bless you forests (opus 47). Yet his best-known, and ultimately moving, song is arguably None but the lonely heart (opus 6), based on a translation by Lev Mey of Goethe's famous text from Wilhelm Meister. This deeply introspective, nostalgic and highly charged rendering produces a song of sustained passion and lyricism from Tchaikovsky. Of the over one hundred versions of the song, one stands head and shoulders above all others; that by the baritone Pavel Lisitsian, whose extraordinarily beautiful voice and vocal technique, breath control and expressive powers defy description. Perhaps only the equally distinguished mezzo, Nadezda Obukhova, could hope to match the Armenian baritone.
Lisitsian (surely one of the twentieth century's greatest singers) is again at the head of the pack when one considers Sergei Rachmaninov's youthful In the silence of the night. The third song of Rachmaninov's opus 4, this setting of a poem by Afanasy Afanas'yevich Fet reflects both Rachmaninov's deeply nostalgic and melancholic character and the composer's ability to design songs requiring great technical skill (from both singer and pianist), vocal range, and beauty as well as tremendous breath control. The song (and especially its closing phrase) demonstrates Lisitsian's incomparable fusion of musicality, vocal brilliance, and technical skill.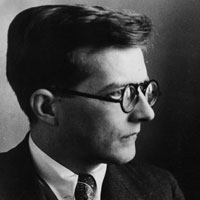 In the twentieth century, the Soviet period produced many songs of considerable musical pungency and power by such composers as Sergei Prokofiev and Georgy Sviridov. Yet, with hindsight, the songs of Dmitri Shostakovich remain remarkable for their diversity of style as well as their breadth and range. Like Glinka, Rimsky-Korsakov, and so many other Russian composers before him, Shostakovich returned to Pushkin in his neglected Four Romances on Poems by Pushkin, opus 46. The second song, Jealousy, is a short, radiant, wistful and ultimately sad song that showcases Shostakovich's atmospheric word setting as well as his melancholy sense of irony and a vocal line that ebbs and flows with delectable freedom. The rare version, by the Russian baritone Dmitri Kharitonnov with the City of Birmingham Orchestra conducted by Mark Elder, is worth seeking out.
---
Version française...