Janáček's Glagolitic Mass

by Caroline Rodgers / February 1, 2016

---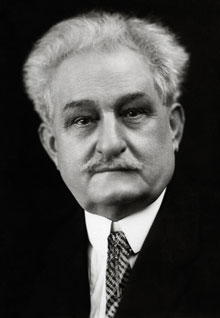 On March 29, Yannick Nézet-Séguin will conduct the Glagolitic Mass by Leoš Janáček for the first time with the Orchestre Métropolitain. Very rarely played in Montréal, this impressive work will be part of the conductor's Slavic Masterpieces concert. For the occasion, he stopped by La Scena Musicale for an interview.
"I've never conducted the Glagolitic Mass," Nézet-Séguin tells us. "I'm very much looking forward to doing so for the first time with my Montréal choir and orchestra. It's going to be a great event in our musical season. I've long dreamed of conducting this piece."
The even is great not only because of the interest and scale of the work, but also because it is a rarity. A delve into Montréal newspaper archives shows that Charles Dutoit conducted the Montréal Symphony Orchestra playing the Mass at Salle Wilfrid-Pelletier in 1991, and that the MSO recorded the work a few days later with Decca/London. But we could not find any other public performances in Montréal.
The Glagolitic Mass was composed in 1926 and had its premiere on December 5, 1927 in Brno, the second city of the Czech Republic. The conductor was Jaroslav Kvapil. The text is in Old Church Slavonic, the ancestor of modern Bulgarian and Macedonian. It is written using the Glagolitic alphabet, the oldest of the Slavic alphabets, dating from the ninth century.
Janáček was 72 when he composed the Mass.
"It was one of Janáček's last works," says Nézet-Séguin. "It represents the pinnacle of his life as a composer and of his relationship with the sung text. Janáček was always obsessed with putting text to music in a way that paid due tribute to the musicality of the Czech language – and this work is the summit."
The Mass comprises eight movements and lasts about forty minutes. The other work on the program will be Symphony No. 6 by Dvořák.
"Eastern European composers were particularly keen on setting the folklore of their countries to music," says the conductor. "Dvořák of course was influenced by Brahms, but the particular rhythm of his music and the Slavic tunes he uses are special, and the same goes for Smetana and, in our case, Janáček. He is also obsessed with rhythm, and his music is more direct, more colourful and more rugged than the music of the Germanic composers of the period."
The Orchestre Métropolitain and the Chœur Métropolitain have called upon the talents of four soloists: Finnish soprano Camilla Nylund, Quebec mezzo-soprano Julie Boulianne, Canadian tenor David Pomeroy and British bass-baritone Andrew Foster-Williams.
Translation: Cecilia Grayson
March 25, 7:30 pm, Maison symphonique. www.orchestremetropolitain.com
---
Version française...