CD Reviews

by Michelle-Andrée Lanoue, René-François Auclair, Joseph So and Kiersten van Vliet / February 1, 2016

---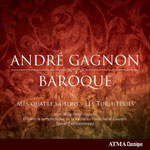 André Gagnon Baroque
Mes Quatre saisons – Les Turluteries
Jean-Willy Kunz, harpsichord
Orchestre symphonique Vallée du Haut-Saint-Laurent, Daniel Constantineau ATMA Classique. 2015. ACD22715. 65 min 17 s


André Gagnon's Mes quatre saisons (1969) and Les turluteries (1972) are infused with a new breath of life with this new disc on which baroque and popular music blend joyfully.
With a style approaching that of Bach and Vivaldi, Jean-Willy Kunz on harpsichord interprets and transforms the melodies of Léveillée, Vigneault, Leclerc and la Bolduc's "turlutes", along with the Orchestre symphonique de la Vallée-du-Haut-Saint-Laurent directed by Daniel Constantineau. Its unique character comes across clearly, due to choosing the use of period instruments. Jean-Willy Kunz, who is also organist-in-residence at the OSM, confirms once again his amazing talent. A pleasant musical exploration, replete with twinkling flashes, this album appears under the ATMA Classique label. MAL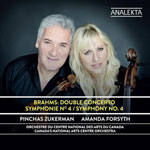 Brahms: Double Concerto & Symphonie no 4
Pinchas Zukerman and Amanda Forsyth
CNA. Pinchas Zukerman. Analekta. 2015. AN 28782. 73 min 34 s


This disc from Canada's National Arts Centre Orchestra is a tribute to Brahms.
First is the Double Concerto for Violin and Cello, performed by Pinchas Zukerman and Amanda Forsyth. The constant dialogue of this powerful piece depends on the bond between the performers. For these colleagues who work together daily, magic is woven between these two musicians. Although there's no need to prove himself any longer, Zukerman reveals his great talent again.
Another of Brahms' works, the majestic Symphony No. 4 is known as his most classic piece. The National Arts Centre Orchestra, conducted by Zukerman, presents a detailed, quality performance, albeit lacking passion at times.
An easy listening disc, offering nothing new, with a repertory of timeless beauty. MAL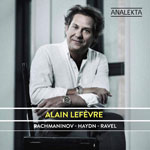 Alain Lefèvre.
Rachmaninov. Haydn. Ravel.
Analekta. 2015. AN2 9296. 53 min 21 s

Three pieces, three different colourations. Rachmaninoff's Piano Sonata No. 2 Op. 36 is full of bluesy neo-romantic jazz 'confidences', and also noisy, urban nighttime ferment. Lefèvre gives himself over to sweeping and startling symphonic outpourings. Haydn's Sonata in F major No. 38 Hob.XVI:23, like morning's pale whiteness, is dealt with soberly and austerely, yet the clarity of the discourse is moving and delightful ... The disc ends with Ravel's La Valse, a sundown of flaming orange-red colour, a veritable blaze of glory on a background of demented, bloody war. The artist commits himself little by little, allowing the weightless voices come out in the beginning. Then, the "fantastic and fatal whirlwind" sweeps us along. There is nothing light about this waltz any longer. It ends in a deranged tone "cluster", crazy with anger ... decisive demonstration of a pianist who has given his all. One of the most fabulous piano versions yet. Impeccable sound recording. RFA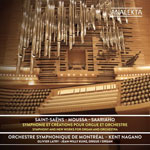 Symphony & Compositions For Organ & Orchestra.
Works by Saint-Saëns, Moussa and Saariaho.
Jean-Willy Kunz and Olivier Latry.
OSM. Kent Nagano. Analekta. 2015. AN2 8779. 66 min 27 s

The Grand Orgue Pierre-Béique from Casavant, Opus 3900, inaugurated May 28, 2014 at the Maison Symphonique, is a marvel. Close to 6500 pipes, a multitude of registers, and above all colossal power make this a musical instrument equal to a full symphonic ensemble. This recording is of that inaugural concert.
Saint-Saëns' Symphony No. 3 in C minor, op. 78, is a self-evident choice for showcasing this crowned glory of instruments. Nagano plays this well-known piece with mastery, intelligence, lightness and elegance. The Poco Adagio is so beautiful that it makes one wonder why the American conductor didn't introduce Saint-Saëns earlier. The audience's triumphal reception of Maestoso's final notes allows us relive that extraordinary moment.
Samy Moussa's creation, A Globe Itself Infolding, is a wonderful find. The piece lends a grandiose, cosmic dimension to the organ, offering a captivating foray into new luminous textures. This exploration of sounds between organ and orchestra fuses into mysterious forces, into fascinating images of the beginning of time ... or its end!
Maan varjot (Earth's shadows) by Kaija Saariaho(born 1952) will repel some with its complex exposé of dissonances. However, in the midst of controlled chaos, this hybrid, unpredictable quasi-concert remains joyous to the highest degree. This piece gives the organist, Olivier Latry, the chance for a masterful performance. Repulsive, but teeming with life, this music is astonishing due to the extreme difficulty it poses to the orchestra's musicians, who give us with astounding performance. RFA
Translation: Karine Poznanski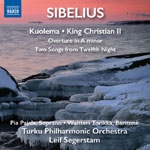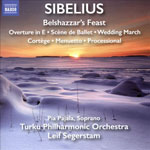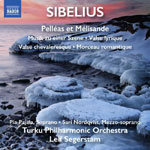 A Winter Trilogy
Jean Sibelius, Incidental music
Kuolema. King Christian II
Belshazzar's feast. Pelléas et Mélisande
Turku Philharmonic Orchestra, Leif Segerstam
Naxos. 8.573299/ 8.573300/ 8.573301


The Finnish conductor Leif Segerstam, a veritable star in Scandinavia, recorded a series of discs in 2015, all devoted to Sibelius. A colourful and likeable character, he has been the principal conductor of the Turku Philharmonic Orchestra since 2012. Little known over here, the orchestra has a rich tradition, having been founded in 1790 in Turku, a town often spoken of as the most medieval in Finland.
Sibelius said of his 6th Symphony that is was "cold spring water." In fact, this could describe all his works. Limpid, crystalline, essential, his music often evokes Nordic landscapes and winter legends. Even his incidental music, set to events in quite different worlds, can summon up sensations of cold in our minds.
The works on these three discs exist quite apart from the poems and the seven symphonies. Most are but rarely heard, having been written for theatre and ballet. Yet Sibelius has left his unique imprint on every piece. Each is composed with refinement and imagination. The often very fine melody repeats are treated differently by bold orchestration. But it all remains tonal, sometimes showing the influence of Tchaikovsky, whom Sibelius respected highly. He creates dark scenes, misty, sad enchantments to underpin the action onstage, for example in the "Valse triste"of Kuolema. By contrast, the waltzes and other dances for ballet are bright and animated.
These recordings are better than the Swedish BIS productions, which recorded all of Sibelius's symphonies a few years ago. They were done with care, but the overall effect was too smooth. With Segerstam, you plunge right into the action. The strings are warmer and the Turku Philharmonic exudes splendour. The sound recording is generous. This "winter trilogy" is worth the trip to the North, miles from the populous towns of the Austro-Hungarian Empire. Up there, a musical giant defied fashionable taste to compose the most original works of the early 20th century. They are a joy to rediscover. RFA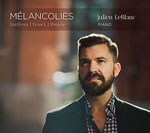 Mélancolies. Julien Leblanc.
Franck. Poulenc. Dutilleux.
Leaf Music. 2015. LM209. 76 min 28 s.


The Acadian pianist presents three French composers who seem to hold a particular appeal for him. Leblanc takes a heartfelt approach to the highly austere, funerally sober César Franck and the boldly modern Henri Dutilleux as he performs these often heavy pieces. He handles every twist and turn with brio, his phrasing is analytical, and his brilliant technique puts him in a class of his own.
But one is especially drawn to Poulenc. The Improvisations are short, gutsy pieces, varied, delightful and sensuous, a century apart from Schubert, Chopin, and Schumann. What Poulenc has done is drawn material from the past and forged it anew. And how refreshing that is to our ears saturated in the nineteenth-century Romantic tradition that dominated piano music for so long.
Poulenc's music is elegant, with an air of Paris, of its smoky bars, its people who love a good discussion; it is new in the sense that it is very like us. Like those ghosts of the past, we too like our spells of melancholy, but we also like burlesque, laughter and an amusing anecdote. Julien Leblanc serves up all of this. His interpretation is always true, played with care, and packed with warmth. Perfect piano music and perfect for lovers of Poulenc. RFA
Translation: Cecilia Grayson
Divine Redeemer
Christine Brewer, soprano; Paul Jacobs, organ
Naxos 8.573524, 61 min 22 s

American soprano Christine Brewer lends her opulent voice to a program of sacred works by Bach, Handel, Gounod, Franck, Puccini, Wolf, Boulanger, and Reger. She is joined by her frequent collaborator Paul Jacobs on the magnificent organ of the Church of the Gesu in Milwaukee, Wisconsin. The distinct reverberant church ambience is beautifully captured on this disc – you get a real sense of being there. One of the great dramatic sopranos of our time, Brewer specializes in Wagner and Strauss, although in recent years she appears to have given up opera in favour of concerts and recitals. Here she sings thrillingly in all the pieces, particularly Bach's Bist Du Bei Mir, Gounod's O Divine Redeemer, and Franck's Panis Angelicus. Wolf's Spanisches Liederbuch and Mörike-Lieder are typically heard in an intimate Liederabend with piano accompaniment, so it's a bit odd to encounter these pieces here, arranged for organ by Max Reger. Brewer is a bit careful in her approach to the top, particularly in the Gounod, but the notes are there and they are big! The rest of the disc is made up of solo pieces for the organ played with great authority by Jacobs. This is an excellent disc for anyone interested in the sacred music repertoire and in the glorious voice of Christine Brewer. JS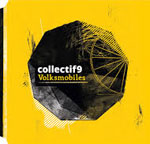 Volksmobiles
collectif9
29 min 11 s


Nine-member string ensemble (+1 sound engineer) collectif9's debut recording is a collection of old fan favourites and more recent acquisitions. Very little of the group's live sound is lost in translation from stage to disc. The album features an eclectic mix of five folk-inspired tunes, each attacked with vigor and verve. Opening with Rondo alla zingarese from the fourth movement of Brahms's Piano Quartet op. 25, the group sets the tempo from the get go, maintaining the swift pace until the final bars of André Gagnon's fiddlin' Petit concerto. In each piece, collectif9 explores colours that push at the edges of respectability: you can literally hear the grit as the wood of their bows press on the strings. Commissioned by the group, Volksmobiles by Canadian Geof Holbrook is the centrepiece of the album, featuring three movements full of raucous energy. It is bookended by Bartók's Divertimento for Strings and an arrangement of the second movement of Alfred Schnittke's first violin sonata. My only criticism is that with seven brief tracks, the album runs rather short at just under half an hour. Otherwise, a solid debut from an ensemble that has the potential to go very far indeed. KVV
---
Version française...