Dada Masilo's compelling Swan Lake

by Marion Gerbier / December 1, 2015

---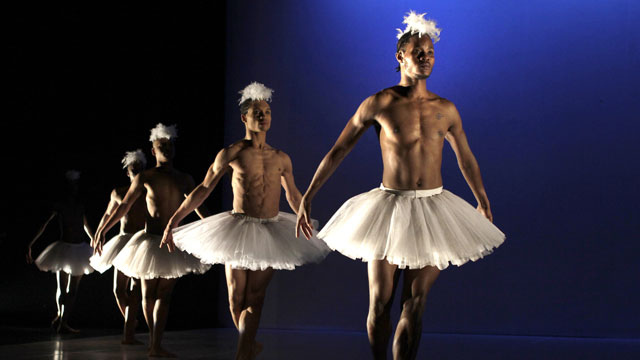 Swan Lake by Dada Masilo, performed by Dance Factory Johannesburg. Photo John Hogg
South African choreographer Dada Masilo and her troupe Dance Factory Johannesburg will make their Canadian debut in January at the invitation of Danse Danse. They'll perform a vivid, taboo-breaking reinterpretation of Tchaikovsky's Swan Lake. La Scena Musicale interviewed the artist via email.
Dada Masilo has a robust dance background, having trained at South Africa's National School of the Arts in Braamfontein and the Dance Factory in Johannesburg, before joining the prestigious P.A.R.T.S. in Brussels. The 30-year-old choreographer has made a splash internationally, becoming known for her contemporary reworkings of classical ballets, which she intersperses with traditional dance and comment on current social problems.
Since 2008 she has boldly tackled the emblematic works Romeo and Juliet, Carmen, and Death and the Maiden. Her own dance The Bitter End of Rosemary re-interprets the story of Ophelia in Hamlet.In each case she sidetracks the familiar story to consider apartheid, racism, sexism and AIDS.
"I mostly just want to bring people's attention to certain issues," she writes. Her interest in Swan Lake was piqued by the magnificence of the dance, the music and the operatic decorum. "Swan Lake is the first ballet I watched when I started dancing and I remember how I fell in love with the tutus and the music."
The parallel between Tchaikovsky's private life—his repressed homosexuality, experienced as a curse that would haunt the Swan Lake libretto—and today's homophobia struck her later, when she was pursuing her obsession with reinterpreting styles in order to cultivate ideas and freedom in her country. Her questioning of values and morals also extends into the music.
"I am a child of the world. This is a privilege because I have been exposed to much more than what is in my 'back garden'. I love traditional Tswana dance, classical ballet. I love Arvo Pärt, John Lennon and I adore Maria Callas."
Blue for boys, pink for girls. One swan white with innocence, another black with manipulative power. Two identical young women, Odette and Odile, in love with Prince Siegfried. Well, that's all far too simplistic for an artist for whom nuance is everything and who supports action in the face of social rigidity.
"The decision to have a male Odile came about because of the stereotype that men who dance are gay. I thought maybe Siegfried is gay and in this version he falls in love with a man. The love triangle is between two men and a woman and not the usual two women and a man. I wanted to break down that hierarchy of the classical world where women are always the focal point."
In 1996, the Londoner Matthew Bourne won the Laurence Olivier Award for his Swan Lake with a gay Siegfried. He says, "The idea of a male swan makes complete sense to me. The strength, the beauty, the enormous wingspan of these creatures suggests the musculature of a male dancer more readily than a ballerina in her white tutu."
Dada Masilo keeps the tutus and the feminine gestures and masculine builds, and plays the story out in a contrasting mix of didactic classicism, humour and sexual advances. "I knew that I wanted a different Swan Lake."
The pink and the blue merge in a powerful violet, the slender rival becomes a well-built black youth, and the idyll ends in an HIV-positive bloodbath. The intensity of the colours leaps out of the lighting designed with Suzette Le Sueur, whose palette is intense: "The blue absolutely references the classical ballet and is used as Odette's signature. We also needed a signature for Odile and went for the drama and passion of the Congo Blue (purple). The Scarlet was then used for the group celebrations—the engagement and the wedding. It does reference sunrise and sunset in Africa. This colour was repeated for the end trio with no colour on the cyclorama, creating a floor which references blood." Social, disciplinary and stylistic genres are mixed, and the same impulse tackles homosexuality, polygamy, a ballet/African dance hybrid, derision and drama. The result is a spectacle glowing with energy and enriched by Masilo's own diverse cultural background.
"Tradition and heritage depend on one's experiences with the world and I'm lucky that my tradition and heritage have been pretty universal. I am so much more open-minded because of it."
It is this open-mindedness that makes Masilo's aesthetic unique. She's not shy about borrowing from everywhere. She uses emotion to create the empathy needed to be open to different values. "The boundaries of art need to be pushed. We cannot just simply entertain, we need to find the visceral in everything and to make art that makes people feel, think, question, laugh, get angry or cry. In order to do this, artists must challenge themselves and their art form." Expect to be startled by the passion.
Translation: Cecilia Grayson
---
Swan Lake by Dada Masilo, Dance Factory Johannesburg, presented by Danse Danse on January 14, 15 and 16, 2016, at Salle Wilfrid-Pelletier, www.dansedanse.ca.
---
Version française...