Gino Quilico: The Love of Singing

by Caroline Rodgers / December 1, 2015

---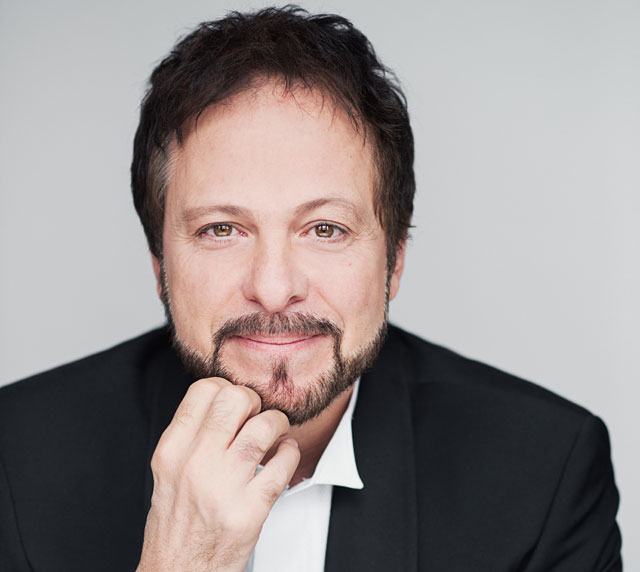 Gino Quilico - Photo Andréanne Gauthier
After a thirty-eight year career, one could say that he has done it all. But baritone Gino Quilico, who still loves singing, is nevertheless taking on more musical projects. In 2016, Quilico will return to opera in Lilies, a creation by L'Opéra de Montréal. He just launched his new album, Christmas Secrets, on Analekta, and is still offering his pop-flavored shows which have given him a new audience.
Quilico's previous album, Serata d'Amore, reminded him of the time he lived in Rome with his parents. On weekends, they drove to the countryside and sang those Italian songs. Christmas Secrets, which includes three duets with his father, the late Louis Quilico, again plunges him into family memories, this time of the holiday season.
"I dedicated the album to my parents," he said. "Christmas, for us, meant times of joy. Every Christmas, we sat at the piano and sang. This was part of our tradition. It's been fifteen years since Dad died and I've been wanting to make this record for a while. I also found a duet to do with my daughter Sofia, who is not a professional singer. She is an accountant, but she has always sung, and I invite her to be part of my shows now and then. I thought it would be nice to have three generations on the same album."
Quilico will always remember one Christmas in Strasbourg, when the whole family had followed Louis who was singing in The Tales of Hoffmann.
"That was the best Christmas I ever had as a child. I was about nine years old. We were in a hotel room and we only had a tiny tree, two feet high, on the television. There were none of the usual Christmas frills. There was only us: dad, mom, my sister, and I. It was very intimate and it was magical."
With his children, the baritone has tried to create a musical atmosphere during the holiday season, and to have traditions.
"We make a crab feast, we unwrap our gifts before midnight and we go visit my aunt, Madeleine Quilico, Dad's sister, and the only surviving member of her family. She is 84 years old, an amazing woman, full of life and warmth. She is a great inspiration in my life. As a matter of fact, I thank her in the CD booklet. She also makes legendary millefeuilles that everyone looks forward to! We spend Christmas with her and my cousins, and we sing. Obviously, my family makes me sing! Let's call it the 'Free Concerts at the Quilicos'' (laughs)."
On the album Christmas Secrets, there are three duets with Louis, fully remastered from a 1992 recording with musicians of the Toronto Symphony Orchestra and the Toronto Children's Chorus. Schubert's "Ave Maria," sung solo by Louis Quilico, is also included.
"It's a CBC record, recorded at concerts we gave together," Gino Quilico specifies.
For other songs, he paid particular attention to the arrangements.
"I really did not want to make a Christmas album that was like all the others," he said. "I wanted to bring something original, which is very difficult because, in terms of Christmas records, pretty much everything has already been done. My pianist Dominic Boulianne, and my Italian friend, Enzo Rosa, made the arrangements. I also found an arrangement made in the US for 'The First Noel.' We worked at finding different colors. The 'Minuit, Chrétiens' does not sound like all the others. You might not recognize it by the first notes of the intro."
With his daughter Sofia, he performs a Mexican lullaby, "A la Nanita Nana." "Originally, this is not a Christmas song, but there is a version for Christmas in which the words are changed by adding Jesus. This version is very well known in Mexico, but I decided to keep the original version."
The title of the album, Christmas Secrets, is inspired by the song "The Secret of Christmas," first sung by Bing Crosby in 1959 and covered by Ella Fitzgerald, among others, and included in this album. It features songs in four languages – alongside "Gesu Bambino," "Noël blanc," and "Have Yourself a Merry Little Christmas."
As with his other projects, Quilico is accompanied by the Ensemble Triosphere (Dominic Boulianne, Lizann Gervais, Elisabeth Giroux) to which he remains very faithful.
Second Career
In the last fifteen years, Gino Guilico stayed away from opera and made a second career primarily in Québec and Canada, turning to more pop repertoire and to musicals. In 2008 he played the role of Jean Valjean in Les Misérables, which ran for 91 performances at the Capitole in Québec City.
Lately he toured the province with Serata d'Amore, a concert with variable configurations. "The show is still happening, some presenters are still interested. I do it a lot in private or corporate shows. Next summer we will probably go to California, to the Napa Valley region. Since I speak and sing in French, English, or Italian, I adapt the show based on the audience."
He recently started a new project: Nostalgia, a show more focused on French song, especially on songwriter Claude Léveillée, whom he admires greatly.
"He inspired me a lot. I love his lyrics, which are extraordinary. We rearranged them to give them a bit of a classical French mélodie aspect. We found we could do that with his songs. The show also touches Piaf and Brel, and a few songs in English and Italian."
Despite the newer pop direction to his career, the singer still enjoys occasionally going back to his earlier love, classical singing. "I still give some classical recitals, especially of French mélodies. What I love in life is singing. I am happy in what I do today, with pop. I had to reinvent myself, and it works very well for me. In pop, there is something beautiful, a kind of freedom that is not possible in the classical world. We can make jokes with the audience, have fun on stage. But what I miss from opera is the costumes, makeup, and escaping into a character. That's why I wanted to do Lilies. There will probably be other plans for me in opera in the future, but I can't talk about it right now."
For Quilico, the important thing is to do what one likes without worrying too much about being judged by others.
"When I started to change repertoire and go more towards pop, I felt there were people in the classical world who would not like it. Anyway, even within opera, I have been severely criticized by purists, especially when I sang Monteverdi's Orfeo with vibrato. Critics have never stopped me."
Lilies
The famous Québec play Lilies by Michel Marc Bouchard, was premiered in Montréal in 1987, with staging by André Brassard; then it travelled around the world, was produced over fifty times and it ran for three months in Paris. It was also made into a movie in 1996, and will be made into an opera at L'Opéra de Montréal in May 2016, with music by Australian composer Kevin March.
It tells the story of Simon, an inmate convicted of killing his lover, Vallier. In prison, Simon and other prisoners sequester Bilodeau, a bishop, to perform a play for him which recounts the events at the time of the death of Vallier. Their goal is to make Bilodeau confess that he is the real murderer. In the play, we find two Simons: the young and the mature. Gino Quilico will play the role of the older Simon. The young Simon will be sung by baritone Etienne Dupuis.
"I just got the score and I started working on it with Dominic Boulianne, but I'm going to get to it more seriously in February. For now, I like my part, which is dramatic. I appear mostly at the beginning, as old Simon tells his story, and I return a few times throughout. I look forward to hearing the orchestra, since contemporary music orchestrations are often interesting."
Michel Marc Bouchard himself wrote the libretto. The staging will be done by Serge Denoncourt. The all-male cast also includes young Québec tenor Jean-Michel Richer (Vallier) and Canadian tenor Gordon Gietz (Bishop Bilodeau). The Orchestre Métropolitain will be conducted by Timothy Vernon.
Teaching
As if he was not busy enough with his multiple performance projects, Quilico is tempted to teach. He has been giving private lessons for a few years.
"I love teaching now. I hesitated at first, but one day I got a student, a soprano who wanted to learn singing for fun. I started working with her and all of a sudden, I saw an evolution. I felt like I had given her a voice, like I had transformed it. I think that's what's exciting in teaching, to bring a person from point A to point B. My dream would be to one day train a great singer, to have people say: 'That's a student of Gino Quilico.' It would be a great satisfaction. But I tell my students: 'It's up to you to make your way.' Don't expect me to hold your hand. I'm not there to take your money with a lesson every week. Go do some work on your own and come back to me."
In February, he will return to Santa Catarina, Brazil, to give master classes at a music festival.
"I work with the same students for two weeks, something I had never experienced before. I found it exciting to train these young artists. It made me want to return. This year I'm going to do my first staging, Carmen, which we'll do with some students."
Translation: Eric Legault
Gino Quilico's Favourite Art Songs
Chanson Triste - Henri Duparc
L'Heure Exquise - Reynaldo Hahn
Beau Soir - Claude Debussy
---
Some upcoming concerts:
Concert with Ensemble Triosphere (opening act: jazz singer Sonia Johnson). Saint-Jean Baptiste Church, December 18, 8pm. professeur-musique.com; lavitrine.com
Concert with Ensemble Triosphere and the Choir of La Prairie, La Nativité Church, La Prairie, December 19, 8pm. www.choeurdelaprairie.com
Lilies: from May 21 to 28, L'Opéra de Montréal. www.operademontreal.com
---
Version française...