Text settings in lieder and mélodie

by Richard Turp / December 1, 2015

---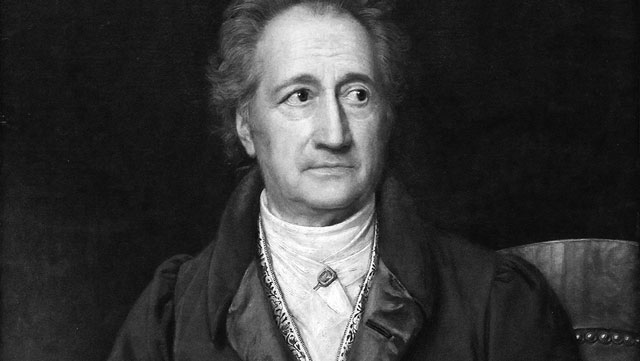 Goethe by Joseph Karl Stieler, 1828
At the core of all art song is the text chosen by the composer. Indeed, the history of art song is inextricably linked to the history of poetry. For example, the first golden age of French mélodie (the last thirty years of the nineteenth century) coincided with the most fertile period of French poetry.
Though some composers (like Schumann and Wolf) were particularly attracted to poetry by poets of great distinction, others (like Schubert and Fauré) were drawn to poetry that elicited a musical response in them. Even so, over time it was apparent that certain poets provided inspiration for a myriad of composers whose varied settings of the same poem transcend epochs and fashions. For example, in the world of German lieder, it is difficult to find two more important literary influences than Johann Wolfgang von Goethe (1749-1832) and Heinrich Heine (1797-1856).
Goethe's plays, novellas, and collections of poetry have inspired composers who were attracted to the underlying themes of love and nature, as well as man's relationship with the Divine. Through the ages hundreds of composers have set Goethe, including giants like Mozart, Beethoven, and Brahms. Perhaps the most notable Goethe settings, however, are by Franz Schubert and Hugo Wolf. Schubert's 82 settings of Goethe stand as a testament to the author, who hardly knew of the composer's reverential treatment of his work.
Schubert's achievement is only rivaled by Wolf's 52 Goethe-Lieder. Both Schubert and Wolf's versions of Goethe's Harfenspieler lieder, for example, are contrasting pinnacles of vocal literature. In very different ways, each setting shows singular musical, emotional, and psychological depth. There is a corresponding emotional truth and depth in Goethe's four-line poem Über allen Gipfeln, which becomes one of the most profound and moving lieder in Schubert's Wanderers Nachtlied II.
In contrast to Goethe, Heinrich Heine represents the first true flowering of German Romanticism. His poems principally depict and describe the power of love, its ecstasy and despair, as well as a new literary style – and a biting sense of irony – that brilliantly reflected Romanticism's états d'âme. Heine was the literary high-priest of German Romanticism and it is hardly surprising that two of Robert Schumann's most extraordinary 1840 song-cycles, Dichterliebe and the opus 24 Liederkries, are settings of Heine.
The tortured, uncertain heart found champions in both Heine and Schumann. Yet Heine's influence extends far further than Schumann. Over 650 of his texts have been set to music almost 7000 times. Among the German romantic composers, Heine was a favourite source of inspiration; Franz, Loewe, Mendelssohn, and Brahms all set his poems to music. Several twentieth-century composers such as Pfitzner, Zemlinsky, and Charles Ives set Heine, as well as Healey Willan, a Canadian.
Throughout his career, Heine sought to amplify the tension between artistic sensibility and reality. His love poems, though they display Romantic ideals, are at the same time deeply suspicious of them and of the feelings they purportedly represent. His virtuoso writing is often flamboyant but also bittersweet and self-ironic, displaying a skepticism about poetic truth. These facets of his work particularly appealed to composers such as Tchaikovsky and Liszt.
In comparison, the first Golden Age of French mélodie that was born with Fauré, Duparc, and Chausson coincided with arguably the greatest epoch of French poetry. If Victor Hugo (1802-1885) represented the high-point of French Romanticism, then Paul Verlaine (1844-1896) was the the symbolist voice of verbal sensuality and refinement. Hugo's resplendent and resonant poetry was set by nearly every major French nineteenth-century composer. The list includes Berlioz, Gounod (Aubade), Bizet (especially the wondrous Adieux de l'hôtesse arabe), Widor, Franck, Delibes, Saint-Saëns, Lalo, Chabrier, Godard, Fauré, Massenet, and Hahn (Si mes vers avaient des ailes).
Perhaps the most personal and original settings of Hugo are by Franz Liszt (including two atmospheric masterpieces: Oh quand je dors and Enfant, si j'étais roi) and Richard Wagner. Once again, a Canadian, Ernest Lavigne, set Hugo to music in the touching Lorsque ma main frémit and the charming Rosemonde. Hugo's passionate and eloquent love lyrics, the blend of humanity and the exotic, but especially the spontaneous fervor and fluency of his writing made his texts obvious choices for more than a generation of composers.
Admired for the fluidity and impressionistic imagery of his verse, Paul Verlaine succeeded in liberating the musicality of the French language from the limitations of its classical, formal structure. A member of the French Symbolists, who believed that the function of poetry was to evoke and not to describe, Verlaine was obsessed by the sonority, colour, and visual aspects of language. He attempted to capture the symbolic elements of language by transposing emotion into subtle and evasive suggestions in his poetry. His work was fundamentally "musical" in nature, as well as aesthetically original.
Groundbreaking collections such as La bonne chanson by Fauré and Fêtes Galantes by Debussy established Verlaine as one of the foremost poetic influences for composers in the late-nineteenth and early-twentieth centuries. Evocative and beautiful texts such as Green, La lune blanche and Il pleure dans mon cœur found champions in Chausson, Bordes, Koechlin, and Hahn as well as the contemporary popular composer Léo Ferré.
Verlaine, like Goethe, Heine, and Hugo before him, fashioned texts that transcended the purely verbal. Their ability to engage and inspire through evocations of both experience and fantasy, led composers to invest in a genre that still shapes the destinies of humankind.
---
Version française...