Industry news

by Shira Gilbert, Caroline Rodgers, Wah Keung Chan & Romy-Léa Faustin / December 1, 2015

---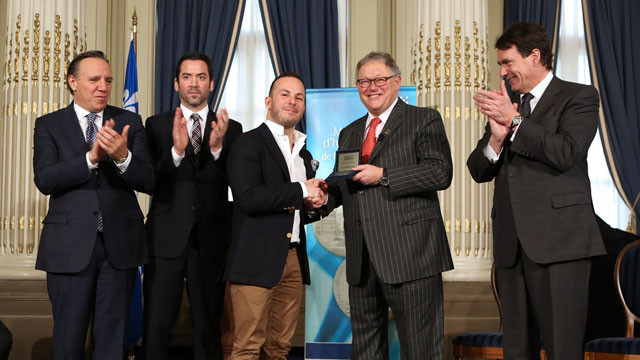 Photo: Collection Assemblée nationale du Québec
Prizes / Prix
Opera Canada magazine recently announced the winners of the Rubies, awards recognizing outstanding achievements by Canadians in opera at home and abroad, named after soprano and magazine founder Ruby Mercer. This year's honourees include Wendy Nielsen, an esteemed international soprano, now Head of Voice at the University of Toronto Faculty of Music and Chief Vocal Consultant for the Canadian Opera Company Ensemble; Carrol Anne Curry, head of the opera division of Dean Artists Management; and W. R. (Bob) McPhee, General Director and CEO of Calgary Opera since 1998.
Tafelmusik Baroque Orchestra was named the 2015 recipient of the Ontario Arts Council's Vida Peene Orchestra Award. Named for Hamilton-based arts patron Vida Peene, the biennial $10,000 award recognizes the artistic and organizational achievement of an Ontario orchestra. Past recipients include the North Bay Symphony Orchestra (2013), Thunder Bay Symphony Orchestra (2011), and Sudbury Symphony Orchestra (2009).
The Canadian Opera Company hosted their annual Centre Stage competition, an event that both showcases young operatic talent in Canada and provides the selection process for the company's Ensemble Studio. This year's first prize and Audience Choice award went to mezzo-soprano Emily D'Angelo, with second prize to mezzo-soprano Lauren Eberwein, and baritone Bruno Roy taking third.
ADISQ, the Québec Association for the Recording, Concert, and Video Industries, recently presented the first of its annual Félix Awards. The winners in the two classical categories were Angèle Dubeau & La Pietà for their portrait of Ludovico Einaudi (Analekta) and pianist Janina Fialkowska for Chopin: Complete Mazurkas (ATMA Classique).
La Fondation Émile-Nelligan has announced composer Ana Sokolović as the winner of the 2015 Serge Garant Award. The $25,000 grant – for a Canadian citizen who has resided in Québec for at least ten years — is awarded every three years to a composer for a body of work at any stage in their career. Born in Serbia, composer Ana Sokolović, a Professor of Composition at the Université de Montréal, has been commissioned by the Canadian Opera Company for a mainstage opera to be premiered in the 2019/20 season. The Foundation was created in 1979 by Gilles Corbeil to honor the memory of his aunt, poet Émile Nelligan.
Yannick Nézet-Séguin has received the National Assembly Medal of Honour. This honour is awarded to public figures from all walks of life whom have earned the recognition of the members of the National Assembly and the people of Québec. In receiving the award, the artistic director and principal conductor of the Orchestre Métropolitain commented: "Québec gave me my first opportunity long before I had been recognized abroad … I am privileged to be able to contribute in this way to the artistic and cultural development of Québec."
Scott MacIsaac is the winner of the 2015 edition of the OSM Manulife Competition, which focused on piano and percussion. In addition to winning awards totaling over $17,500, the 23-year-old from Alberta will receive a number of prestigious performance opportunities, including a concert with the Orchestre symphonique de Montréal on February 10, 2016, conducted by Jacques Lacombe. President of this year's jury was Zarin Mehta, a former general manager of the OSM; the jury also included Maestro Kent Nagano. Additional prizes were offered for a pianist under the age of 17 as well as for a percussionist. In both of these categories, the jury elected not to offer a first prize but awarded a $5,000 second prize to 16-year-old pianist Éric Xi Xin Liang of British Columbia, and to 23-year-old percussionist Alexandre Lavoie from Québec.
The 22nd Gala of the Jeunes Ambassadeurs took place in Montréal on Nov. 15, with 32 young singers from 12 countries before an audience consisting of European opera directors and the general public. Over $40,000 in prizes, bursaries and engagements were awarded. Canadians, baritone Hugo Laporte and soprano Sasha Djihanian took the most awards, each trilling with both seasoned voices and performances. Two Mexican vocalists also impressed with their singing, soprano Alejandra Sandoval and baritone German Olvera Cornejo. Dijhanian and Sandoval, who were also tied for first in the 13th Montréal Czech and Slovak Singing Competition held on Oct. 11. www.l20.ca.
Successful fundraisers
The McGill Chamber Orchestra presented its 2nd annual Un Ballo in Maschera Gala Fundraiser at the Sofitel, presented by National Bank Private Wealth 1859, raising over $50,000. Over 150 guests – many wearing ornate masks – were treated to a delicious dinner, dancing, and a short concert of opera and Broadway excerpts featuring sopranos Marianne Fiset and Sharon Azrieli Perez and baritone Christopher Dunham, accompanied by the MCO, directed by maestro Boris Brott.
The Montréal International Musical Competition Foundation – in advance of the 2016 competition, which will feature violin – held its annual benefit event at the Oval Ballroom of the Ritz-Carlton Montréal. Named Sous les palmiers, the lavish event raised $170,000. Hosted by Marie-Claude Lavallée, the 250 guests listened to performances by violinist Kerson Leong, accompanied by pianist Louise-Andrée Baril, as well as soprano Hyesang Park, winner of the 2nd Prize and People's Choice award at the 2015 Competition.
New Posts
Mélanie Joly, MP for Montréal's Ahuntsic-Cartierville riding, has been named minister of Canadian Heritage – a portfolio which includes arts and culture – in Prime Minister Justin Trudeau's new cabinet. Joly has served on boards for various cultural organizations, including the Musée d'art contemporain de Montréal, the Governor General's Performing Arts Awards, and Business for the Arts. During the election campaign, Trudeau vowed to renew Canada's investment in the arts, including $150 million in new annual funding to the CBC, and doubling the investment in the Canada Council for the Arts to $360 million annually.
Éric Champagne will become the new composer in residence at the Chapelle-Historique-du-Bon-Pasteur de Montréal, as announced by The Canadian Music Centre in Québec. Champagne takes on his new post in Fall 2016.
Former Executive Director of Culture Montréal Anne-Marie Jean has been appointed President and Executive Director of the Conseil des arts et des lettres du Québec (CALQ), replacing Stéphane La Roche who left in September to become the Executive Director of the Musée de la civilisation. Current Communications Director Marie-Claude Lépine has appointed Acting Executive Director of Culture Montréal, a non-partisan citizens' movement whose mandate is to affirm the central role of arts and culture in all areas of Montréal's development.
Errata
• Due to a problem at the printer, La Scena Musicale's November issue had several errors. The cover article in the English edition had a text flow problem on page 9. The Editorial in the French edition was missing on page 12. These problems have been corrected in the online PDF versions.
Please download them:
English edition: http://bit.ly/sm21-3enpdf
French edition: http://bit.ly/sm21-3frpdf
• The article on Jon Vickers (November 2015) mistakenly cited the tenor's birth city. It should have read Prince Albert, Saskatchewan.
---
Version française...