This Season in Dance

by Marion Gerbier / December 1, 2015

---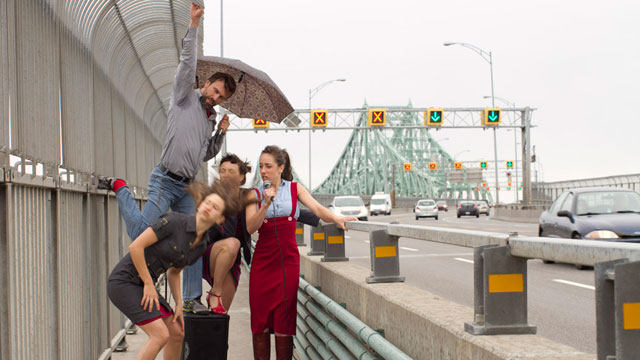 Où est Julio? photo Andréa de Keijzer
From small scale to large scale, the start of Montreal's 2016 dance season has a rich program for all audiences.
Whether you are discovering them for the first time or rediscovering them, the Je suis Julio collective has confirmed several performances for this year, including their nocturne Où est Julio?, the Quartiers Danses Festival in September and the pièce miroir This, Myself, One After Another by Andréa de Keijzer at the Montréal arts interculturels in October. Du doute des uns is carried by the three other co-founders of the young company — Ariane Boulet, Gabriel Vignola and Laurier Rochon — and will be presented by Tangente in a double bill with a premier by the Québécois choreographer Maryse Damecour, from January 28 to 31 at the Monument-National. www.jesuisjulio.com
Although with a keen eye on the progress of works on the Wilder Building (predicted to be completed by June), Tangente has not neglected its dance season with a list of confirmed newcomers and old favourites such as Catherine Lavoie-Marcus and Priscilla Guy, Maïgwenn Desbois, Dorian Nuskind-Oder. One of the most intriguing projects will take place at the Monument-National between March 24 and 27 on the initiative of the group Et Marianne et Simon, alias Catherine Tardif and Michel F Côté, with their creation Mobilier Mental inspired by the oddities of the visual arts magazine Permanent Food. In the presence of choice improv artists such as Manuel Roque, Peter Trosztmer and Brice Noeser. www.tangente.qc.ca
In February there will be the much-anticipated return of Belgian couple Michèle Anne de Mey and Jaco Van Dormael at Usine C. Under the label Nanodanse, this original couple together create unparalleled scenic poems, combining the illusion of the minuscule and the magic of great plateaus in the pursuit of dreams that they make real. With a heart still weak from Kiss & Cry (from 3 years ago) and a memory refreshed by certain elements of Tout Nouveau Testament (recently released in cinemas), audiences this winter can't afford to miss this refreshing dose of visual nutrition provided by Cold Blood from February 18 to 21. www.usine-c.com
The big post-holiday event will take place at the Salle Wilfrid-Pelletier from January 14 to 16, when performers from the Dance Factory Johannesburg will perform an unmissable version of Swan Lake, combining contemporary ballet and traditional South African dance, under the direction of no less than Dada Masilo. What more could be done to make this timeless piece more up-to-date? More dancing, more joy and more curiosity (see our article here). www.dansedanse.ca
Translation: Scott Emblen-Jarrett
---
Version française...