This Season in Cinema

by Camilo Lanfranco / December 1, 2015

---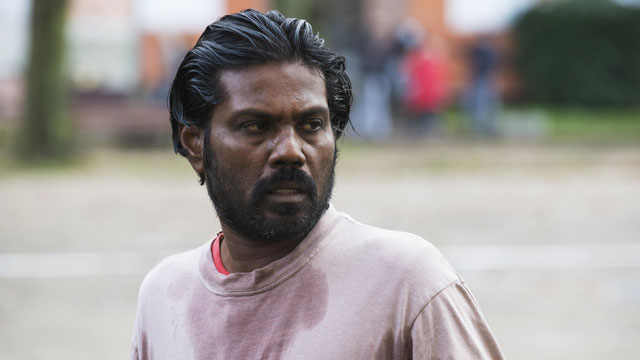 Dheepan © Paul Arnaud / Why Not Productions
Dheepan, 109 mins. Dheepan is a powerful drama that follows Dheepan, a former soldier in Sri Lanka's civil war who starts a new life as an anonymous immigrant and caretaker in a tough French neighborhood outside Paris. Directed by veteran Jacques Audiard, the film deals with the horrors and ghosts of war, as well as how Dheepan must learn to relate to the woman and child who posed as his family to escape Sri Lanka.
Why see it? For a fresh and layered look into the trials of immigrants and refugees.
À trois on y va, 86 mins. This is a light French comedy about a couple, Micha and Charlotte, who both start having an affair with the same woman, the beautiful and transparent Mélodie. Between the three, a love story emerges with humorous and tender twists that make us wonder on the possibilities of human relationships and the contradictions within social, moral, and traditional conventions. The charismatic cast includes Anaïs Demoustier, Félix Moati, and Sophie Verbeeck.
Why see it? To have some fun with an innocent and sensual comedy for couples of all ages.
Transfixed, 75 mins. Transfixed is a Canadian documentary about the unconventional romance between Martine and John, who both live with Asperger's syndrome. The couple is eager to marry but John wont marry until Martine, who is transgender, has sex reassignment surgery, which due to her obesity, has become a life or death issue. This is a compelling story documenting the unique obstacles that one couple faces, which have greater resonances for our own relationships, romantic or otherwise.
Why see it? To understand more about Canadian social constructs and the power of individual soul-searching.
Early Winter, 96 mins. This is a quiet drama depicting the fading desire in a romantic relationship as time passes. Winner of the Venice Days award, the film tells the story of David, in Montréal, who sacrificed his dreams for his family by working as a janitor and now feels within him the darkness of the coming winter. Directed by Australian and Mexican poet Michael Rowe.
Why see it? Because the happily ever after of marriage is not as glamorous as conventionally portrayed and it's good to have some truth spoken through cinema.
Une histoire de fou, 134 mins. Une histoire de fou is a historical drama by Robert Guédiguian that effectively intertwines the perspective of three generations on the Armenian genocide. Highly lauded at the Cinemania francophone festival and in Cannes 2015, the film follows the journey of violence of young Aram, born in Marseille of Armenian origin, as he inherits the consequences of genocide.
Why see it? To understand the roots of contemporary war and how we can break its cycle of violence.
---
Version française...