Schulich School of Music Turns 10

by Crystal Chan / November 1, 2015

---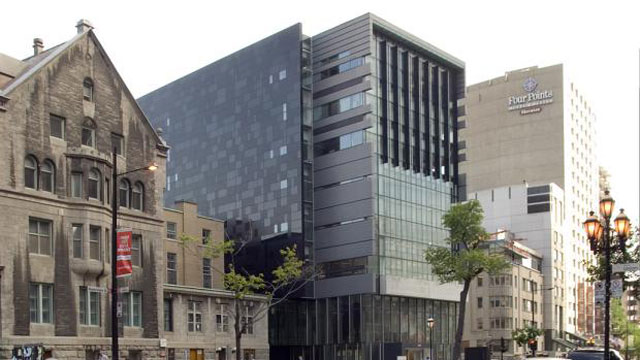 In 2005, the McGill University music faculty got a new name, a new building, and a new injection of funding. It has followed that invigorating year with a decade of highs.
The school has had many new hires including a new Director of Performance, Stéphane Lemelin, who left his position as Head of Music at the University of Ottawa, and Guillaume Bourgogne in the new position as full-time, tenure-track professor in charge of the Contemporary Music Ensemble. "I don't know of any other school that has this," says Dean Sean Ferguson. "For me, the strength of the school is the strength of the people who are here. One of my goals when I came in was to really bring about academic renewal in the performance department."
The Schulich School of Music, notes Lemelin, is probably the only place on campus where every student benefits from one-on-one mentorship from day one. "There are very few music schools in the world with such a breadth of activities and engagement: scholarship, technology, recording, performance," says Lemelin.
Another coup, a $10.9-million research grant for CIRMMT (Centre for Interdisciplinary Research in Music Media and Technology), will allow staff and students to conduct "research in performance" and fund the completion of the multimedia room. In an interview with La Scena Musicale in 2011, when Ferguson began his mandate as dean, he emphasized the importance of interdepartmental exchange. "What better way to illustrate the goal," Ferguson now says, "which was to create links between the different areas of the school, than to have an $11.5-million grant for a research center about performance?"
Success also comes thanks to philanthropy – the kind of support that kicked off the school's renaming as the Schulich School in the first place. "Schulich's gift went to a number of sources, but there are two very significant places it went to and one was to scholarships. We have ten years of students now who can call themselves Schulich Scholars," says Ferguson. "We have the basic funds that we need for the basic functioning of the Faculty of Music from the Québec government. But we're not a basic faculty of music. We are one of the finest faculties of music in the world. Every year since I've been there, there has been a budget cut. So, to provide this type of experience to students, we rely on philanthropy." Recent the school also received a $7.5-million gift from Elizabeth Wirth. Most of that gift will go towards scholarships.
"It's what allows us to attract such wonderful students," says Ferguson. "And what's different in music than in other faculties is that the quality of the students has a direct impact on the pedagogical experience of our students. If you are in a physics class, and the guy next to you gets an F, who cares? If you are a flute player, and you're doubling a line in a Mozart symphony between the flute and the oboe and the oboe is bad, it means that you are not learning how to double an oboe well."
The Schulich School of Music celebrates its anniversary season with a slew of special events, including the inauguration of a new vocal prize, a new chamber music festival in February 2016, and three new public series of performances, and research presentations. The major event this fall is the McGill Symphony Orchestra's upcoming performance at Koerner Hall. It will be "an amazing pedagogical experience for students to go and play in a great concert hall and understand how to adjust their performance based on the acoustics of the space. That is a life-altering experience," says Ferguson.
During the next ten years, Ferguson predicts the school "will continue to be what I believe to be Canada's finest music school, and one of the finest music schools in the world."
McGill to play Koerner Hall
The McGill Symphony Orchestra makes its tour performance comeback this November at Toronto's Koerner Hall. The last time the eighty-student ensemble toured was in 1989, when they became the first Canadian student orchestra to play Carnegie Hall. That resulted in a Juno-nominated recording.
The concert is one highlight of the Schulich School of Music's special 2015-2016 season, which marks the tenth anniversary of the school's renaming. The orchestra will perform Over Time by SMCQ 2015-16 Homage series composer John Rea, who is a professor at McGill. Rea's mathematical piece features complex counterpoint, with multiple scale sequences and shifting speeds. The orchestra will also perform Brahms's last large orchestral work, his Double Concerto for Violin, Cello and Orchestra. Two star faculty members, Axel Strauss (violin) and Matt Haimovitz (cello), will solo. The program is rounded out by Shostakovich's Symphony No. 5, with its multiple solos that will allow students to show off their skills. The same program will be performed in Montréal first, and webcast. "The McGill Symphony Orchestra is amazing because it is a large orchestra," says Director Alexis Hauser. "We can perform practically anything."
"Every year 20% or 30% are new performers," Hauser continues. "Even though I have been conducting the McGill Symphony Orchestra for the last fifteen years, in reality I have conducted over a hundred orchestras. There's not the slightest idea boredom or burnout. The result is absolutely professional. When I go to see a concert at the MSO I look in any direction and I see alumni."
The McGill Symphony Orchestra performs in Montréal at Pollack Hall on November 13, and in Toronto at Koerner Hall on November 17.
---
Version française...