Ottawa Music Groups Must Adapt

by Natasha Gauthier / November 1, 2015

---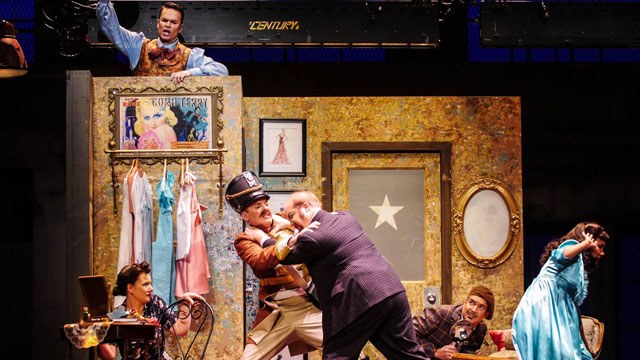 The Barber of Seville with Joshua Hopkins and Marion Newman, the last opera staged by Opera Lyra Ottawa
They say bad news always comes in threes. If that's true, Ottawa's classical music community has every reason to be jittery, after two tough blows in as many weeks. The first shocker came on October 14, when Opera Lyra announced it was ceasing operations, just after the start of its 31st season and three days before the scheduled opening of Etiquette and Regina, the contemporary double bill from Toronto's Essential Opera. The news was so sudden that at least one singer en route from Toronto for rehearsals only found out by text after the story hit the media. In its news release, Opera Lyra blamed low ticket sales and declining donations for its "unsustainable deficit".
Then, on October 25, the Ottawa Singers – a newcomer on the city's amateur choral scene – said it was cancelling a performance of Paul McCartney's Liverpool Oratorio, involving more than 200 musicians and singers, which had been planned for November 9. The organization also cited a poor box office as the reason for its decision (sources say only about 300 tickets had been sold for the 2,000-plus seat Southam Hall.)
Not surprisingly, the cancellations provoked much beating of chests and gnashing of teeth on social media, with people expressing concern for the future of the arts in the National Capital Region. But while there's no doubt these events constitute a wake-up call, it is arts presenters, not arts supporters, who should heed the alarm.
It's time to ask tough questions about what kind of music institutions Ottawa – the city and its residents, not the federal government – can and should be supporting.
Ottawa likes to think of itself as being on equal footing with Montréal or Toronto, but it simply doesn't have the population base to back up that claim. More importantly, as a government town, we don't have the corporate headquarters and related CEO class that translate into a reliable donor base. This point is especially important, as it's always been notoriously difficult for local Ottawa organizations to access federal funding.
There are other challenges. The NAC is costly and tricky for scheduling, it's true. Ottawa desperately needs a more modest but high-quality concert venue that local groups can book without having to compete for dates with the NAC Orchestra, English and French theatre, and dance series.
At the same time, organizations are too easily tempted by Southam Hall's prestige, even if it's beyond their means or any achievable ticket sale target. This is likely what happened with the Liverpool Oratorio (which had already been postponed from its original show date last year). A realistic analysis should have nudged the presenters toward a more reasonable venue, even if it meant reducing the size of the ensemble.
In the case of Opera Lyra, questionable decisions by management didn't help the company, which, it will be remembered, also suspended operations during its 2011-12 season. First, it's a mystery why the season was doubled from two productions to four without first securing stable, sustainable funding. It seems as though too many eggs were placed in the ticket sales basket; when Barber of Seville's numbers fell short – something obvious on opening night – panic ensued.
Second, an arts organization that doesn't reflect its community is doomed. Opera Lyra's board has been woefully lacking in diversity. Just for starters, there were no singers or musicians represented; in the symphonic world, it's been demonstrated that orchestras whose boards include musicians function better, are in better shape financially, have happier employees, and fewer conflicts. Furthermore, the face of Ottawa has changed dramatically in the last 15 years, but you'd never know it by looking at the administration, board membership, and volunteers of many arts organizations around town.
Opera Lyra has also been investing heavily in youth: young casts and younger audiences. But that tactic seems to have backfired: twentysomethings who buy a pair of tickets for an elegant date night aren't translating into donors. And up-and-comer casts may be cheaper, but unless they have a hometown connection, they aren't going to fill seats the way more established and better-known singers can.
More details about both Opera Lyra and the Liverpool Oratorio project will undoubtedly surface over the coming weeks. While we need to figure out what happened, we should also be asking, "What's next?"
Canada is in a recession. In lean times, it's survival of the fittest, and the sobering news of the past two weeks is providing Ottawa with the opportunity to take a hard, unflinching look at the fitness – internal and external – of our classical music community. Question the tyranny of the traditional opera season format, and whether bigger is always better. Question the status quo in board composition and leadership. Question whether we want to continue to measure success purely by quantity, or by quality and longer-term sustainability as well, and whether we are willing to sacrifice some of the first for more of the second.
A version of this commentary appeared in the Ottawa Citizen, October 26, 2015
---
Version française...