Andrew Gray: From Singer to Choir Conductor

by Christine Man-Ling Lee / November 1, 2015

---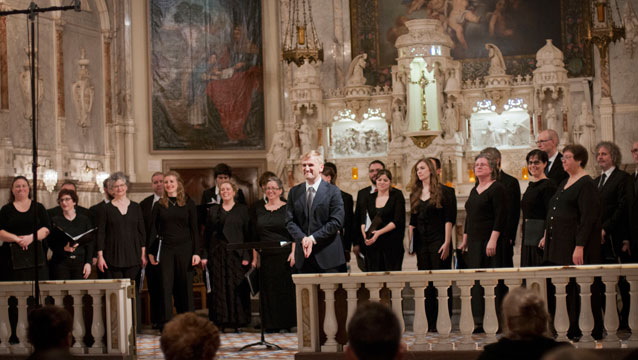 Andrew Gray with the Voces Boreales

When Andrew Gray first arrived in Montréal from Switzerland in 2010, Michael Zaugg, founder and then artistic director of the Voces Boreales and the Montréal Choral Institute, encouraged him to share his vast experience in choir and singing, and Gray joined the ensemble. Now, only five years later, Gray is living his choral dream as the artistic director of that very same ensemble and organization, and he has also taken the helm of the Chœur des enfants de Montréal and SingMontréalChante.

Early beginnings

Born in England, Gray began his musical training early, singing in his father's choir. He was surrounded by music: his father was a church musician and a professor at a music college, and his mother was a music teacher. "One of my earliest memories is of my dad playing Scott Joplin on the piano, and my little sister, who was smaller than the dining table, running around, singing, and clapping along," he recalls. At the age of six, Gray auditioned for the choir at Durham Cathedral and bid farewell to his family to pursue the life of a resident chorister.

"Music became my life without my really knowing or recognizing it," Gray explains. "It has become something much deeper inside of me than a hobby. It's a place I am very comfortable in, where I can be myself and where ideas come naturally."

Before coming to Montréal, Gray was an accomplished singer, touring internationally, from Japan to Singapore, in Europe and in America. It's been almost 35 years since his musical journey began, encompassing many different genres. As a member of the Swingle Singers, he dipped into all types of repertoire – jazz, pop, classical to contemporary opera – an experience which later prompted him to work with many distinguished musicians in the field, most notably Gregory Charles, Sarah McLachlan, Cœur de Pirate, Les Trois Accords, and Malajube. He has also prepared choirs for Alain Trudel, Kent Nagano, Zubin Mehta, and Stéphane Laforest.

As chorus master and conductor, Gray sees around 250 people during his 60-70-hour work week. Still, his enthusiasm and energy are invigorating, especially when it comes to a new project: SingMontréalChante.

Giving back to the community

SingMontréalChante is an independent project linked to the Montréal Chœur des enfants, also conducted by Andrew Gray. Former conductor Iwan Edwards had been passionate about youth and giving them the opportunity to learn music, a sentiment that Gray also shares.

SingMontréalChante channels Gray's passion to share music with disadvantaged youth. Over the course of four months, more than 150 children will participate in this project aimed at those who would not ordinarily have access to the arts. Music teachers are sent to participating schools to teach the same repertoire, and all the children will gather for a grand concert in December, complete with orchestra, showcasing the power and unity of choral music. "It's about giving them an experience of live music," Gray affirms. "For the kids, doing music regularly is wide-reaching and profound; it can be life changing." For Gray, a childhood without music is unimaginable, "Singing is a fundamental part of being a kid."

Education and access to the arts are a big part of Gray's philosophy. By working with impoverished children and youth who would not necessarily be in contact with the arts, he sees the front line impact of music. Recently, he met with a parent whose child had made tremendous progress over the year. The child had previously displayed problematic behaviour in a choir setting. Gray remarks, "This year, it's like day and night; he puts up his hand to ask questions and sings with the others."

"I see what good singing does to people," says Gray. "It's much deeper than just the pleasure of singing."

Voces Boreales & the Montreal Choral Institute

Gray's new appointment as the artistic director of the Montréal Choral Institute and the 30-singer ensemble Voces Boreales, has him buzzing with excitement at new directions and new opportunities. Even so, he vows to respect the tradition of the contemporary a cappella choir and the repertoire it has been known for: singing pieces by composers from Scandinavia, the Baltics, and North America. "There are certainly ways to expand upon it," Gray enthuses, citing the Islandic repertoire.

Gray's wealth of experience from jazz and pop music to contemporary, classical, romantic, baroque, and renaissance could be a turning point for the ensemble. However, he states that he "keeps in mind that Voces Boreales is a classically trained choir."

The public can expect Andrew Gray to think outside the box, try different things, while, at the same time, stimulating the audience and challenging the singers. A few commissions may also be in the works. As Gray states, "We cannot claim to be championing this type of music when we do not work with composers."

Andrew Gray's advice for up-and-coming conductors

• Be prepared:

to be flexible

to adapt and look around the room and connect with the singers

to be a guide (choir conducting is a two-way process; don't be a dictator – by working as a team and by getting the choir to invest in themselves and giving their 110%)

• Stay humble (There will always be someone in the choir who knows something that you don't!)
---
Upcoming concerts:
Lux Autumna, Voces Boreales, Nov. 10, 7:30 PM, Chapelle Notre-Dame du Bon Secours, www.vocesboreales.org
De l'automne à l'hiver, Chœur des enfants de Montréal, Nov. 28, 2 PM, Église Notre-Dame-de-Grâce (NDG), www.choeurdesenfantsdemontreal.com
Sing Montréal Chante, Dec. 8, 7 PM, Pollack Hall, www.singmontrealchante.com
---
Version française...