Dissonance: Kindling Friendships

by Caroline Rodgers / November 1, 2015

---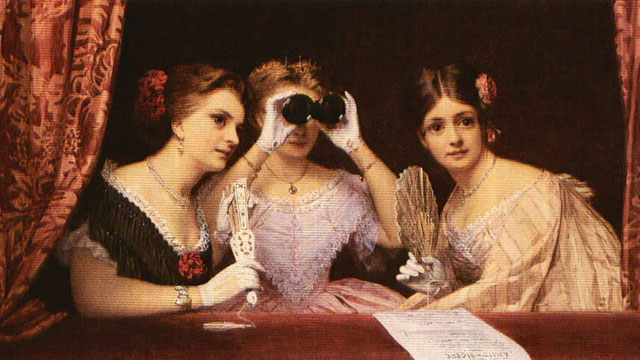 At the Theatre by James Hayllar, 1866
A recent study on classical music audiences in France has received much media attention. The country's orchestra association, the Association française des orchestres, conducted a national inquiry into orchestras and audiences. The inquiry covered a 10-month period, and focused on 13 orchestras across France. Participants filled out 11,400 questionnaires, and the association conducted 125 individual interviews to better understand the characteristics and motivations behind France's symphony goers.
Although audiences in France and Québec are different, here's what I took away from the results: 45% of audience members attend their first concert as adults. Among this group, 33.5% go to concerts because of the influence of family and friends. Although 34% of audience members are music lovers and attend concerts to enjoy the music, 29.3% attend to share pleasant moments with loved ones.
The study categorized music lovers based on what motivated people to attend concerts. "Classical music lovers" make up 18.5% of the audience, "curious music lovers" 15.7%, "sociable audiences" 29.3%, "occasional secular music lovers" 15.3%, and "isolated music lovers" 20.9%. Of these categories, only the first two consist of music connoisseurs. For these individuals, listening to classical music is a regular or daily practice; going to concerts is a habit.
Concerts are rare or occasional outings for 65.8% of surveyed audience members. This is where we need to focus our attention and attract the mythical "new audience." We are rightly worried about renowned international artists performing in half-empty halls. What can we do? In a city like Montréal, where concerts abound, competing institutions have no idea how to attract illusory "new" spectators and convince them to sit in a hall to listen to century-old works they do not know.
Orchestras need to improve their approach, as well as their concert formats and advertising methods. We should leave that responsibility to artistic programming and marketing specialists. I want to reach out to our readers, for you are part of the minority who believes classical music is important. Forty-five per cent of concert-goers are introduced to music as adults; a significant portion of these adults go to concerts because of the influence of friends – this is where we need to act, even though it may not seem like much. Given my experience and discussions with friends who are musicians, I know our passion for music is often a solitary affair; we are the "aliens" in our circle of friends and family who listen to Mozart and Beethoven. Why should we accept this reality? We must share our passion; it is up to us to sow the seeds and help them grow.
To apply the second half of the saying "think globally, act locally," I have been inviting a different person to go see concerts with me since the start of this season. As often as possible, I choose people who, for whatever reason, are not dedicated music lovers. These people rarely or never go to concerts. One of them does not attend because he cannot afford a ticket; another has time constraints, but can see a concert upon invitation; and yet another is afraid of being bored – and the list goes on.
Among my list of likely guests, I include people of all ages and occupations, carefully choosing concerts that are likely to interest them. My initiative has had some positive outcomes, including some very special and unforgettable moments. Impressed with Respighi's Pini di Roma, performed during the OSM's Classical Spree, a young factory technician still talks enthusiastically about it several months later. He wanted to repeat the experience by taking me to see a chamber music recital at Montréal's Bourgie Hall.
Even with modest means, anyone can share concert information. You can invite a friend to one of the many free or low-cost concerts presented by music faculties and youth orchestras each week, share the best of free concert videos on YouTube (there are thousands to choose from!), or give someone a CD during the Christmas season. One thing is clear: complaining in a small, tightly knit circle among music lovers is never a solution.
Translation: Dwain Richardson
---
Version française...