The Magic of Vienna

by Alexandre Da Costa / November 1, 2015

---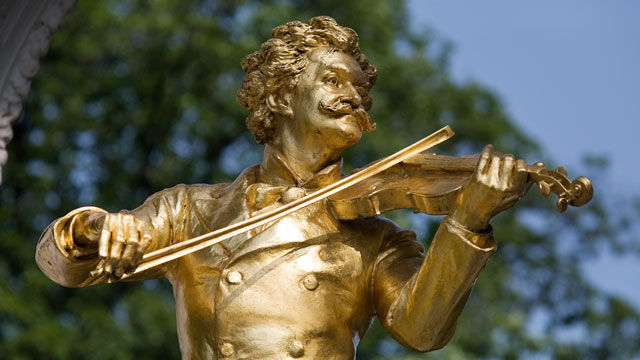 Vienna's monument to Johann Strauss
Someone once told me that when we leave a place that has a special meaning, it is better to only come back at least 10 years later in order to find that particular place pure and unchanged. I have followed this advice very carefully and just returned to Vienna, after living in that city from 2001 to 2005. Ten years later, I found this magnificent town almost intact, with its old tramway cars and its amazing landmarks.
A few weeks ago, I recorded my 25th CD as guest soloist and conductor of the Wiener Symphoniker (Vienna Symphony Orchestra), one of the most prestigious orchestras in the world. The moment I lived in this imperial city a few days ago had nothing to do with the general emotion I felt in this music capital a decade ago. The city I found was full of magic and dreams, and a refreshing feeling was floating in the air, all very different than what I had experienced in the years 2000, when I thought that place was more linked to austerity and conservatism. This time, I was in a place that felt like the last place on earth where music and culture in general inundate the space, and grow inside everybody whose feet touch the same streets and roads as did those of many geniuses like Mozart, Beethoven, and Schubert. It is definitely a magical city for musicians!
The corner stone of the Viennese musical style, one of the pillars of my academic path, is a unique sound philosophy that should belong to every musician's cultural and musical arsenal. The attack of each note is never aggressive, without being weak. I have always tried to explain this philosophy to my students, and I was truly touched to find it in every single musician of the Vienna Symphony. Spontaneously, I could not refrain from taking a few moments during the recording to thank them for this incredible sound warmth, which will make this album into a true treasure. I can't believe it took me so long, close to a decade, to find once more this particular sound that soothes the soul: perhaps the absolute summit of musical culture.
Being strongly influenced by the Viennese culture, it is as Stehgeiger ("The Standing-Violinist") that I decided to do this project. This concept of both a soloist and a conductor combined is very Viennese, and follows the steps and traditions of composers such as Mozart and Johann Strauss. I feel very comfortable in this role for a certain repertoire, and it was a true delight to work in this way with the Vienna Symphony. I was able to get the musical result that I was looking for thanks to the sensitivity of the musicians, who all agreed to treat this recording as a noble chamber music project. None of them "followed" me; we all played together, to the glory of the great music we love.
Their interest in every single musical detail during the sessions was absolutely remarkable. At every moment, each musician was giving his or her maximum, and showed a true desire to serve music in the best possible way. Nobody was there to just "do their job"; they were there to fully live their passion and the lifestyle they chose. On their faces, I could read joy, see sincere smiles, and fiery eyes.
Vienna is a place where music is an integral part of everyday life, and where past, present, and future are full of a culture that is simply vital to us. I will be back there in a few months, for a concert at the Vienna Musikverein with the Vienna Symphony, and will go on tour with that same orchestra in 2016-17 in Europe and Asia. I will not miss this opportunity to get inspired by the powerful fire that lives in most musicians of this city.
My goal with this recording is to share that marvellous Viennese feeling with all types of audiences, from music lovers and amateurs to purists and connoisseurs. I wanted to put together the best of what classical music has to offer: the sound and musicians of this enlightened city of music, a repertoire that presents the most beautiful melodies from amazing operas through fantasies and adaptations from violinists of the past century like Auer, Sarasate, and Wilhelmj, and my most intense passion and ardour. I also played on one of the most beautiful Stradivarius in the world, the "Di Barbaro" of 1727, which was loaned to me by the Canimex company. I think those are the best ingredients to offer the most tasty and musical Viennese "Sacher Torte": refined, sweet, characteristic, and unique!
---
On Disc: Un Stradivarius à l'Opéra will be available worldwide in 2016.
In Concert: Hear Alexandre Da Costa at Place des Arts on January 26. http://placedesarts.com
---
Version française...