CD Reviews

by Éric Champagne, René-François Auclair, Caroline Rodgers and Kiersten van Vliet / November 1, 2015

---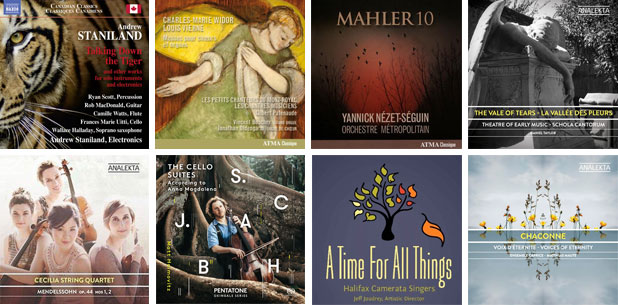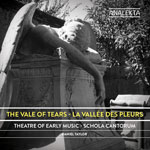 The Vale of Tears
Theater of Early Music
Schola Cantorum. Daniel Taylor
Analekta. AN2 9144. 49 min 43 s


In preparation for death, a nobleman of the Dresden court wrote and selected sacred texts for his own funeral. He even secretly had his own coffin made, with lines of edifying verse carved into the wood. Schütz, a close friend, painstakingly composed a fine piece of music now recognised as one of the loveliest requiems before Bach. This resigned preoccupation with death, far from being morbid, is rather a touching tribute to a highly respected man.
Schütz was one of Bach's greatest precursors. Living at a war-depressed time, he had very few means at his disposal, which is one reason he wrote a lot for the voice. Pared back to simplicity, the music is often devoid of artifice. Making use of an array of fine vocal effects, it appeals to the mind as well as the soul. It goes to the essential.
It's clear that Daniel Taylor adores the human voice. He has meticulously chosen the singers he works with and shepherds these talents with sensitivity and a deep understanding of the music. This vale of tears turns into a river that flows forth, nearly a century later, into Bach's Cantata BWV 165. This baptismal cantata ends in a chorale of limpidity and purity. This must be the finest performance of this stand-alone work by the great composer. Soul-uplifting and essential. R.F.A.
Felix Mendelssohn. String Quartets Op. 44 Nos. 1-2
Cecilia String Quartet
Analekta. 2015. AN2 9844. 52 min 20 s


Written in 1837-38, the Opus 44 quartets are mature works by a young composer, and they gave Leipzig's favourite child entry to greatness. The creator of A Midsummer Night's Dream and the Italian Symphony seems very comfortable with the demanding form of the quartet.
The Toronto group plays this artfully woven music energetically and tightly, giving one of the best readings of Mendelssohn's chamber works. Highly regarded throughout the world, the ensemble really exalts the music, playing at breath-taking speed, animated and febrile. Intensely focussed on the music, they don't spare the listener!
The overall execution is astonishing. The technical and artistic abilities raise Mendelssohn up a notch, though perhaps not as high as his beloved Beethoven. R.F.A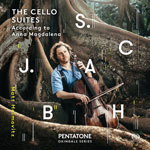 The Cello Suites According to Anna Magdalena
Matt Haimovitz
Pentatone/Oxingale Series
PTC 5186 555. 2cds. 134 min 10 s


This is the second recording by Matt Haimovitz of the famous Suites, coming fifteen years after the first, which Haimovitz says he no longer recognises. Times change and musicians evolve. After long consideration, listening to numerous recordings and styles of playing, he decided to focus solely on the lovingly copied manuscript of Anna Magdalena Bach, the cantor's second wife. Haimovitz approached the manuscript with such curiosity and openmindedness that he found musical indications that other copies omit. The cellist claims that this one is closest to the original. Though minor, these indications suggest very precise phrasing and arpeggios, a particular placing of the bow on the strings. Such subtleties may escape the average listener. Ultimately there are no real revelations, but a truly intuitive reading of the music. In effect, we have the Haimovitz versions of the Suites. His flamboyant, almost brutal style threatens to distort the music. The sound is rough and hard, the attack sharp, the accelerations violent. He stops at nothing to wrench these pieces into something new. Perhaps he takes liberties he shouldn't, but it's still captivating. There's little of the ethereal or meditative in this formidable performance. It's bold and provocative and very, very memorable. More, please! R.F.A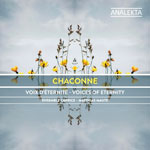 Chaconne – Voices of Eternity
Ensemble Caprice, Matthias Maute
Analekta AN 2 9132


In this short album, the Ensemble Caprice explores a repertoire of chaconnes that emerged in the 16th and 17th centuries, by composers including Monteverdi, Stefano Landi and Vivaldi. The pieces alternate with brief, restful vocal polyphonies composed by Matthias Maute, using texts by the poet Angelus Silesius. The music here is treated simply and with few instruments at a time. The recorder is at the forefront, and its fans will be delighted by the virtuosity of both Matthias Maute and Sophie Larivière. On the whole, this is a playful album that has fun with the music in a rather demure way, perhaps suited to the holidays. However, the most substantial work, Bach's famous Chaconne BWV 1004, transcribed for two flutes and bass, doesn't seem terribly convincing, despite the lively and touching performance. The instruments exchange the musical parts ingeniously, but the flute's timbre doesn't satisfactorily convey the highly spiritual and heartrending nature of the work—certainly not as well as a violin. C.R.
Translation: Cecilia Grayson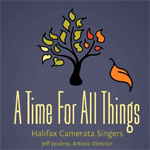 Halifax Camerata Singers: A Time for All Things
Artists: Halifax Camerata Singers, artistic director Jeff Joudrey, accompanist Lynette Wahlstrom
HCS1501 (halifaxcamerata.org)


Following the success solace: songs of remembrance (2009), the Halifax Camerata Singers returns with an exciting new disc of contemporary choral works. At Podium 2014, the Camerata Singers and Pro Coro Canada premiered Nova Scotia-born composer Cy Giacomin's work "There was a Time." The a capella piece, which draws text from the memorable Ecclesiastes 3:1-8 passage, builds on close chromatic harmonies and shifting time signatures to an indelible homophonic finish. The remaining tracks, selected by Jeff Joudrey, the Artistic Director and founder of the Halifax Camerata Singers, build on the timeless themes of hope, mercy and peace. All 13 pieces on the disc were composed in the last 20 years and 6 are by Canadian composers. Standout tracks include Frank Ticheli's "Earth Song", Ola Gjeilo's "The Ground", and Mark Sirett's "Voices of the Earth" (2008), a Canadian work commissioned by the Dartmouth Community Concert Association that was premiered by the Singers. Several guest artists, including bass clarinettist Jeff Reilly, violinist Jennifer Jones, cellist Hilary Brown, and the Halifax-based Blue Engine String Quartet, round out the lush tones of this choir on select tracks. Perhaps the most innovative track is Halifax composer Peter-Anthony Togni's "Antiphon", which gives the impression of an extended clarinet solo over sensuous choral accompaniment. The disc makes a timely release to sustain you through the long winter months. KVV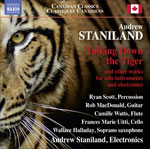 Andrew Staniland: Talking Down the Tiger
Ryan Scott, percussion; Rob MacDonald, guitar; Camille Watts, flute; Frances Marie Uitti, cello; Wallace Halladay, soprano saxophone; Andrew Staniland, electronics.
Naxos 8.573428 (64 min. 19 s.)


The Naxos Canadian Classics series is adding works dedicated to contemporary music, a noteworthy undertaking, since this repertoire is often overlooked in the recording industry. That Naxos is widely disseminating this type of music means that it reaches local and international listeners more easily. Alberta composer Andrew Staniland's recording, dedicated to mixed works (acoustic solo instruments and electroacoustic tapes, and live transactions), takes full advantage of this visibility. The album presents a varied mix of repertoire. Talking Down the Tiger is the most successful work, as it is an incredible feat for solo percussion. Flute vs. Tape skillfully plays with the dichotomy between electronic and acoustic sounds. It's worth noting how much the musicians invest in performing each piece. The sound recording is well balanced, allowing for an enjoyable listen. Given Naxos's low prices, there is no reason to ignore this album, which presents a wonderful showcase of artistic practices that have broken new ground. E.C.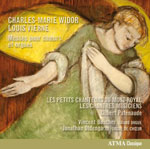 Widor and Vierne: Messes pour chœurs et orgues
Les Petits Chanteurs du Mont-Royal, Les Chantres musiciens, Gilbert Patenaude, conductor; Vincent Boucher and Jonathan Oldengarm, organ.
ATMA Classique ACD2 2718 (63 min. 61 s.)


This is a wonderful ATMA disc featuring two French masses for choir. Louis Vierne's Messe solennelle is a superb score filled with action and impressiveness. Widor's Messe pour deux chœurs is full of colour and texture, and magnificently combines organ timbres with light vocal harmonization. Motets by each composer round out the album, much like sweets after a main course. Some musical gems include Vierne's "Ave Maria" and Vierne's "Tu es Petrus." This recording benefits from a balanced and clear sound, and is a testimony to the performers' musicality and commitment. We tip our hat to Gilbert Patenaude for having built an exceptional choral tradition north of Mount Royal. His choristers sing with grace and conviction, all the while respecting the music's sacred and solemn mood. In addition, Vincent Boucher masters St. Joseph Oratory's wonderful organ timbres magnificently, and Jonathan Oldengarm's delicate organ playing is a wonderful addition. A CD you'll enjoy over and over again. E.C.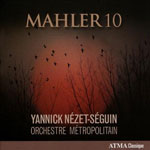 MAHLER 10
Orchestre Métropolitain; Yannick Nézet-Séguin, conductor
ATMA Classique, ACD22711


Mahler 10 stars the Orchestre Métropolitain (OM) under Yannick Nézet-Séguin's baton. It is the first recording by a Canadian orchestra that features Gustav Mahler's final symphony. The Tenth Symphony is an unfinished work, for Mahler completed only the first movement. Deryck Cooke orchestrated the remaining movements using the composer's musical markings as inspiration.
The exceptional acoustics in the Maison symphonique highlight the rich textures and harmonies. Nézet-Séguin is in full command of the score, right down to the smallest detail. Through his resolutely modern reading, the conductor brings out the work's post-romantic chromaticism and timbres. He conducts the OM wonderfully—his sophisticated interpretations are matched only by Mahler's writing. Lasting over 75 minutes, the recording is consistent and exceptionally clear. The brass instrumentalists, however, seem hesitant in the last movement. The same is true for the woodwinds, who have a hard time in the dialogues with the strings. Although the OM has some limitations, the ensemble generally plays with conviction.
Nézet-Séguin has secured his position among major contemporary conductors with this recording of Mahler's final symphony. The OM and its conductor present us with a quality disc by renewing a 20th-century masterpiece. C.D.T.
Translation: Dwain Richardson
---
Version française...