Industry News

by Shira Gilbert / October 1, 2015

---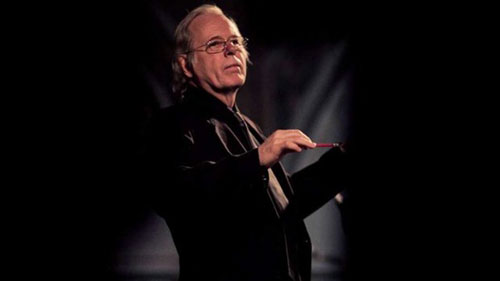 In Memoriam
Christopher Jackson, organist and founder, conductor, and artistic director of the Studio de musique ancienne de Montréal (SMAM) passed away on September 25 at the age of 67. He died as a result of complications due to lung cancer. A master of early music, he founded the SMAM in 1974, and appeared in his last concert last May 21. Christopher Jackson was also Dean of the Faculty of Fine Arts at Concordia University from 1994 to 2005. He is survived by his wife, trombonist Dominique Lortie, and three sons: Mathieu, Simon, and Nicolas Jackson. Our deepest condolences to his family and friends.
Violinist Jacques Israelievitch, a renowned violinist and the Toronto Symphony Orchestra's longest serving concertmaster, died on September 5 at the age of 67. Born in Cannes, France, Israelievitch graduated from the Paris Conservatory at 16 and began his orchestral career at 23 as the assistant concertmaster of the Chicago Symphony Orchestra. After a decade-long tenure with the St. Louis Symphony, Israelievitch became concertmaster of the Toronto Symphony Orchestra, a position he held for 20 years. Also renowned as both a soloist and a chamber musician, Israelievitch recently recorded all 28 Mozart sonatas for violin and piano with Christina Petrowska Quilico, with a release expected early next year. Israelievitch was diagnosed with lung cancer in February. In August, he was presented with the Order of Canada in a ceremony at his Toronto home. The Toronto Symphony Orchestra and Music Director Peter Oundjian dedicated their September 26 performance to Israelievitch's memory, calling his contribution to the orchestra and organization "immeasurable."
On the International Scene
Canadian violinist Alexandre Da Costa has been invited as soloist and guest conductor of the Vienna Symphony Orchestra for performances to take place next September at the Vienna Konzerthaus. While in Vienna, he will record a new CD entitled A Stradivarius at the Opera, featuring operatic arias in new transcriptions for violin and orchestra, for release in early 2016. This November and December, Da Costa will be on tour across Québec in a program entitled Soleil d'Espagne-Vies et Poésies de Lorca, with poet Richard Desjardins and guitarist Alexandre Éthier.
Conducting Business
Globe-trotting conductor Yannick Nézet-Séguin has confirmed an additional five years at the helm of Montréal's Orchestre Métropolitain. The extension as artistic director and principal conductor until the 2020-21 season brings Nézet-Séguin's anticipated tenure with his hometown orchestra to a total of 20 years. Watch for a future Sibelius recording series. The 40-year-old has also committed to the Philadelphia Orchestra through 2022 and previously announced that he will close out his contract with the Rotterdam Philharmonic in 2018.
Conductor Edwin Outwater has announced he will be leaving the Kitchener-Waterloo Symphony at the close of the 2016-17 season after 10 years with the orchestra. After he steps down, Outwater will be named Music Director Laureate. (Conductor Raffi Armenian, who currently holds that title, will be named Music Director Emeritus.) Among a number of innovative initiatives, Outwater led the orchestra's critically-acclaimed recording From Here On Out, featuring the music of Nico Muhly, Radiohead's Jonny Greenwood, and Arcade Fire's Richard Reed Parry, for the Analekta label. Outwater will continue in his roles as Director of Summer Concerts with the San Francisco Symphony and as Music Director of the Sierra Summer Festival in California.
Montréal On the World Stage
Montréal has been chosen as the home of the International ArtsGames Committee as well as the host city for the first-ever ArtsGames in 2018. An artistic counterpart to the Olympic and Paralympic Games, the ArtsGames will see artists from every continent compete against each other to offer the world's best artistic performances. The international arts competition is being revived after a 70-year absence; from 1896 in Athens to 1948 in London, the Olympic Games included an artistic component, recognizing excellence in the arts with medals. Following the debut of the ArtsGames in 2018, qualifying rounds will continue to be held in Montréal every two years, even if the games are being held in another city.
And the Nominees are …
ADISQ, Québec's recording industry association, has announced nominations for its 2015 Félix awards, including its two classical categories. Nods for Album of the Year – Orchestra or Large Ensemble have gone to violinist Angèle Dubeau and La Pietà for their Einaudi portrait; Paul Merkelo, Kent Nagano, and the Orchestre symphonique de Montréal for their collection of French trumpet concertos; Nagano and the OSM for their Beethoven Symphonies 2 & 4; Yannick Nézet-Séguin and Orchestre Métropolitain for Bruckner's 3rd Symphony; and La Cigale et les Violons, featuring Les Violons du Roy and Catherine Perrin as both narrator and harpsichordist. For Album of the Year – Soloist or Small Ensemble, nominations went to Constantinople's Metamorfosi, featuring Suzie LeBlanc; Chopin Mazurkas performed by pianist Janina Fialkowska; Chopin Préludes from pianist Alain Lefèvre; soprano Marie-Josée Lord's Amazing Grace; and Love's Minstrels, an album of late 19th- and early 20th-century English songs by bass-baritone Philippe Sly and pianist Michael McMahon. Québec labels Analekta and ATMA swept both categories. The awards will be handed out at the ADISQ Gala in Montréal on October 27.
---
Version française...