Andrei Feher, Winner of the Prix Opus

by Caroline Rodgers / October 1, 2015

---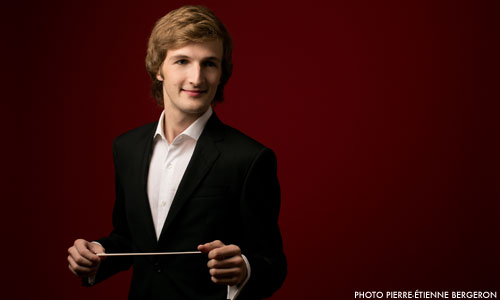 It's no exaggeration to say that being assistant conductor at 24 years old to Paavo Järvi at the Orchestre de Paris is a remarkable achievement. This much-envied position is filled by Quebec's adopted son, Andrei Feher, who is in his second season in the City of Light.
Recipient of the Prix Opus "Discovery of the Year" for 2013-2014, Andrei Fehrer is Romanian-born and settled with his family in Quebec at 13 years old. He began studying violin at seven. Once in Montreal, he signed up for Joseph-François-Perrault high school, which is well known for its music program. This is where he took his first steps toward the orchestra.
"It was great because most nights, after class, we had ensemble music," he remembers. "Mondays, it was choir, Tuesdays, symphony orchestra, and Wednesdays, string orchestra. I became interested in other orchestral instruments, I looked at sheet music and I listened to a lot of music. That's how I sometimes had the opportunity to conduct and realized that I might take that path."
He went on to study both violin and orchestral direction at the Conservatoire de musique de Montréal, studying the latter with Raffi Armenian. At sixteen years old, he met backstage with Yannick Nézet-Séguin after an Orchestre Métropolitain concert.
"He invited me to attend the Orchestre Métropolitain's rehearsals and I went. I still go when I am in Montreal. I learn so much, both on a musical and a human level. You need to know both in this career."
In 2012, in the wake of the students' strike, he created the Orchestre des Artistes to participate in the movement. The ensemble performed two concerts, the second one being Le Sacre du printemps érable (The Rites of Maple Spring), in which comedians and other artists also took part. It attracted a huge crowd at Église Saint-Jean-Baptiste, such that the organizers were obliged to turn people away. As it was the result of a moment of political action, the orchestra has unfortunately not continued.
The young conductor's first position was as Assistant Director-in-Residence at the Orchestre Symphonique de Québec for the 2013-2014 and 2014-2015 seasons. His second year in Quebec overlapped with his first one in Paris, where he stayed for three years. He was then recruited to work with conductor Daniel Harding, who succeeded Paavo Järvi.
"Working with Paavo Järvi is amazing," he said. "He has such power in concert, and an impeccable technique. I learn so much from each concert, and I also get to meet the guest musicians."
Andrei Fehrer is also a regular guest conductor at the Orchestre Métropolitain. In fact, he returns there in April 2016 to conduct a concert in the Youth Spirit series, Saint-Saëns' Carnival of the Animals.
Translation: Karine Poznanski
---
Version française...