André Bourbeau: Arts-Business Award 2015

by Caroline Rodgers / October 1, 2015

---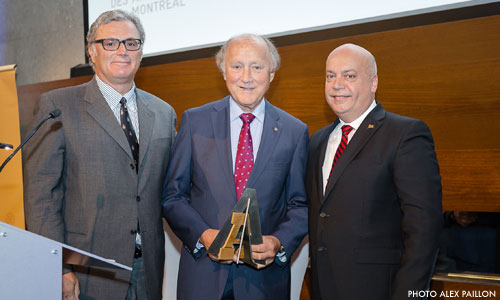 André Bourbeau with Richard Lupien, the new president of the Fondation Jeunesses Musicales du Canada, and Robert Poëti, Minister of Transportation and Minister responsible for the Montréal region.
Since 1997, as chairman of the Jeunesses musicales of Canada Foundation, André Bourbeau has devoted time and energy to helping JMC fulfill their educational and musical mission. He is the winner of the 2015 Arts-Business Award given by the Conseil des arts de Montréal in partnership with the Board of Trade of Metropolitan Montréal.
In June of this year, Bourbeau quit his position as chairman of the Foundation, but will remain on the board of directors.
"It was time to pass the torch," he explains. "While I've done a lot with the Foundation, it's good to have fresh minds and make way for the younger generation. I'm leaving behind me a well-organized foundation that has what it needs to assure its future."
Over nearly two decades, André has completed numerous projects.
He explains: "The achievement I am most proud of is the acquisition of the building on Mont-Royal avenue on the corner of Henri-Julien. I purchased it from the City of Montréal for one dollar in 1999. The JMC were already its tenants. We went to see the mayor at the time, Pierre Bourque, and persuaded him to let us have the premises for one dollar. The city agreed, on condition that we renovate the building. The facade was lovely, but very dilapidated."
Bourbeau's long experience as notary and as shareholder in several real estate and construction firms provided him with the knowledge to transform the property, and he hired the well-known architect Renée Daoust.
"She agreed to help us, and in less than a year it was all done and we had a gem. In the basement there was an old boiler room that was black with coal dust. We transformed this nasty hole into a lovely concert hall. It was truly marvellous. I suggested we call it Joseph Rouleau after the man who chaired the JMC for many years. Today, the hall is kept busy with shows for children and families, in line with the JMC's mission."
Thus the Jeunesses musicales found themselves owners of a freshly renovated property and free of debt. "It was all done within budget," says André. "As an arts organization, we're very lucky to have such fine premises."
André has long been friends with Joseph Rouleau, and together they founded the Montréal International Musical Competition in 2002. André is still chairman of the MIMC, chairman of its jury, and chairman of the foundation.
"For twenty years I held benefit concerts at my property at Dunham in the Eastern Townships," he recalls. "To begin with, the idea was to create a vocal arts competition for the JMC. Our winner in 2000 was Marie-Nicole Lemieux. She went on to win the Queen Elizabeth Competition in Belgium, and we went to hear her at the gala. When we got back to Canada, I said to Joseph that if we were capable of producing singers of that calibre in Quebec, then we were capable of holding a competition of the same calibre."
So they ended their vocal arts competition and set up instead the Montréal International Musical Competition, which has been held since 2002, alternating singing, piano, and violin.
"The competition has gone from strength to strength, and we've also set up a very active foundation, which organizes successful fundraising activities."
During his 18-year chairmanship of the JMC Foundation, this tireless philanthropist organized benefit activities that garnered $4.68M, of which $2.4M was ploughed back into the JMC operating budget.
Before turning to philanthropy, André Bourbeau had a successful political career as Liberal MNA for Laporte over several mandates starting in 1981. He was Minister of Municipal Affairs in the Bourassa cabinet and, later, Minister of Manpower, Income Security and Professional Training, interim Minister of Labour, and Minister of Finance. He was also chairman of the board of directors at Hydro-Québec from 2003 to 2005.
While a pupil at the Séminaire de Sherbrooke, where he played trombone in the school band, he learned the basics of music. But it was the discovery of opera when he was about sixteen that made him fall in love with the classical canon.
"I came across a record of Gounod's Faust, and it knocked my socks off," he recalls. "I listened to it nearly every day, for months! I got to know it by heart, every word, every note. After that, I took in Bizet's Carmen, then Manon by Massenet, and later, the Italian opera. That's why I initially wanted to organize a singing competition."
The benefit evening of the Concours musical international de Montréal Foundation takes place on October 29 at the Ritz-Carlton.
Translation by Cecilia Grayson
---
Version française...