ONJ Montréal: Orchestra on the Move

by Marc Chénard / June 1, 2015

---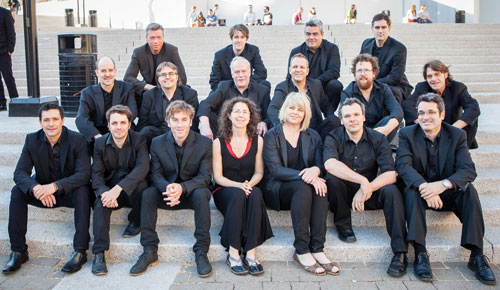 Musicians of the ONJ - Montréal: (first row) Aron Doyle, David Carbonneau, Jean-Rémi Leblanc, Marianne Trudel, Christine Jensen, Jean-Nicolas Trottier, Frank Lozano; (2nd row) Bill Mahar, Alexandre Côté, Bob Ellis, Jocelyn Couture, Kevin Warren, Jean-Pierre Zanella; (3rd row) Dave Grott, Taylor Donaldson, André Leroux, et Samuel Blais. Photo Toma Iczkovits
A recent arrival, the sixteen-piece Orchestre national de jazz — Montréal made its debut in July 2013 at the city's summer jazz festival. Since then, it has completed two seasons of performances, 14 in total, including last year with special guest trumpeter Terrence Blanchard and his quintet. While all cities, both big and small, have big bands, this one is a bit different. Some play stock arrangements and limit their activities to rehearsals when others are vehicles performing original music by a composer, most often of its leader, but the ONJ – Mtl embraces both, repertoire and original material alike.
In the Swing Era big bands were the toast of the jazz world, but such large outfits are luxuries nowadays. Either they are maintained in schools, subsidized by private sponsors, like Jazz at Lincoln Center, or by public funding, viz. the European Radio Jazz big bands in Germany and Denmark.
Starting up such a venture may well seem counterintuitive in this era of small is beautiful, but the guiding spirit behind this, Jacques Laurin, is resolved to make it happen, although quite realistic in his outlook. A bassist by training and a recording engineer by trade, he decided to make do on his intention by looking at what others do: "If classical ensembles and theatre companies get sponsorships to produce complete seasons of performances, why can there not be something similar for jazz?"
Inspired by those European institutions — the state supported ONJ in France, for example — Laurin still has a way to go to fulfill his ambitions. Now two years down the road, both he and his brainchild are at a crossroads, but when looking at the summer schedule, prospects seem brighter than ever. For one, it will play not only the jazz festival in Montreal, but also two others in the province, both classical events (see below for dates and places). On two occasions, they will perform the music heard on their debut recording, set to come out this month. More on that later.
Sandwiched between those concerts is a very special event that marks another first in the group's young history: on August 2nd, they welcome guest composer and arranger Matthias Rüegg leading the troops through a program of Ellingtonia. In 2003, this Swiss-born musician devised the appropriately titled "Duke Ellington's Sound of Love" program for his renowned Vienna Art Orchestra, a veritable Old World institution he kept afloat for an amazing 33 years, till its disbanding in 2010.
On this side of the Big Pond, the VAO achieved some notoriety, thanks to great sponsorships and label backing, but it might not be quite a household name for the average music lover. Asked about the reasons for choosing this European in particular, Laurin states: "I like his broad musical vision. He is not only intent on creating his own music but also exploring existing repertoires, both jazz and classical, and in ways that are both fresh and offbeat. And that corresponds to my own perspective and where I want to bring the orchestra, for the musicians' sake, but also to the benefit of the audience."
True to his inclinations, Rüegg has avoided some of the obvious in his takes on Ellington. For starters, he has replaced the 'rikitiki', as the Maestro whimsically called his instrument, by a guitar. By doing this, he can get around the Duke's stylings – and he certainly was one of the most distinctive sounding pianists in jazz – so as to put his own imprimatur on the music. Moreover, he chose several lesser-known numbers, tunes like Very Special, Little Max or Rem Blues, all from the pianist's 1962 album Money Jungle, the famous encounter à trois with modernists Charles Mingus and Max Roach. But the concert won't be devoid of staple pieces either: in fact, the opening half of the show will focus on sub groups jamming on many well worn vehicles; after intermission, the whole band will have a go at Caravan and the historical Diminuendo and Crescendo in Blue. Don't bet on a remake of the 1956 version immortalized by those 27 choruses by Paul Gonsalves, but this take will generate its own excitement.
An auspicious meeting indeed, but more importantly one that could set a precedent for further projects between the orchestra and its special guest, maybe even others. But as alluded to earlier, this event, which closes the 38th annual edition of the De Lanaudière festival, and on its splendid outdoor stage to whit, is but the proverbial icing on the cake. Its two main layers will provide generous fare in the form of a forty-minute suite penned by its pianist, Marianne Trudel. On Canada Day, the ONJ will take over the main outdoor stage of the Montreal Jazz Festival for a pair of nightly shows; five weeks later they will reprise that work at the Orford Festival. And for those not able to make it, there is a fine document of it, released this very month on the ATMA label.
With a full plate before them but also with an eye on a third concert season coming this fall, all bodes well for the ONJ's future. And if some added backing comes in, the best may well be yet to come. So who says things ain't what they used to be for big bands?
Listening Hints
» Orchestre National de Jazz de Montréal – Dans la forêt de ma mémoire – Atma Records CD2 2730
» Vienna Art Orchestra – Duke Ellington's Sound Of Love – Emarcy 0602498654194 (2003)
In concert
» July 1 – Festival international de Jazz de Montréal (9 PM and 11 PM)
» August 2 - Festival de Lanaudière, Amphithéâtre Fernand-Lindsay (2 PM).
Duke Ellington's Sound of Love – with guest composer and arranger Mathias Rüegg
» August 8 – Orford summer Music Festival (8 PM)
On the Web
ONJ: www.onjmtl.org
Mathias Rüegg: www.vao.at
FIJM: www.festivalinternationaldejazzdemontreal.com
Festival de Lanaudiere: www.lanaudiere.org
Orford Festival: www.arts-orford.com
---
Version française...