YOA Orchestra of the Americas: A Model UN for Musicians

by Crystal Chan / June 1, 2015

---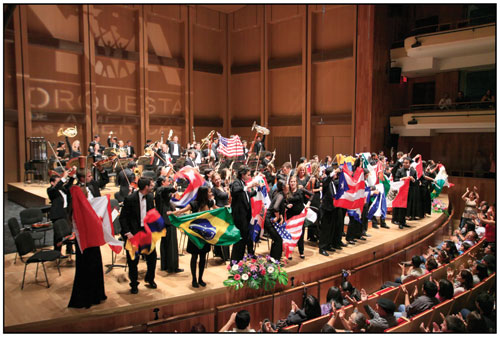 Before Mark Gillespie was Creative Director and General Manager of the YOA Orchestra of the Americas, he was Rodney Jerkins' protégé. Under Jerkins, who has produced stars from Michael Jackson to Lady Gaga, Gillespie shepherded the likes of TLC and Brandy to the Top 40. But when Gillespie, a classically trained pianist and composer, returned to classical music at the University of Oslo, he was disappointed. Where was the fun? Where were the fans?
"It all kind of changed," says Gillespie, "when I witnessed my first YOA concert. And it felt more like a rock concert than any symphony. The musicians were my age, they were into it. They were real people."
Sounds Like Teen Spirit
In 2006, Gillespie traded working with pop divas for grooming the YOA's young instrumentalists, who come from across the Americas and range from 18 to 30, with an average age of 24.
When it was founded in 2001, explains Artistic Advisor Plácido Domingo, "the dream of the YOA Orchestra of the Americas was to create an international orchestra of the best and brightest young musicians from across our hemisphere."
This year the YOA chose 80 musicians out of the 1000 who auditioned. There are no entry or participation fees. In 2009 they were among the first to audition through YouTube. The result is an incredibly selective process "equivalent to getting into Harvard," says Gillespie. YOA Music Director Carlos Miguel Prieto believes the musicians' youth and exceptional drive fuels "every single concert. There's this amazing feeling of a once-in-a-lifetime experience. The orchestra plays in a way that is unforgettable for anyone present."
Prieto is also Music Director of the National Symphony of Mexico and the Louisiana Philharmonic. "I spend most of the year working with established professional orchestras," he explains. "And they have their own rhythm. This orchestra is different."
For most of the talented teens and twenty-somethings, the YOA is their first ticket to another country. They are ambassadors; after each concert, musicians unfurl their country's flag from their music stands. Within the orchestra, they must work together as a musical United Nations.
Violinist Jessy Dubé, from Saguenay, who will tour Canada with the YOA this summer, says performing with the YOA in 2013 helped her "discover that music can build a bridge between people." She learned some Spanish on tour, as Prieto repeats everything in English and Spanish during rehearsal, but they both emphasize the surprising speed with which language and cultural barriers are transcended. And when they play Piazzolla, the Argentinians are on hand to teach everyone some tango.
"There's no project in the world, especially in music, that brings together such a wide variety of countries on an equal playing field," Gillespie believes. "Music and an orchestra are uniquely equipped to bring people from a variety of backgrounds together. There's nothing else except for a large-scale choir where you can have 120 people learning music together at the same time."
"There are so many dialects of popular music in Argentina versus Canada versus the Dominican Republic," he adds. "But the orchestra is this common element that they share."
Prieto agrees that "the orchestra has a unity which many professional organizations would pay for." And they do. Many alumni now play in professional orchestras.
A Tool for Social Change
"Before the YOA," says French horn player Julie Rochus from Aylmer, Ontario, "I didn't know classical music could be used as a tool for social change. I just wanted to get a job in an orchestra."
Rochus is a graduate of the YOA's Global Leaders Institute. Each year, twenty-four musicians are offered spots in the nine-month program of seminars taught in alliance with Oxford University. This year, McGill University joins as partner.
Students are equipped to teach music in volatile conditions and to diverse students, and then to become social entrepreneurs. These essential skills are not often taught in conservatories, the YOA believes. And today, they are vital.
"Education is the fastest growing market in classical music and there are very few schools thinking about how to prepare a top level musician to take on roles and responsibilities in this quickly growing world," says Gillespie.
This "social involvement is from the most grassroots level," says Prieto. Participants complete placements where they teach music, train local teachers and leaders, and jumpstart programs and research to help dissect local challenges. How do you fight for support when you have a mayor on one side of the political spectrum, and a premier on the other? How do you convince parents to place their kids in after-school music programs?
"Last year in Haiti it was as much about this work as it was the concerts," says Gillespie. "This experience transforms musicians because it shows them that service is equal to artistic achievement." In 2014 the YOA sent musicians to twenty-three different countries, including Canada.
"When the next chapter of the history of music is written, one story will be the rebirth of the symphony orchestra as a vehicle for social transformation," says Gillespie. "The orchestra, which is historically understood to be top-down, grown out of this elitist western European tradition, has been completely inverted in the Americas."
In 2010, Dubé "played in Colombian towns in the mountains.We would play for a crowd of maybe 2,000 people, because it was free. They were discovering classical music, and they were so enthusiastic." The YOA was even the first orchestra to play in Belize and Jamaica. "At the end of each concert we used to play some music from South America. And then – I will always remember – all the people in the audience would dance and sing along."
"In conservatories there's no focus on success being evaluated in terms of the ability of the music to actually change lives, connect with people and have an impact on society," says Gillespie. "This orchestra brings together the best of the classical tradition with the greatest aspects of popular music and its sense of connectivity, meaning, and purpose. In the Americas, the canon is being interpreted by young people, by new voices with an enthusiasm and an exuberance that has been lost. That's why these concerts are selling out when most symphony orchestras are trying to find ways to survive."
O Canada: The First Tour
This year's 80 musicians hail from 25 North, Central, and South American countries (ten from Canada), plus France – French-speaking musicians were chosen from around the world as part of a partnership with the Orchestre de la Francophonie, another multi-national youth ensemble. For the first time, the YOA is touring Canada.
From July 5 to August 4 the orchestra will play twelve cities. Starting with a residency at Sistema New Brunswick, it stops at Toronto's PanAmerican Games and festivals across Ontario and Quebec: Stratford Summer Festival, Orford, Domaine Forget, Lanaudière, Laurentides, the Midsummer Music Festival. It will play car conventions and world-class concert halls. At Montreal's Maison symphonique, it will perform the world premiere of À L'Aube by Montrealer and YOA Composer-in-residence, Nicolas Gilbert.
With guest artists – Vadim Repin, Antonio Meneses, Alain Lefèvre, Ingrid Fliter, Alexandre Da Costa, Serhiy Salov, Hugo Laporte, Ricardo Castro, Jean-Philippe Tremblay, José Serebrier, Jean-François-Rivest, and Antonio Delgado – the YOA will perform major repertoire: Shostakovich's Symphony No. 11, Dvořák's Symphony No. 9, Prokofiev's Romeo & Juliet, Schubert's Symphony No. 9. These classics will play alongside Howard Shore's The Hobbit score – and even some Taylor Swift, arranged for orchestra.
A month after the YOA left Jamaica in 2014, their Prime Minister announced a quadrupling in investment for after-school music programs. Says Gillespie: "If we can get more families interested in music, if politicians like Stephen Harper can see that music as social development isn't just an opportunity in Colombia or Venezuela and Chile, but also an opportunity in Canada – this can produce incredible results."
Sistema
New Brunswick: Power to the preteens
One boy wouldn't talk. He was so shy he curled into a ball for protection, like a hedgehog. Julie Rochus, his new music teacher, wondered what the eight-year-old feared.
Until she started teaching at Sistema New Brunswick in the fall of 2014, Rochus, who hails from Ontario, hadn't encountered troubled students on a regular basis. She soon learned that she had never taught students so motivated to excel, either. The boy who curled up in a ball? After nine months, he is her star student, the best French horn player. "He demonstrates for the class all the time," Rochus says. "He'll talk to anyone."
Some of her students play at a level far beyond their years. This year, thirteen Sistema students won seats in the New Brunswick Youth Orchestra. The principal trombonist, thirteen, and the second horn player, eleven, play alongside university music students.
Students in Sistema's supercharged music education program take free, three-hour music lessons every weekday and Saturday morning. Based on Venezuela's El Sistema program, started in 1975, New Brunswick started offering six-days-a-week training in 2009 expecting to enroll twenty children. Although the call was limited to Grades 1 and 2 students from four schools, 180 applied.
Today, Sistema New Brunswick teaches over 570 children in Moncton, Saint John, Richibucto, and the Tobique First Nation on reserve.
"We engage kids that are left out," explains founder Ken MacLeod. "This is a very damaging spiral for kids. And it can be intergenerational. Unemployment, underemployment, addictions, all these things are consequences."
This March, Sistema New Brunswick won a Prime Minister's Volunteer Award for Social Innovation, cited as "transforming the lives of children in profound ways" and as "an effective means of improving children's neural development and academic achievement."
Positive effects are furthered by a choir and a band for parents, and a musical program for mothers with toddlers. A study conducted by the Province of New Brunswick found that 84% of parents felt "more positive about their child's future" and 79% of school principals and teachers said that "Sistema increased the children's sense of belonging to the school."
"This is not the traditional approach to learning to play an instrument," says MacLeod. "The kids are part of the orchestra from the first day, so they learn that they can't be successful unless they're focused and disciplined; unless they respect their seatmate, and operate as a group. The orchestra is ultimately a society that has to cooperate. The kids are learning these values: focus, discipline, respect and cooperation. They now understand their capacity as human beings to be successful in their lives. And that's where hope and opportunity springs from."
» Catch Sistema New Brunswick students and the YOA Orchestra of the Americas at Pops NB, a four-hour outdoor concert featuring four orchestras. July 10 in downtown Moncton. www.sistemanb.ca
» For a complete schedule of the YOA's inaugural Canadian tour from July 5 to August 4, see our Summer Festival Guide. For more tour details and information on the YOA Orchestra of the Americas, visit www.yoacanada.org and www.yoa.org.
---
Version française...