Jazz: Trevor Watts - Music on a Moment's Notice

by Marc Chénard / April 1, 2015

---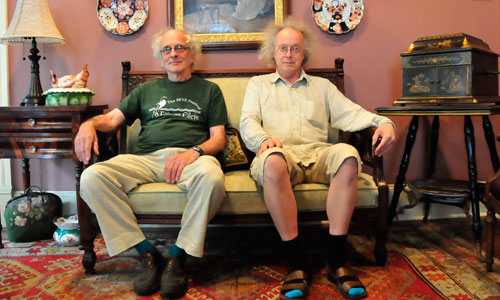 Trevor Watts (left) and Veryan Weston (right). Photo by Shawn Vinson - All rights reserved
Hailing from Britain, alto and soprano saxophonist Trevor Watts belongs to what is commonly known as the first generation of free music players. Still vital at age 76, this musical trailblazer will be on the road in North America throughout April for an extended tour with his close associate, pianist Veryan Weston. All told, they have 17 dates booked on both sides of the border, closing off with two performances in Quebec: in Montreal on April 27 at the Casa del Popolo, and a two-day stay in Rimouski as guests of the local creative music production company Tour de Bras and its earnest head Éric Normand.
As the last surviving member of England's groundbreaking improvisational group the Spontaneous Music Ensemble (SME), Watts joined forces in the early 1960's with the late trombonist Paul Rutherford, pre-deceased by drummer John Stevens. Together, these bold explorers would express their discontent with the common jazz practices of interpreting written melodies and improvising variations on their harmonies by just going for it and playing with no set game plan.
Yet jazz was an integral part of their upbringing. Watts, for one, was exposed early in life to American music thanks to records his father brought back from a sojourn to the States. Ellington, Hawkins, Young and other swing masters wafted through the family dwelling, something of an unusual occurrence in a countryside homestead. By 16, he was offered his first instrument, an alto sax, but with no educational outlets, he had to figure it out for himself. Taken at first by Parker (Charlie of course) he came to realize that there was no point in emulating him. A turning point for him, though, was his military furlough: not only did it bring him to Germany to hear the Americans live and play their music, but it was there that he met his two confederates. By the early 1960s, the discovery of free jazz icons Albert Ayler, Ornette Coleman and Cecil Taylor had only strengthened their common resolve to do their own thing. Not long after, they would cross paths with other free spirits such as Evan Parker, Derek Bailey, Kenny Wheeler, and even a youthful Dave Holland.
While the British improvised music scene was defining itself by exploring sounds in their most abstract forms, Watts wasn't ready to ditch more conventional approaches, be they melodic, harmonic, or time-based. The latter in particular has always inhabited his music, as exemplified in his groups Moire Music and Drum Orchestra. Through the 1980s and 90s, he joined forces with African percussionists and rock musicians, and wailing passionately over trance-like grooves. In essence, Trevor Watts blazes a broad trail, so much so that names and labels mean nothing to him. For him, "music" is his only concern, and to achieve this he simply lets himself be guided by his instincts and those of his pianist companion, a frutiful relationship which now spans over three decades.
» On the Web - www.trevorwatts.co.uk
http://soundcloud.com/moire-watts
The Trevor Watts Interview: Setting the Record Straight
In contrast to many of the British improvisers who came up in the Sixties, your approach strikes me as not so 'abstract' as those of your contemporaries who were given to pure sound exploration. There always has been a definite melodic bent in your playing. That seems all the more striking to me in your Moire Music Orchestra you started in the late 1970s. This was a marked departure from what the rest of the British scene was doing, save for the Brotherhood of Breath (whose members were South African exiles and not British), and it seems you wanted to pursue a different path. What then were your motivations to put that group together? Were you dissatisfied with what was going on in the musical circle around you and looking elsewhere
Trevor Watts: I've just written a choral piece, which has since been performed, and have now been asked to write a piece for orchestra and chorus. So where does that put me now? First of all, music to me is just that, 'music', however you wish to call it. I am interested in ALL of it,
and been involved in many kinds all my life. I have delved into the most abstract form of improvised playing with no obvious melody, which was simply not part of the rules in that game. A good example of that would be the CD "Dynamics of the Impromptu" with Derek Bailey and John Stevens or "Quintessence" with Evan Parker/Kent Carter/Derek Bailey/John Stevens and myself, just to name a couple recordings in that specific area of music making..
Yet, there's more orchestrated stuff, too, from the original 10-piece Moire Music Orchestra (Check out my You Tube site, see reference below). I first formed that in 1982, but I also started the original Drum Orchestra that combined African and European improvised music. That in turn lead into the Moire Music Drum Orchestra which brought in some more organized Afro/European structures, but still maintained improvisation at the heart of it. It was in the 70's that I felt the need to put some of the melodic and rhythmic emphasis back into the music. I didn't like the way that the Germans or Dutch, even English (though to a lesser extent) were trumpeting the fact that they each had some sort or national identity in the music (which is o.k. on it's own) while negating any involvement with primarily black Jazz. I can say this, but that generation was quite influenced by that and the freedoms inherent in improvisation stemming from the New Thing, as it was called then We'd got to Ornette at a time when that generation's involvement was seriously trying to plough its own furrow. At first we were all trying to play a bit like someone else,. Evan like Coltrane, Stevens like Max Roach or Art Blakey and Rutherford like JJ Johnson. But none of us were fully formed when we first arrived on the scene. Without Albert Ayler there'd be no Brötzmann and as I've said that even someone like (pianist Alexander von) Schlippenbach surely studied Bill Evans. My point is I'm all for a bit of realism here and there's nothing wrong with any of it.
Tell me know about your collaboration with Veryan Weston, it has been a very lengthy one, and you can hear the closeness in your rapport when looking at the DVD and listening to audio component of it.
T.W.: At this stage in my life I am in a perfect situation for what I want to do in music, it's also with a very good friend, who's an excellent pianist at that. Both of us truly improvise and our interests in music are very broad. You see, we don't play in a "style" of improvised music, nor is it Jazz in the truest sense of the term, it's a case of listening and responding in the moment with no preconceived ideas of where it's going to go to, not even in the next moment. In effect, there is an openness to accept anything that is played. Sometimes Veryan's playing reminds me of Barrelhouse and elsewhere it might even sound classical, or jazz or freely Improvised.
These genres are placed in the context of my answer for the readers benefit. But to me, these
lines are blurred, because I don't think I play in any "bag", nor does Veryan. However, I know that others will put me in one, some way or another. All of what exists today in music was already there before. Webern influenced John Stevens as did Japanese Gagaku music and so on. The point is to let the language come out as it wants to. There's no extra virtue in playing "improvised music" as a form in the way most now play it, as others do for "Jazz". I like to think that what we together are trying to do is to just play MUSIC!
Another thought. At the onset, I mentioned that group the Brotherhood of Breath, which came together in the 1970s in England and was actively blending folk influences from South African and European free improvised music. I am just wondering if that group had an influence on you in your decision to found the Moire Orchestra?
T.W.: NOT AT ALL! In fact when they first came to England I felt we were light years away from what they were trying to do which sounded a bit like be bop. We were off and running ahead of that style. This was 1963. To me, they were a bit behind us. They were not trying particularly to play "African" music anyway. This kind of myth was built up later by journalists, who thought they had a big influence on everyone. Simply not true. In fact we had an influence on them if anything. Chris McGregor came by the Little Theatre Club in the early 60's in London, and as that was the centre of experimentation of that era, it was there for the first time he playing all over the piano, whatever he liked, with all the restrictions of bebop gone. Same thing for (trumpeter) Mongezi (Feza) and (bassist) Johnny Dyani: they all came there to play freely with us, For my own group, the only real inspiration has been Traditional African music, which is also at the very core of Jazz itself. So on that, I actively looked for musicians I liked to play with and found Nana Tsiboe in 1979. We had a lot in common, you know. The Drum orchestra, I mentioned previously, as, started up with Steeleye Span, violinist Peter Knight and Liam Genockey (drums) – who was basically a Rock drummer – Ernest Mothle from South Africa and also Nana from Ghana and Mamadi Kamara from Sierra Leone (he went on to play a bit with Nina Simone). That was the group in its original form, but when we came to Canada for th Victoriaville festival in 1990, it was a newer combination. Overall, it lasted from 1982 to 1997. (You Tube footage of this group can be accessed through the artist's Website, that also has soundbytes of his performances with Veryan Weston).
» Must see: Hear It (Documentary DVD with audio tracks, duo and quartet) FMR 1031)
Conversation taken by Marc Chénard via an e-mail interview.

---
Version française...