Mathieu Lussier: From Bassoonist to Conductor

by Caroline Rodgers / April 1, 2015

---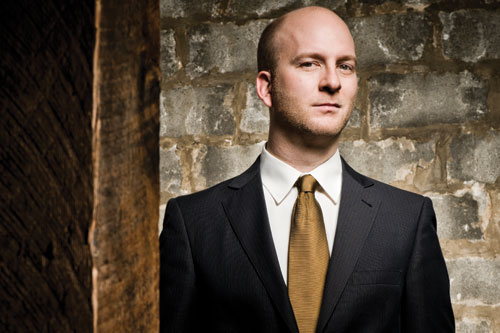 Mathieu Lussier has been a bassoonist on Quebec's music scene for a long time. But for the past few years, he has placed more importance on becoming a conductor. In May, he will conduct the Violons du Roy in Denys Arcand's first opera, Zémire et Azor, at the Maison symphonique.
Discovering the Bassoon
Lussier's story about the bassoon is somewhat touching. At age twelve, the Montreal native desperately wanted to get into École secondaire Pierre-Laporte, a school offering a highly intensive music program. Many of his friends attended the school and he was interested in music.
"I already played the piano, but the competition was cutthroat," he remembers. "The school's brochure stated that bassoonists and French horn players were particularly in demand. I wasn't familiar with either instrument. I looked at pictures in the dictionary, and selected the bassoon as my second choice while filling out my registration form. I don't think the jury even needed to listen to my piano audition; I suppose they were saying, 'At last, we have a bassoonist!' That was how I ended up playing the bassoon."
When Lussier was twelve, his hands were too small to play the bassoon. However, he was determined to learn the instrument.
"The bassoon isn't appealing to many students. High school teachers often lack the skills to teach the instrument to their students," he says. "A tortured psychopath probably invented the fingering system! The bassoon is not easy, because the left thumb must work nine or ten keys. I was lucky enough to work with Andrée Lehoux, a wonderful teacher and an inspiring woman who knew how to quickly instill in me an appreciation for the instrument and gave me the desire to persevere by helping me discover its possibilities."
Following his secondary studies, Lussier was admitted to the Conservatoire de musique de Montréal. He then went on to work as a freelancer for symphony orchestras in Laval, Montérégie, and Trois-Rivières. But the most defining moment in Lussier's career was working with the now-defunct Montreal Baroque Orchestra, directed by Joël Thiffault.
"Although Joël Thiffault had an extravagant personality, he was a great musician," says Lussier. "The orchestra played music from the baroque and classical repertoire on modern instruments. I liked the repertoire; we performed some concerts that really influenced me at a time when I was still developing. When the orchestra began to play period instruments, I learned the baroque bassoon, and I became known for specializing in baroque and classical styles, which allowed me to play with ensembles like Tafelmusik and the Cleveland Baroque Orchestra, among others."
In time, Lussier stopped freelancing with modern orchestras and specialized in early music. He played with the Arion Baroque Orchestra for a few years, and was artistic director of New Brunswick's Lamèque International Baroque Music Festival for seven years.
Conducting
Today, Mathieu Lussier is primarily active in the Violons du Roy as a bassoonist and associate conductor. He is also a member of the Pentaèdre woodwind quintet, which celebrates its 30th anniversary this year. He recently became a professor at the Université de Montréal.
"The purpose of my job at the Violons du Roy is not to replace anyone; rather, it's to be a point of reference for the public," he says. "I conduct concerts, and also participate in the ensemble's corporate and youth activities. I will conduct four programs next season. This year, I will lead an American tour with Marc-André Hamelin. I'll be with this group for a while longer yet."
Lussier will make his debut with the Montreal Symphony Orchestra in a youth concert this fall.
"I will also debut with the Trois-Rivières and Sherbrooke symphony orchestras. I am pleased that my work with the Violons du Roy has allowed me to guest-conduct other Quebec-based orchestras and raise public awareness about baroque music. My job as conductor is to communicate," he affirms.
Zémire et Azor
The idea to present Grétry's opera Zémire et Azor came from the imagination of Mathieu Lussier.
"I conducted Handel's Acis and Galatea at Quebec City's Palais Montcalm a few years ago. The production was well received," Lussier recalls. "We collaborated with young singers from the Atelier lyrique de l'Opéra de Montréal. Because we had a great experience, we wanted to do it again."
The bassoonist has a special place in his heart for eighteenth-century French music. Grétry was familiar to Lussier because he played one of his works for bassoon during his studies. Like many of us, Lussier discovered Zémire et Azor thanks to Denys Arcand's Âge des ténèbres [Days of Darkness], in which Rufus Wainwright sings the aria "Du moment qu'on s'aime" during the opening credit sequence.
"The aria was wonderful! I bought the entire work," he says. "I thought it would be nice to present it with the Atelier lyrique, but making my wish come true was unlikely because the music was unfamiliar and we had to sell tickets. A few months later, it so happened that I was seated opposite Denys Arcand, whom I hadn't met, during a dinner. When I asked him why he presented Grétry's aria in the film, he told me that he also loved late eighteenth-century music. We spent the entire evening talking about this musical period."
The same evening, Lussier asked Arcand if he had even been interested in staging an opera.
"He confessed that working on an opera wasn't ideal for him because there is not enough rehearsal time, and stage directors rarely select singers," Lussier confides. "When I returned home, I listened to Zémire et Azor again and thought to myself that Denys Arcand could be the key to this project. I called him and proposed we work on the opera together, taking our time, in conditions that would suit him better. He said yes."
By associating Zémire et Azor with Denys Arcand, the Violons du Roy now had a door opener that included media visibility.
"It's the story of Beauty and the Beast, which people know thanks to Jean Cocteau or Disney films. Grétry's music resembles Mozart's operas because it's full of imagery, entertaining, full of contrasts, and effective, with a certain lightness. The production lasts less than two hours without intermission."
Lussier and Arcand have been working on this project since last June.
"We chose to turn the original spoken text into recitatives, which I've composed, to link various arias," says Lussier. "There will be set pieces, costumes, dancers. The production is more than half-staged. The orchestra plays an active role on stage. Everything comes together naturally. For Denys Arcand, music must be the primary consideration and be well delivered."
Soprano Florie Valiquette plays the role of Zémire, and tenor Jean-Michel Richer is Azor.
Translation: Dwain Richardson
Upcoming Concerts
• Violons du Roy: Zémire et Azor, Beauty and the Beast. May 23, 2015, 7:30 p.m., Maison symphonique, www.violonsduroy.com
• Mozart in Paris: Valérie Milot, harp; June 5, 2015, 7:30 p.m. Bourgie Hall. www.bourgiehall.ca
• Vivaldi's Four Seasons. September 13, 2015, 2 p.m. Palais Montcalm www.violonsduroy.com
• Organ Concertos by Handel: Geneviève Soly and Thomas Annand, organ; November 19, 8 p.m. and November 22, 2 p.m. Palais Montcalm
• Montreal Symphony Orchestra: Orchestra from Planet X family concert. Works by Copland, Joplin, Williams, and actors as extraterrestrials. October 4, 2015, 1:30 p.m. Maison symphonique www.osm.ca
• Pentaèdre: Germanic Influences, May 1, 7:30 p.m., Salle de concert du Conservatoire de musique de Montréal. www.pentaedre.com
• Bataclan! ProMusica concert, May 7, 2015, 3:30 p.m. Bourgie Hall. promusica.qc.ca
---
Version française...