Jazz: Hot Sounds to Chase the Winter Chill

by Marc Chénard / February 1, 2015

---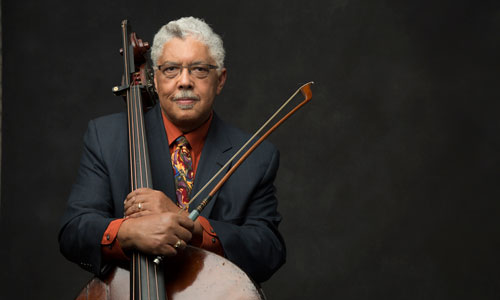 Rufus Reid
As Old Man Winter hits us full force in the New Year and just doesn't seem to let up, mid-March gives us reason to hope again for friendlier days. Whether that month will come in like a lamb or a lion remains to be seen, but from a musical standpoint, it sure looks like it will end on a roar. Two events will roll around again this year, starting with the four-day Festival of New Trumpet (see article below) then the Jazz en Rafale festival.
The latter, it should be noted, will mark its fifteenth anniversary this year. Unlike recent editions that focused on instruments, no particular theme runs through its upcoming program. Instead, it has come up with a solid slate of modern mainstream jazz acts comprised of top notch headliners and new talents, both from here and abroad. Split over the last two weekends of the month (the first half running from Thursday 19 to Saturday 21, the second from the 26th  to the 28th ), this festival will once again present a double bill on each night, the opening acts focused mainly on local groups, three of them selected for its talent search competition. More on that later.
At first glance, one show stands out from the lot, at least in terms of sheer manpower. As the flagship ensemble of Montreal's Effendi Records, the Jazz Lab will more than double its ranks (it usually ranges from seven to nine players) and welcome a special guest, American double bassist Rufus Reid. With several members of the Orchestre National de Jazz – Montréal in tow, a 20-piece band will tackle an ambitious six-part suite penned by its invitee. Entitled Quiet Pride, the hour-long musical journey was inspired by the work of the late African-American sculptor Elizabeth Catlett, who passed away in 2012, three years shy of her centenary. Released on record last year (see reference below), this project could only have been written by someone with a lifetime of musical experience under his belt, Reid now entering his seventh decade. And hats off to him for his Grammy nomination, and maybe the award itself, which will be announced shortly.
Beyond that one concert, there are more fine musical treats in store, starting with the opening night appearance of tenorman Donny McCaslin. In a paired down pianoless trio with bass (Scott Colley) and drums (Jonathan Blake), the saxophonist will roam at will in a musical setting that all horn players thrive on. The following night (20) units two fellow Israelis expats, alto saxophonist Tevet Sela (Montreal based) and guitarist Gilad Hekselman (a resident New Yorker).
The second half of the festival should not be overlooked either, staring with the lyrical Italian keyboardist Enrico Pieranunzi, backed for the occasion by two of our own, bassist Fraser Hollins and drummer Rich Irwin (26). Also crossing the Big Pond is the quartet of saxophonist Maxime Bender, who hails from Luxembourg (yes, there is jazz in Juncker's fiscal paradise), dividing his bill with former Montreal drummer Karl Jannuska, a long-time Paris resident like his close accomplice guitarist Michael Felberbaum (27). The closer, also staged at the Astral, will be a solo outing by former Uzeb star plectrist Michel Cusson, guitar hardware and all. Alternatively, piano buffs could head to Upstairs Jazz Bar that night to catch the young keyboardist from Rimouski, Emie Roussel, with a special guest from France, tenor saxophonist Maxence Ravelomanentsoa.
As mentioned above. the festival has always been mindful of promoting new talent, and its annual competition gives the opportunity to three finalists to show their wares. Last year, the Montreal foursome JAGG got the nod, and will open the Jazz Lab concert with its debut release hot off the presses (see below).
In passing, Jazz en Rafale is currently in a funding drive, the details of which can be accesed on its Website, under the 'Donation' thumbnail of its English, or 'Don' on its French one. www.jazzenrafale.com
Listening Hints
» Donny McCaslin – Recommended Tools (Greenleaf 2008)
» Rufus Reid – Quiet Pride (Motema 2014)
» Maxime Bender Orchestra – Path of Decision (Laborie Jazz 2014)
» Jagg – Mercure (Effendi 2015)
» Emie Roussel – Quantum(Effendi, 2015)
Trumpets No End
Launched in mid-March of last year, FONT (Festival of New Trumpet, Canada) is an extension of a similarly-named event held in the Fall in New York. Instigated by two of our own, Ellwood Epps and Aaron Shragge, the latter a Jazz Mecca resident, this pocket-sized fest is spread over four evenings (12 to 15), the first two at the Café Résonance (Park and Fairmount), the latter at 185 van Horne, at the corner of l'Esplanade, a loft space formerly known as l'Envers.
While jazz (and improvised musics) are its stylistic backbone, it is intent on stretching its boundaries, with forays into the contemporary classical music idiom and other experimental forms. Amy Horvey (now with the MSO) premieres new composed music for a five-piece chamber ensemble, while Frédéric Demers performs a piece with electronics, to be premiered at the MNM festival in late February.
On the jazz side of the ledger, Ingrid Jensen will be back again in a new quartet with a special guest, guitar hero Ben Monder. The latter will also perform in duo with Shragge (guitar fans do take note). The Altsys Jazz Orchestra will come out swinging, with brassman and co-leader Bill Mahar at the forefront, not to forget its lead Jocelyn Couture and his trademark pyrotechnics. Epps also will chip with his improv stylings at the helm of his trio Pink Saliva.
Two daytime workshops are also in the works, the details yet to be finalized at this writing. Also, on Saturday February 6, a benefit will take place at 185 van Horne at 9 PM. (See details on these two activities and complete concert program on festival's Website).
fontmusic.org/upcomingevents/canada
---
Ambiant sounds
In recent years, the Ambiances magnétiques label issues new titles in December. Three groups performed short sets at a release party, two of which have discs featured in these reviews.
Trio Évidence–Monk Work–AM 218
Listening to Monk's music is like meeting an old friend. Once deemed strange, his pieces now sound so familiar to our ears. And when three pals like Jean Derome (alto and baritone saxes), Pierre Cartier (el. bass) and Pierre Tanguay (drs) tackle them, it can only be a happy reunion. Named after a Monk piece, the group  finally brings out its long awaited follow up album, some 14 years after its second one. Among the 10 nuggets culled on this hour-long side, the trio has dug deep into the book and unearthed two obscure items, Two Timer (never committed to wax by its composer) and the twice recorded Dreamland (attributed to him, as per the pianist's authoritative biography by Robin Kelly). Conjectures aside, no one here can question the authenticity of these interpretations, because the musicians play it according to the maestro's own prescription: "Don't play on the changes, but on the melodies!"
Klaxon Gueule–Pour en finir–AM 221
They too are a trio like Evidence, but their musical bread and butter is no holds barred free improvisation. With some 20 years of playing together in a host of musical projects, Bernard Falaise (gtr.), Alexandre St-Onge (el. bass) and Michel-F Côté (drs.) have a shared musical history, and the chemistry enables them to eschew the main pitfall of this musical practice: chattiness. In just under 41 minutes, they carve out 13 concise explorations, all but one of them clocking in under five minutes. Each piece evokes a kind of sonic micro-climate, with added electronic distortions provided for the most part by the guitarist. Together, these musicians are blessed with a sixth sense that allows them to stay in a place just long enough before moving on. But this is best arrived at when the partners know each other well, like these three gentlemen. www.actuellecd.com
Vertical Squirrels–Time of the Sign–Am 221
Working out of the Toronto area, this collectively-named sextet is a new entry to the label. Its music, like its moniker, is an intriguing one. Describing it is not easy, save to say that it unfurls in an improvisatory fashion, yet it also relies on familiar compositional devices. For one, defined tonal areas recur throughout the 13 tracks, underscored by ostinato figures (most of which are played by pianist Ajay Heble, best known as the artistic director of the Guelph Jazz Festival). Revolving mainly around strings and percussion, the group is bolstered here by some added guests, most notably Jane Bunnett, in one of her rare detours from her latin bag. For wont of a better term, this ensemble's music could be labelled as 'world improv', whereby all participants serve the whole rather than projecting themselves in front of it (as in jazz). Full marks then for the concept, but still a little too reliant on its devices.
---
Version française...