Industry News

by Shira Gilbert / February 1, 2015

---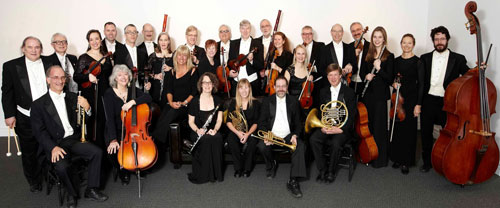 The musicians of Orchestra London are rallying to maintain their beleaguered orchestra and audience. Since December 10, when the orchestra's current concert season was cancelled – leaving the musicians and several other employees unpaid – many of the musicians have been connecting with the community via a series of pop-up concerts in public spaces like libraries and the local cancer treatment centre, as well as at a special Christmas concert with full orchestra at London's International Airport. Also in December, following the resignation of Orchestra London Executive Director Joe Swan, the London City Council voted unanimously to reject the organization's request for emergency funding, needed to cover back wages as well as taxes and costs to engage a trustee in bankruptcy.
Meanwhile, the "Musicians of Orchestra London" Facebook page quickly amassed several thousand followers. Joe Lanza, Orchestra London's former concertmaster and now leader of the musicians' organization, said, "We feel very badly about the breaking of trust with the community. We want to take a leadership role in the restructuring of an orchestra that is intrinsic to the community, with the right entrepreneurial skills and energy." On January 14, the orchestra gave its first performance of the new year and new reality. At a local church, the orchestra's former Principal Conductor, Uri Mayer, conducted a program of music by Glinka, Mozart and Beethoven. The orchestra honored all tickets to concerts that had been cancelled.
Several prominent Canadian classical musicians have been appointed to the Order of Canada for their artistic achievements in their respective fields. They include Denis Brott, cellist, pedagogue, and artistic director of the Montreal Chamber Music Festival, who is recognized for his role in establishing the Canada Council of the Arts' Musical Instrument Bank; Chuck Daellenbach, tuba player and founding member of Canadian Brass; soprano Suzie LeBlanc; Jens Lindemann, trumpet virtuoso and educator; and Lorraine Vaillancourt, conductor and founder of the Nouvel Ensemble Moderne (NEM). Additional individuals in the arts and music fields who have received the prestigious honour include philanthropist and arts volunteer James D. Fleck; Julia Foster, a key player in the Canadian Arts Summit and Business for the Arts; and Grégoire Legendre, General Director of Opéra de Québec.
The National Arts Centre Orchestra has appointed John Storgårds as its Principal Guest Conductor. The Chief Conductor of the Helsinki Philharmonic Orchestra, Storgårds will join incoming Music Director Designate Alexander Shelley on September 1st in Ottawa. Storgårds made his conducting debut with the NAC Orchestra in 2013 with an all-Finnish program and returned last season to conduct Beethoven's Symphony No. 8.
Canadian-Argentinian composer Alcides Lanza, Director Emeritus of the Electronic Music Studio at the Schulich School of Music, has won the 20,000-Euro Música Iberoamericana Tomás Luis de Victoria prize for 2014, in recognition of his contribution to the heritage of Latin American music.
Canadian film composer Mychael Danna, an Academy Award winner for his evocative score of Ang Lee's Life of Pi, has received the $10,000 Louis Applebaum Composers Award, recognizing excellence in the field of composition for film and television and administered by the Ontario Arts Foundation. Mr. Danna has opted to turn the award over to the University of Toronto's Faculty of Music.
Canadian composer Ana Sokolović and Quebec playwright Michel Marc Bouchard have been commissioned to create a new opera for the Canadian Opera Company's mainstage. La Reine-Garçon, based on Bouchard's play of the same name, is inspired by Queen Christina of Sweden, who ruled the country in the 17th century before abdicating her throne at the age of 27. Sokolović, the Serbian-born, Montreal-basedcomposer, has previously written three chamber operas for Toronto's Queen of Puddings Music Theatre. This will be Michel Marc Bouchard's second libretto, to follow his Les Feluettes (Lilies), which will be produced by l'Opéra de Montréal in 2016. La Reine-Garçon is scheduled to have its world premiere in the COC's 2019/20 season. The COC has also announced that it will present the world premiere of Pyramus and Thisbe, by composer and librettist Barbara Monk Feldman, in its 2015/16 season.
The Azrieli Foundation, based in Montreal, has launched the Azrieli Music Project (AMP), two major prizes of $50,000 each for composers of new music on a Jewish theme or subject for orchestra. These include the Azrieli Prize in Jewish Music, an international prize for a recently composed or performed work by a living composer; and the Azrieli Commissioning Competition, for a Canadian composer of any age. Each prize — open to composers of all faiths, backgrounds and affiliations — is for a new work of Jewish orchestral music of minimum 15 minutes duration. The AMP will present the winning works at a Gala concert in October 2016, in cooperation with the Orchestre symphonique de Montréal and Maestro Kent Nagano.
---
Version française...