Alexander Brott - The Creator

by Boris Brott / February 1, 2015

---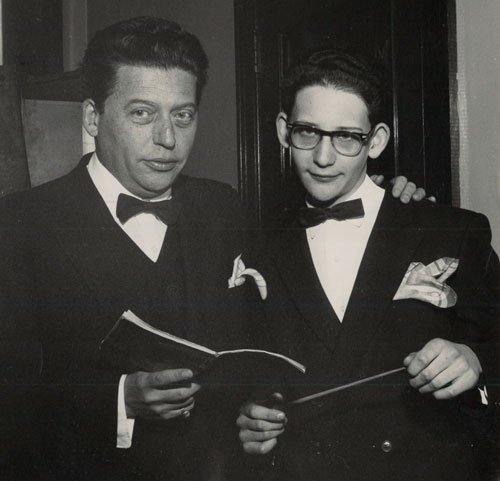 Alexander Brott with his son Boris.
Alexander Brott, whose centenary we are celebrating in 2015, was first and foremost a creator. He stands as one of Canada's most significant and prolific composers, and his works have received accolades from critics, conductors and audiences. Sir Thomas Beecham, Leopold Stokowski, Igor Markevitch, Désiré Defauw, Sir Malcolm Sargent, and Otto Klemperer were among the internationally renowned conductors who championed his works and toured with them to significant musical centers in Europe and the United States at a time when Canada was in its musical infancy. His works won numerous prizes, including two Olympic Medals, in London in 1948 and in Helsinki in 1952; the Sir Arnold Bax Gold Medal in 1963, designating him Composer of the Commonwealth; the Elizabeth Sprague Coolidge award in 1939 and 1941; and the Lord Strathcona Award from the Royal College of Music in London, which carried with it the study of composition with Ralph Vaughn Williams. Regrettably, WWII intervened.
Alexander Brott strongly believed that his works would flourish beyond his life. He also believed in his colleagues and in the importance of creating opportunities for them. A founding member of the League of Canadian Composers, he was among the first conductors to take Canadian composers abroad as a guest conductor, and to later create a commissioning program for the McGill Chamber Orchestra, which saw at least one work commissioned each season through the Samuel Lapitsky Foundation. This predates the existence of the Canada Council, Conseil des arts et des lettres du Quebec, and the Conseil des Arts de Montreal.
His biography, My Lives in Music, published by Mosaic Press (which has just been published in French by Les Editions Creff) chronicles 98 original works, not counting his numerous arrangements, as well as the music he wrote for Playhouse Theatre, regular CBC Drama broadcasts produced by Rupert Caplan. 
As his first-born son and a conductor myself, I have had the honour and pleasure to experience his process of composition first-hand from childhood, and later to perform his works with the orchestras where I served as music director: CBC Winnipeg, Northern Sinfonia of England, BBC National Orchestra of Wales, New West Symphony, Los Angeles, Hamilton Philharmonic, Symphony Nova Scotia, Thunder Bay Symphony, Regina Symphony, National Academy Orchestra of Canada and the National Arts Centre Orchestra. I continue to feature his works in an annual concert with the McGill Chamber Orchestra, and often program his works when invited to guest conduct in Canada and abroad.  
My father's life was dedicated to creativity. He translated his earliest childhood experiences into detailed drawings, and set Wordsworth and Tennyson's poetry to music. This fascination with giving life to ideas extended to the end of his life. He wrote poetry and designed and created fantastic pieces of jewelry, using semi precious stones. At age 90, when he became ill, he reminded me that he still had to complete two violin concertos the McGill Chamber Orchestra had commissioned from him.  
His first composition teacher was Dean Douglas Clark, who encouraged him to think of English poetry, imagery and abandon. Clark encouraged him to pursue composition along with violin playing and sponsored him to obtain a degree from Juilliard. As he said, "violinists are legion, composers are rare." On the other hand, his violin professor, Belgian virtuoso Maurice Onderet, encouraged discipline. The young Alexander took in all these early influences and decided that his writing must have the quality of "controlled involvement", which very much characterizes my father's musical output over some 78 years of writing.
From my earliest infancy, our home was filled with music. In fact, my mother, Lotte (a superb cellist and brilliant organizer), my father, and I lived in my grandparents' living room during the first seven years of my life.
My father's composition output can be divided into three periods, each with its own characteristics. The first from his earliest compositions through major orchestral works: Two Symphonic Movements "Veritas", War and Peace, From Sea to Sea, Spheres in Orbit, the Concertino for Violin, Oracle, Arabesque, Concordia, Profundum Praedictum, Songs of Contemplation are all highly descriptive and tonal works, using the full panoply of orchestral colour. In the 50's he was captivated by the second Viennese School of Atonalism and he sought to embrace its techniques and make them his own in works such as Analogy in Anagram, Triangle, Circle Four Squares and Mutual Salvation Orgy, and Delightful Delusions. The titles became more and more "punny" and the musical material sparser.
In his later years he returned to his earlier descriptive character with the economy of his excursions in atonalism. My Mother, My Memoriam, Papageno Revisited, Prisms, and Millennium Sinfonietta are all works of this genre.
An underlying, recurring element of his compositional style was the "question and answer", a stated theme that was immediately refuted by an inversion or retrograde of the same theme. Also characteristic was his use of florid, almost cantorial melismas, though he would have vigorously denied any religious background as being central to his compositions.
Alexander Brott was proud to be a Canadian, and many of his works portray the influence of the land and nature. His works are salted with Canadian folk songs, and many feature quotations from the Canadian anthem itself. Though he lived his entire life in the city, it was the countryside that affected him most. You can certainly hear that, particularly in his earlier works, such as From Sea to Sea, Royal Tribute, Concordia, Oracle, and Spheres in Orbit.
During his lifetime, there were three important milestones:
The Beethoven Bicentennial, where he was introduced to Beethoven sketchbooks, resulted in the Seven Minuets and Six Canons. A fragment of a Canon given to him by historian Laurence Lande, which Beethoven had given as a gift to a Quebec Music teacher, Theodore Molt, inspired him to compose his Paraphrase in Polyphony.
The Centennial and the Canadian Olympics in Montreal, which inspired E dai p milo (Olympiad spelled backwards), as well as La Corriveau; two major works,and the wedding march "Double Entente", which he wrote for my brother's marriage and mine.
The conquest of space from the first Sputnik to man's footsteps on the moon. These resulted in Spheres in Orbit and Three Astral Visions.
Alexander Brott's devotion to young people and to teaching marked another major aspect of his life. He was a born communicator and loved nothing better than an audience of young, thirsty minds. He was a Professor of Composition at McGill University for over 35 years. He wrote several works for my children's concerts with the National Arts Centre, including The Emperor's New Clothes, and How Thunder and Lightning Came to Be. He created Les Jeunes Virtuoses de Montreal, which in turn inspired me to create the National Academy Orchestra of Canada, where he served as composer in residence for a number of years.
Dad was a universalist and his music portrays that, as well as a sense of humour. He fully grasped the passage of time and his place within it. His music captures that flavour which, in the fullness of time, makes it relevant today.           
McGill Chamber Orchestra celebrates Alexander Brott's 100th Anniversary. Works include Mini Minus and Sept for Seven. Boris Brott conducts. Feb. 24. Salle Bourgie. www.ocm-mco.org.
---
Version française...